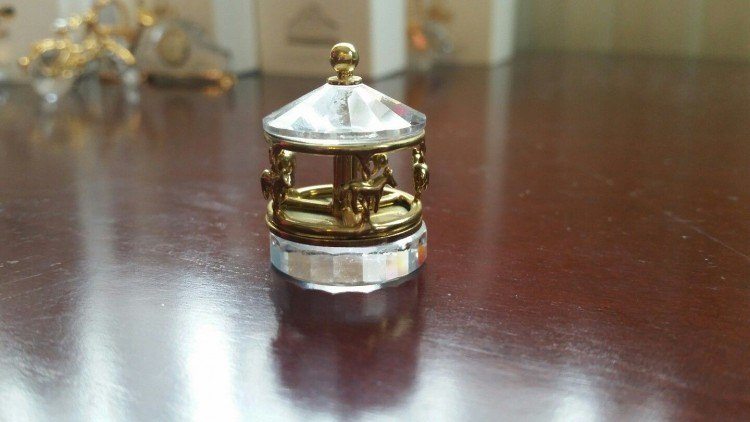 The opulent look of ultra modern is all the rage, and no one is embracing the style as spectacularly as Swarovski, a leading designer of exquisite crystal artwork. In 2015 Swarovski turned heads with the lighting of a crystal Christmas tree,which is the tallest crystal tree ever created, to kick off last year's holiday season. This year's must-see item is the first crystallized Merry Go Round, featuring painstaking detail and luminous surfaces that catch the eye and entertain the senses.
Just in time for the 2016 holiday shopping November 17th marks the date of this lighting event arranged and officiated by Aymeric Lacroix, Managing Director of Swarovski's Consumer Goods Business in Southeast Asia and Dato' Joyce Yap, CEO of Retail Pavilion KL. The place to be to see it will be Pavilion Kuala Lumpu in Malaysia, which is an exclusive Asian luxury district in Malaysia. Comparable to the lighting of the traditional evergreen at Rockefeller Center in New York City, crowds will flock to see this dazzling new addition to the Swarovski collection, just as it did their giant crystal holiday tree.
The crystallized merry go round will remain in the mall until January 1 of 2017. Shoppers will arrive from all over to get a first look at this amazing piece of art. No doubt this popular mall will do an even brisker business having the Swarovski Merry Go Round on display. What makes Swarovski's crystal designs so unique is the attention to whimsey and method with the eye on the reaction of the viewer. Like stepping into a fairy tale, this merry go round is sure to entice the imagination and inspire awe at the sheer work it takes to invent such a large feature. Once it is unveiled, everyone who loves crystal design will want a miniature Swarovski merry-go-round for the holidays or just as an interesting addition to their Swarovski crystal collection.
Complete with crystal balloons and decorated with breathtaking ornaments, this crystal carousel was inspired by Swarovski's Crystal World in Austria. This merry go round is the first in the world of this size and detail. Some of the more interesting, personally Swarovski details that will be featured on their crystallized merry go round include their signature blue gift boxes which are added to the carousel as decorative items.
From designing to planning and final project execution and showcasing , the team at Swarovski know how to bring whimsical ideas to life for the holidays in a glittering way. Each part of the design has to planned by their team, from the initial sketches to final carving. The number of staff it takes to bring this piece of completion will be evident in the joy of Aymeric Lacroix, Managing Director of Swarovski's Consumer Goods Business in Southeast Asia when the shoppers show their appreciation for this fine work by shopping for anything and everything Swarovski has to offer, especially their merry go round pieces.
For those who love the clean, clear lines of cut crystal, modern home lovers are fans of the sleek crystallized Atelier Swarovski style home. This year at Salone del Mobile in Milan, a crystallized chess set was featured as part of the home collection. Each piece on the chessboard was unique to Swarovski designers, so having a chessboard such as this in your home would be a status symbol a well as a decor statement. Leading architects and designers at Swarovski can build practically that the modern decor enthusiast could wish for to complete their ultra-contemporary style home. Bulky, overstuffed items are definitely out this season, and Swarovski delicate, shiny crystal is just the way to achieve today's look for the discerning decorator.
You don't need to be rich to buy Swarovski Crystal beads and small trinkets; however, their Christmas Tree toppers and other decorative crystallized holiday items cost more than your average decorations and are sold at upscale retailers like Macy's. Swarovski crystal items have topped many Christmas wish lists, and throughout the gift giving and decorating season, Swarovski has been doing a thriving business worldwide for years, but now these displays have really thrust the company into the limelight of an appreciative public.
It is interesting to note that the Swarovski company does more than just make those decorative crystallized treasures; they also have a branch that works in quartz construction and building. Headquartered in Austria, it was founded by Daniel Swartz in 1895 Swartz was a Bohemian-born son of a skilled glass cutter. They had various logos on their early creations, such as an SE stamp; however, In 1988 the company adopted the swan logo that is seen on all Swarovski creations today. Throughout the years, they have added talented staff and have gone bigger and better in an attempt to top last year's amazing creations.
For fans of Swarovski style, there is a Crystal World museum in Austria that features their creations, along with an incredible shopping experience for those who want to decorate their home with Swarovski or wear their jewelry creations. The museum was opened in 1995 to celebrate the company's 100th anniversary. The museum features a "Chamber of Wonder" which displays unique crystal artwork from the many Swarovski designers. The company hires the most talented modern artists to execute their company vision and during each holiday season, these craftspeople are continuing to amaze the public with their stunning products.
Swarovski crystals are found everywhere, as a design addition to clothing on runways, as well as in the craft box of serious jewelry makers. Crystal appeals to the modern style of dressing and decorating as it is clear, reflective and has a minimalist look that packs a dramatic impact whether it is worn, sits on the mantle, or is added to an heirloom ornament collection.
So, this year's can't miss shopping experience in Asia this season is to get a look at the world's first crystallized merry go round by Swarovski.
 Sources
https://kristallwelten.swarovski.com/Content.Node/wattens/Visitor_information.en.ht