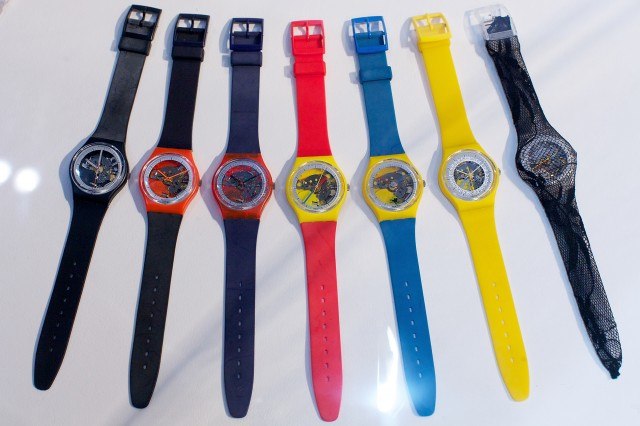 It seems that smartwatches are not just merely a fad, but are here to stay as yet another company has revealed plans to release a smartwatch: Swatch. There are a few Android devices and other OEM smartwatches on the market as of right now, and Apple plans on releasing their model sometime in the next few months. Well if you were struggling to make a choice now, here is yet another option to choose from.
Swatch is a pretty great company considering their location and what they do. Since they are from Switzerland nearly all other watch companies in the country produce super high-end timepieces that only very wealthy people can afford. Seeing that Swatch decided to go against the grain and make a different type of product. While they do have some premium watches in their lineup, they are best known for the colorful, "fun", and plastic devices. They now are planning on releasing a smart Swatch and it could be very promising.
Swatch C.E.O. Nick Hayek has recently declared in an interview with Bloomberg that their new smartwatch "won't need to be charged". This suggests that perhaps the watch has some sort of pendulum that is seen in automatic watches that will be used to charge the deice. Hayek also says the watch will have flexible batteries and battery packs, and the watches could even be used to accept mobile payments, a great feature for waiters.
While we currently don't know too much about this smart Swatch on the horizon, it should be very interesting if these claims made by Hayek pan out to be true, and we see no reason why they wouldn't be. Also Swatch is no newbie when it comes to wearable technology, as they have actually been producing touchscreen watches under a different brand that they own, Tissot, since 1999.
At the end of the day it will be great to see what this smartwatch brings to the table. More products competing in a market is always good for the end-consumer, so this smart Swatch will be a welcomed addition into this expanding industry. Swatch says that the watch should hopefully be released within the next three months, around the same time as the Apple watch.
Photo by Jeff Schear/Getty Images