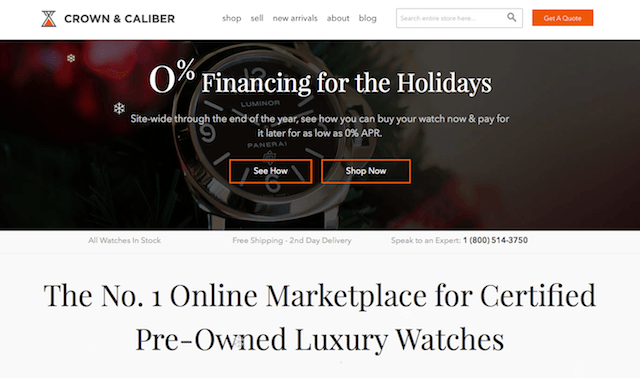 While it's always probably best to purchase luxury watches directly from the manufacturer or from a participating retailer, sometimes you simply don't have the option to do so. Not every watch brand sells their timepieces directly from their website and perhaps you don't live anywhere near a retail store. This is when you turn to the internet to hunt down your dream timepiece. Additionally there are many websites where you can purchase used luxury timepieces, for those that want to save money. So which websites are the best places to track down and buy luxury watches such as a Rolex? Here are the top ten sites to buy luxury watches on the internet.
Photo from Crown and Caliber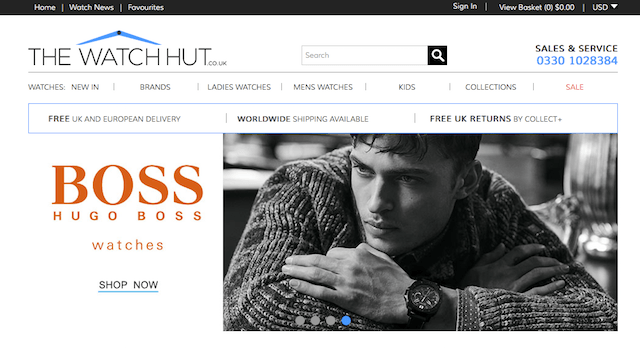 10. The Watch Hut 
The Watch Hut is an online watch dealer that is based in the United Kingdom. The website was launched in 2005 and since then they have quickly grown to be one of the largest online watch retailers in the United Kingdom. The Watch Hut offers consumers a wide range of offerings from different brands, and they usually have over 8,000 timepieces on-hand at any given time. Some of their luxury brands include Braun, Armani, Hugo Boss, Alpina, TAG Heuer, and Gucci among others. They don't have the ultra high-end brands like A. Lange & Söhne, but they have a great offering of "entry" to mid-level luxury watches.
Photo from The Watch Hut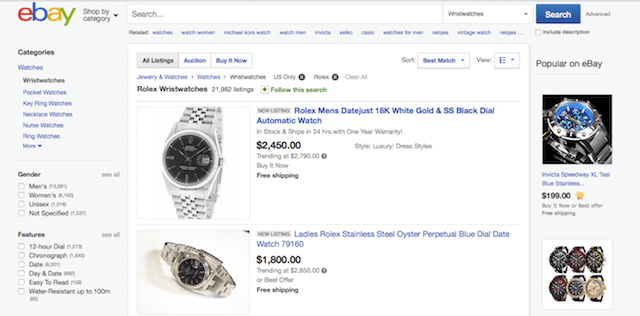 9. eBay
When it comes to online auction sites, eBay has remained to be an industry leader for a number of years now. Ebay is also a good place to pick up some luxury watches, both new and used. Now depending on the seller, you might have to use some caution and common sense, however there aren't that many scams nowadays. There are many official eBay sellers/stores that have been selling watches for many years and they are very credible. Since it's eBay, your options are almost endless and they have a variety of brands that include Rolex, Patek Phillipe, Omega, Breitling, and others. Additionally if you browse the website enough, you might find some really good deals.
Photo from eBay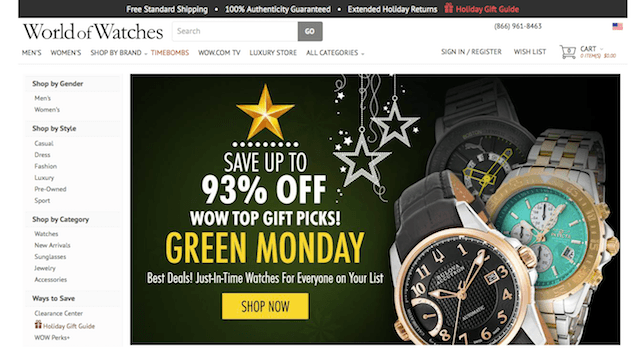 8. World of Watches
World of Watches is a tried and trusted name in the world on online luxury watch buying. They sell a range of new timepieces from many great brands that we know and love. While they don't sell timepieces from extremely expensive companies, they have plenty of great pieces from Bulova, Gucci, Braun, TAG Heuer, Movado, and many others. Additionally they pretty much constantly are running sales and you'll more than likely be able to get a good deal on a timepiece.
Photo from World of Watches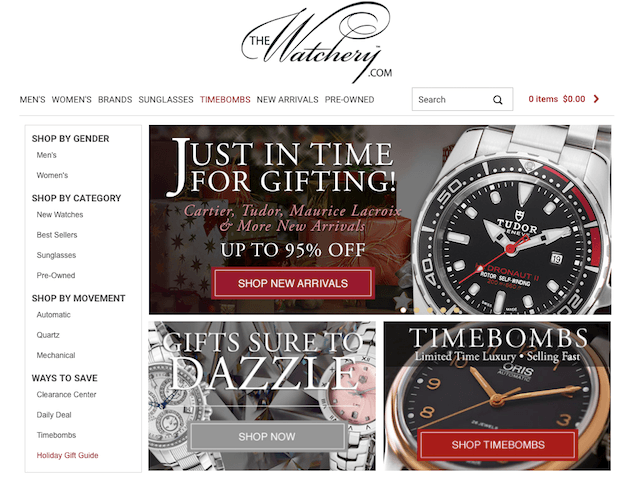 7. The Watchery 
The Watchery is another great website where you can pick up some luxury watches. The website exclusively sells new and official products, so you know exactly what you're getting. They consistently offer discounts and flash sales, they've got great customer services, and have a solid 30-day return policy. Additionally they have free shipping and 100% guarantee the authenticity of their watches. On The Watchery you can find timepieces from brands like Cartier, Bulgari, Movado, and Zenith. They also have some offerings from haute brands like Jaeger-LeCoultre, Hublot, and De Grisogono.
Photo from The Watchery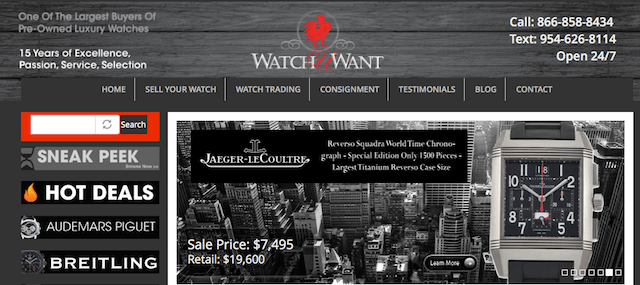 6. WatchUWant
If you're looking to save some cash on a used luxury watch or sell your current timepiece, then check out WatchUWant. They are one of the largest buyers and sellers of pre-owned luxury watches in the world, and have been in business for some 15 years. They pretty much exclusively sell high-end brands like A. Lange & Söhne, Breitling, Vacheron Constantin, Jaeger-LeCoultre, Rolex, and Patek Philippe, among many other desirable watch brands.
Photo from WatchUWant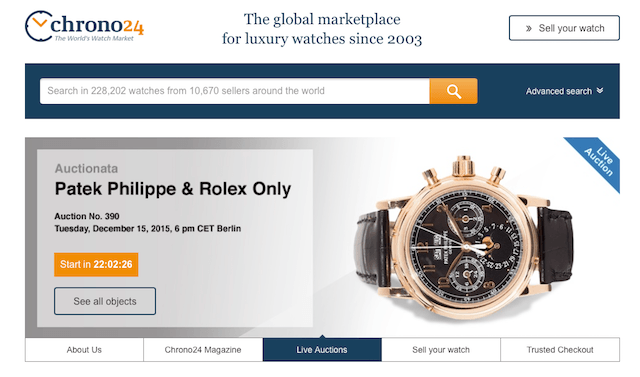 5. Chrono24
Just like WatchUWant, Chrono24 is a large online buyer and seller of pre-owned luxury watches. Due to the nature of their business, their inventory changes pretty regularly depending on demand. The often have live auctions where you can bid on watches in addition to their normal listings. Chrono24 has luxury watches from companies like Rolex, Omega, Cartier, Patek Philippe, Breitling, Audemars Piguet, and Vacheron Constantin. They operate in over 80 different countries and you can often find great deals on used timepieces.
Photo from Chrono24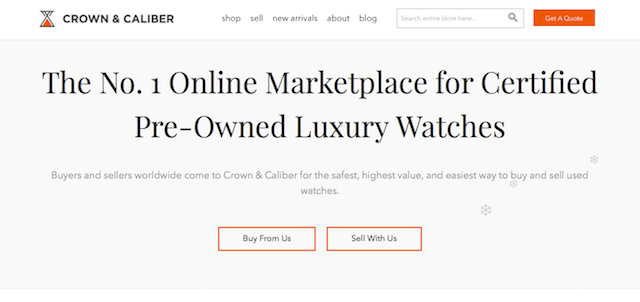 4. Crown & Caliber
Crown & Caliber is yet another watch retailer where you can buy and sell pre-owned luxury watches. They certify all their products and are extremely legitimate, so you know you can trust them. Crown & Caliber has pieces from all the big names like Breguet, A. Lange & Söhne, Frederique Constant, Glashutte, Montblanc, NOMOS, Omega, Rolex, and Van Cleef & Arpels, for example. Additionally they offer financing options on many of their timepieces and free shipping, which is always an added bonus.
Photo from Crown & Caliber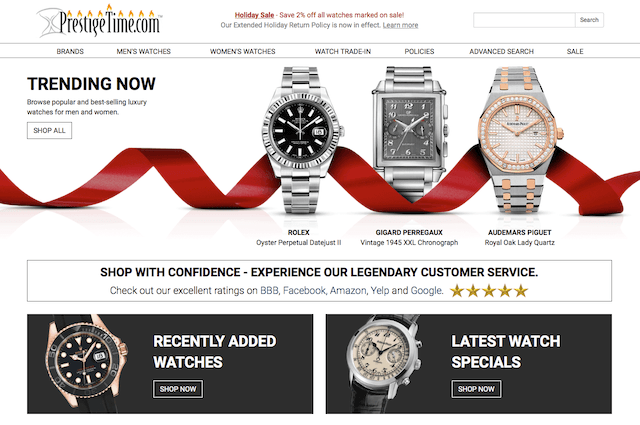 3. Prestige Time
Prestige Time is a great website to find new luxury watches that are often sold at a discounted price. They have great customer feedback and you can be sure that what you're buying is what you're getting. Since their watches are all new, you can take solace in the fact that you're timepiece is covered under warranty. Prestige Time has a wide range of watches for men and women, including watches from brands like Audemars Piguet, Rolex, Bulgari, Chanel, Longines, Hublot, TAG Heuer, and Vacheron Constantin.
Photo from Prestige Time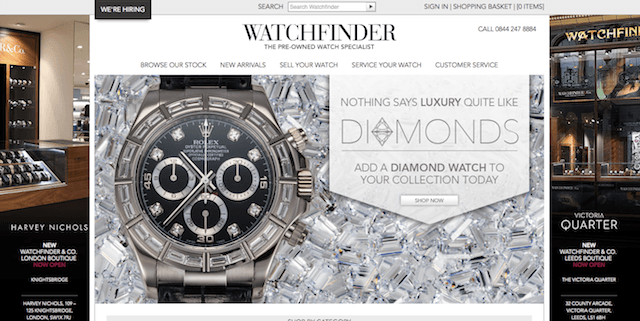 2. Watchfinder
Based in the United Kingdom, Watchfinder is one of the leading names in the world of pre-owned watches. You'll most likely find their website referenced on many popular watch blogs and forums, and for good reason. They have a massive selection of high-end luxury watches from all the brands you'd expect. You can buy from them and pay the full price of the watch or apply for financing options. Additionally they have a legitimate storefront in London where you can view the timepieces in-person.
Photo from Watchfinder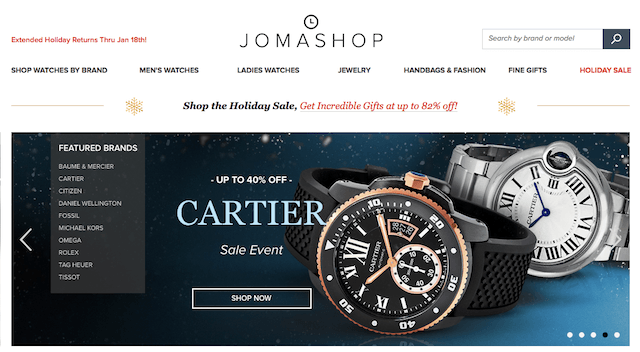 1. Jomashop
Jomashop is one of the leading names in the online luxury watch industry, and they are probably the first website you should check out if you want a high-end luxury timepiece. They only sell new luxury watches from all of the worlds greatest brands. Seriously, they offer watches from nearly every luxury watch manufacturer that you could think of. Jomashop is also one of the few websites where you can buy some truly expensive pieces as well. They have watches that cost well over $400,000 dollars, like this $908,800 dollar Vacheron Constantin, for example.
Photo from Jomashop