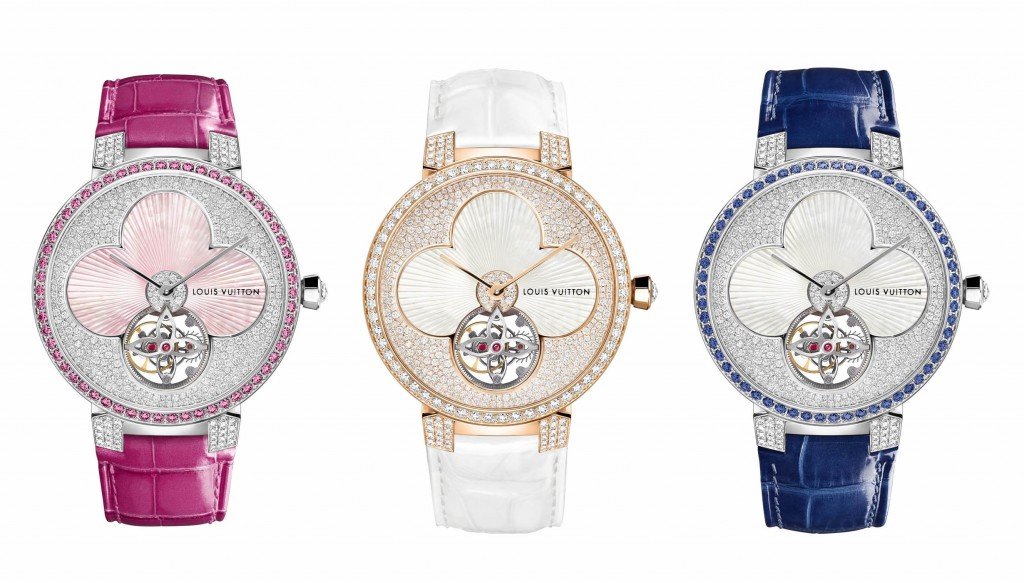 Louis Vuitton has been off to a successful start so far in 2015 with their numerous new fashion lines. The company has been releasing all types of new Spring lines for their men's and women's clothes while also releasing brand new jewelry and watch products. Louis Vuitton's latest product reveal has been for their new women's watch collection that is extremely nice looking and very luxurious.
The new watches are aimed to add some nice glamour onto models as the strut down the runways of all the upcoming fashion shows. The new collection is comprised of many bright colors as well as tons of diamonds to make sure that the products are catching the eyes of everyone who walks by or is near someone with one around their wrist. The watches feature 212 diamonds on the big dial as well as 463 more diamonds that span across the bracelet and bezel.
The watches are a great size and feature a flower design that is mother of pearl and is intertwined with a tourbillon design that shows the watches inner workings. Aside from the diamonds ,the watches also include some sapphires and other gems that sit around the ring of the dial and compliment whatever color the watch band is.
Louis Vuitton has made another stunning design that should be gobbled up by consumers. The luxury watches offer tons of variety for women and plenty of value in the diamonds or sapphires. The company always likes to be bold with their designs and fashion lines and these watches are no different. There is no official release date for the newest women's watch collection; however, they should start hitting the stores sometime very soon this year. The company has also yet to release any prices for the watches, but it is expected they will be expensive coming from the major designer.
Photo via Louis Vuitton