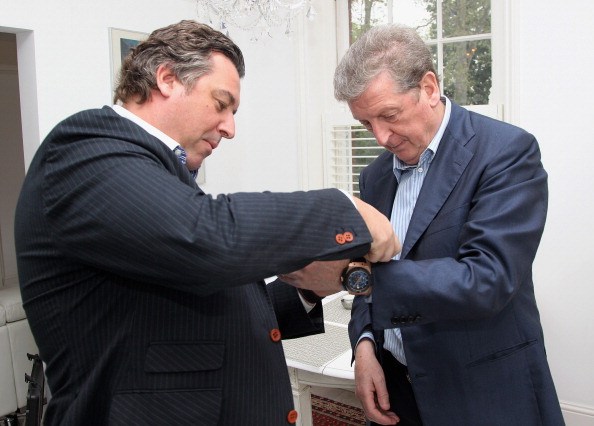 If you're going to sell a product why not make it synonymous with the most popular sport in the world>   Our guess is that's what Hublot is doing with futbol. They launched a watch for the 2012 European Championship (seen above) and now they've released the official watch of the 2014 World Cup in Brazil.
The Big Bang Unico Chrono Bi-Retrograde is the name of the timepiece and it sure is a thing of beauty. Also known as the 'Soccer Bang', the watch has a bi-retrograde display built around the timing of one-half of futbol (45 minutes). A smaller clock around the 6 o'clock area shows a traditional clock for regular time keeping purposes. The watch itself is black with a matte satin finish while the dial of the 'Soccer Bang' features yellow and green features to celebrate Brazil (the host of the World Cup).
The limited edition watch comes with a black textured rubber strap and a black titanium PVD folding clasp. Hublot has released two versions of the watch: the King Gold 18k that was produced just 100 times and the black ceramic version that was produced 200 times.
The price of the watch is yet to be released, but you can be assured that it's going to cost a fortune because of the limited edition. The watches profile and composition put it at a mid-to-high-end luxury watch, but as we said the commemoration of the World Cup and limited edition are going to end up pricing the watch well above and beyond even the finest watches on the market. We will certainly keep you posted on pricing, but for now you can check it out. It's a very cool watch.
Photo by Chris Jackson/Getty Images for Hublot