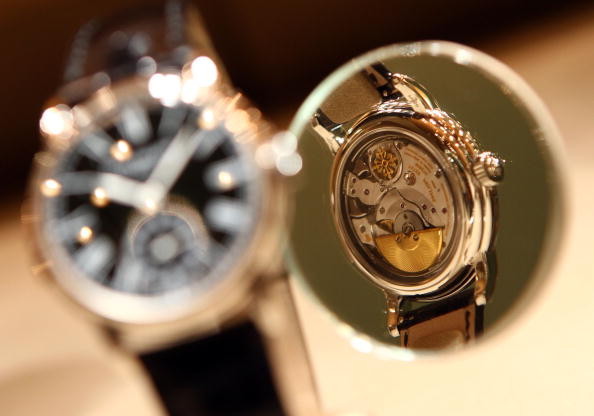 The most elite watch brands in the world will set you back a pretty penny no matter what manufacturer you choose. Each brand is unique in its own right, but in general the most expensive watch brands in the world will have tourbillon features, several complications and gemstones around the watch. Rolex, Tag Heuer, and Omega are nice, but they aren't the Top Brands in the World. In no particular order, the top brands look like this:
10.) Audemars Piguet – Swiss watch manufacturer that was established in 1875.
9.) Panerai – Italian timepiece maker established in 1860.
8.) Vacheron Constantin – Established in 1755, manufactured in Geneva, Switzerland.
7.) Louis Moinet – French watchmaker that has made watches for high-profile government figures like Napoleon, Thomas Jefferson, and King George IV
6.) Blancpain – Swiss watch manufacturer that was  established in 1735.
5.) Jaeger LeCoultre – Swiss watch manufacturer that was established in 1833.
4.) Breguet – French watch maker that was established in 1775
3.) Piaget – Swiss watch manufacturer that was established in 1874.
2.) Chopard – Swiss watch manufacturer that was established in 1860.
1.) Patek Philippe – Swiss watch manufacturer that was established in 1851.
Clearly, there's a consistent them with where the watches originated. Knowing that most of the high-end watches were created in Switzerland doesn't get you very far so here are ten things you want to look for when buying the best watches in the world:
1.) Precious Metal Construction – I think it goes without saying that when you're buying a luxury watch you want to make sure the composition of the watch is made from the best materials. Gold, platinum and titanium are three materials you want to consider, but you also want to consider how much of the watch is made from such materials.
2.) Natural, Quality Jewels – When we're talking quality, natural jewels we're talking about natural, unadulterated stones. You don't want synthetic stones, recycled stones, or anything manufactured. The clarity of the stones is also pretty key. You don't need precious jewels to make a luxury watch, but when you do you want pure cut stones from the earth.
3.) Manufacturer Made Movement -Manufacturer made movements make the watch more unique and complex. The best watchers design their own movements in-house and don't import them from another company. Having a high-level, manufacturer made movement guarantees a high-level of decoration and longevity of the watch.
4.) Seal of Geneva – Plain and simple, the Seal of Geneva guarantees quality and origin. The seal is applied directly to the movements of specific watches that satisfies the stringent rules as applied by Swiss Law. Seal of Geneva = luxury watches. Period.
5.) Exotic Materials – It's been a recent trend that high-end watch makers have been using unique materials in the construction of their watches. Unique alloys or even materials some people have never heard of are being used in watches these days. We're not saying if you haven't heard of it the watch is going to be luxury, but if you have a name brand watch that using unique materials in a complex, stunning design it's probably a high end-watch.
6.) Many Hours of Hand Construction and Assembly – Pretty straight forward – when you purchase a luxury watch you can get information on it's production. You don't want a watch that goes down an assembly belt. You want a watch hand-constructed by a professional. Period.
7.) Complications – A high-end luxury watch should not be a one-trick pony. First, it should do more than just tell time. Second, it should be a complex design and construction with various high-end, unique materials. A simple watch is not going to get it done. Some high end watches are perpetual calendars, rattrapante chronographs, moon phases, and more.
8.) Highly Refined Designer Looks – When you're reading everything on this list – you should put everything together and be able to see a complex, highly refined look. The watch should feel beautiful. It should feel like a novelty on your wrist. You want people to notice it on your wrist – not have seen it before.
9.) Limited Production – The highest quality watches are only produced to a limited amount. They have unique materials in that they cannot be massed produced. They are hand-assembled so there can't be a ton of them. They are intricately designed and not made for the common man – so why make a lot of them. You get where we're going with this one.
10.) Investment Grade Acquisition – A high-end luxury watch will increase in value in time. Crazy right? It's true. Almost everything you buy decreases in value the moment you pay for it. Not a high-end luxury watch. It's rarity, materials, and complexity will make it increase in value in time. That's pretty cool
If you're in the market for a high-end luxury watch you want to look at one of the ten brands above and ensure that they fit the 10 criteria. If you manage to do that you're starting at $20,000, but you'll have one of the finest timepieces in the world on your wrist.
Photo by Miguel Villagran/Getty Images