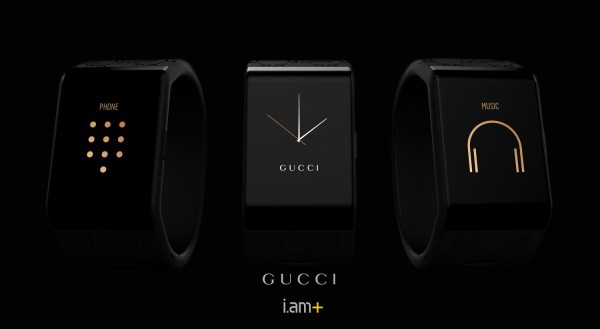 Lately, the technology industry has been putting major focus onto the smart watch market. While Android products have already been seeing a massive influx of tech watches, Apple's iWatch that comes out in late April has really gotten everyone's attention. Now company's like Gucci are entering into the smart watch market and creating luxury products with the hopes of cornering the high end market. Will.i.am is teaming up with the luxury Italian fashion house to design and create their smart watches, which look pretty neat.
The "Gucci.i.am" product was initially unveiled during this year's Baselworld and is sleek black band that sticks to the minimal style and should be a great product. The watch can make phone calls, send and receive messages or emails, play music, monitor fitness and much more. Most of this is standard in smart watches but Gucci is even adding in voice commands with the hopes of offering customers everything that the Apple product will have.
Gucci is aiming to make their smart watches a good technological product while also sticking to their fashion roots and offering a very nice looking band. Will.i.am has recently been moving his career towards the fashion industry and is discovering the different ways to express himself through design. This is a great pairing for him and no matter what the watch should be a big hit for both Will.i.am and Gucci.
Gucci has always been a leader in the fashion market and it's no surprise they are following new trends. The all black watches should definitely be a massive hit in the market depending on price. Currently, Gucci hasn't announced the price of the watches or an official release date, but hopefully they will be out by later this year. The watches won't only be available in black and should offer tons of variety to customers when they are released.
Photo via Gucci