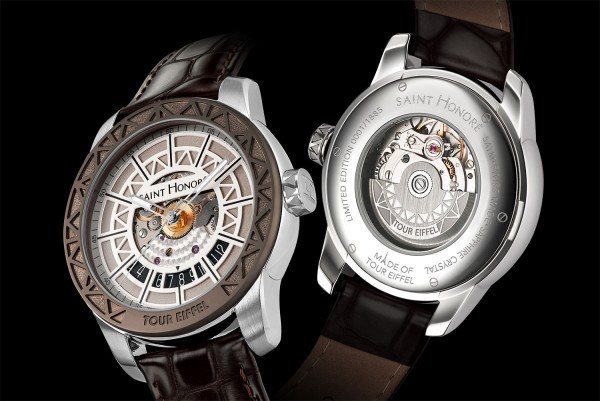 The luxury watch industry is always finding new ways to diversify their products. Many watches are a tribute to the anniversary of something and try to match the theme of a product. French watchmaking company, Saint Honore, is now doing something similar by offering their customers a product that incorporates a piece of the Eiffel Tower and is an instant collectible. Saint Honore is giving people the chance to own a small part of the famous French landmark.
Called "Tour Eiffel," the new collector's edition watch is built with a metal beam that was a part of the monument at some point. The brown metal piece is built right into the bezel of the watch giving it a nice defining color. The watch also has a silver dial that sits right inside the Eiffel Tower piece and mechanical self winding movement. The whole case is a standard 42mm in size and is nicely designed to match the of the Eiffel Tower.
The watch band is made from brown crocodile leather and the entire piece is nicely put together in a special display box that comes with a certificate of authenticity from the company that owns the Eiffel Tower. This way owners receive a little more than just another watch, the Tour Eiffel piece is special and meant to feel like it.
Saint Honore is making the Tour Eiffel a limited edition that will be pretty tough to find. There are only 1,885 total pieces being made, a number which comes from the founding year of Saint Honore. Many people will probably want to get their hands on this watch, especially if they are big collectors. This is another fantastic idea and design from Saint Honore; the new Tower Eiffel watch has a stunning composure and is extremely well made.
Photo via Saint Honore