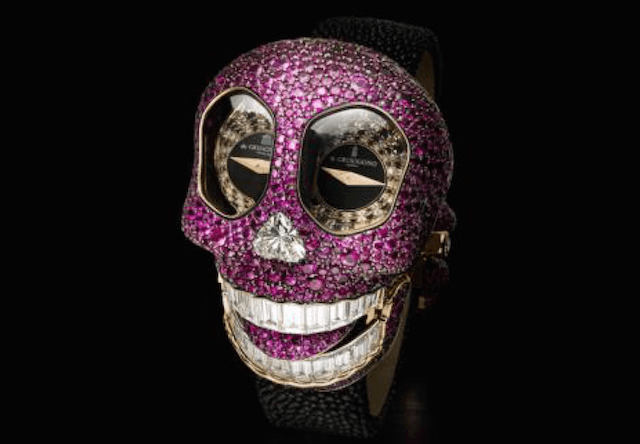 De Grisogono is well known for its high end and beautiful works of art that just happen to be showcased in the form of watches and jewelry. The company was founded in 1993 and is based in Plan-les-Ouates, Switzerland with boutiques worldwide. De Grisogono plans to open its first subsidiary in Dubai with the support of the Dubai Investment Development Agency. In the meantime, they are rolling out some incredible timepieces. A new and intriguing watch has been added to their collection – the Skeleton watch.  It is a fanciful and bold fashion statement. It is a three dimensional skeleton figure with a goofy grin that sits high on the wrist.  It is also quite special as only 10 will be made.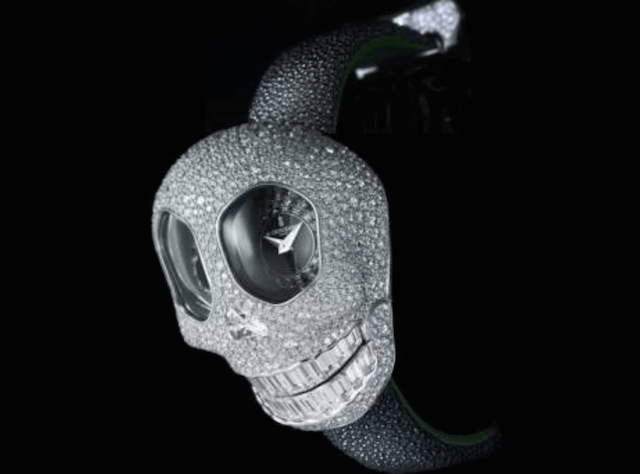 The entire surface of the watch is covered with 23 carats of black diamonds, white diamonds, or rubies as there are a few different configurations. The skeleton's teeth comprise almost 8 carats of baguette cut diamonds. Inside the skull sits a tongue bejeweled with either 66 rubies or pink sapphires. It took over nine months to perfect the mechanism that is activated when one moves the jaw so that the skull actually sticks its tongue out. The eyes each contain an independent timekeeping display, allowing the wearer to track two different time zones at once. An at the center is a heart shaped diamond .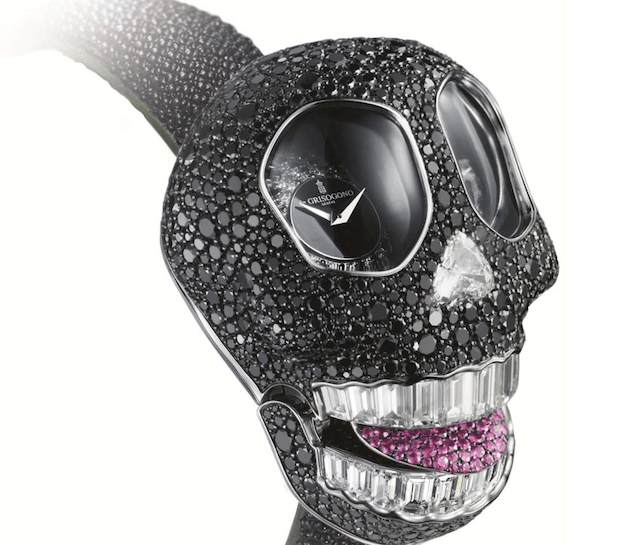 So how much doe these watches cost? Well depending on the version it can range from $622,000 dollars to $825,000 dollar. This crazy skeleton watch is not for the meek; you need a certain amount of finesse to pull off a watch as original and bold as this. "You have to have a lot of character to wear it, because it's quite visible," warned De Grisogono creative director Fawaz Gruosi, and he certainly isn't lying. Check out their website to see some of their other amazing pieces of jewelry and watches, as they are pretty impressive.
 Photos from De Grisogono, The Jewelry Editor