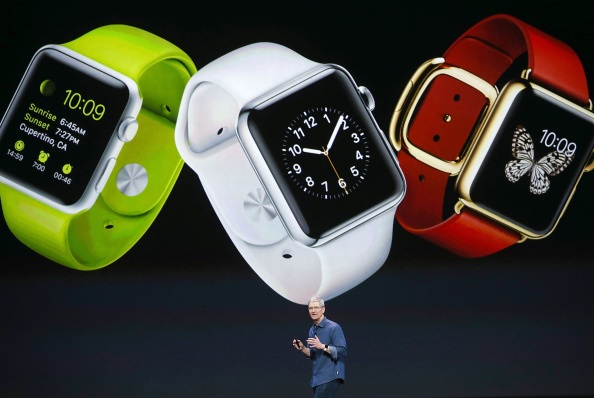 With the recent unveiling of the Apple Watch by Apple CEO Tim Cook, the luxury watch industry has been put on high alert. Apple has unsurprisingly been expected to dominate the nascent smartwatch industry, but not many are expecting the tech giant to enter the high-end luxury watch market. However, three tiers of the Apple Watch were announced at the keynote unveiling on September 9, 2014: the Apple Watch Sport starting at $349 and the currently unpriced Apple Watch and Apple Watch Edition. Each of the three Apple Watch models is highly customizable, with a number of different color, material, and watchband options to choose from. For example, a stainless steel Apple Watch with a sapphire touchscreen could hold a hefty price tag as high as $1,000. According to Forbes, "If Apple releases a solid gold Apple Watch, the raw gold alone could cost a few thousand dollars. Apple traditionally looks for high margins with its products, so there's no reason why the entry-level Apple Watch Edition, made with 18-karat gold, could command a starting retail price of $5,000, with further customization options reaching $10,000." The Apple watch may eventually be able to exist as a standalone brand, allowing Apple to enter a completely new market upon the product's release early next year.
Compared to brands like Rolex, Tag Heuer, and Omega, the Apple Watch Edition's estimated four to five-figure price tag could actually place the smartwatch in the low end of the luxury watch spectrum as a cheaper alternative that happens to offer much more functionality. The Apple Watch is compatible with the iPhone 5 and later models running iOS 8 and features Apple's new S1 processor, a pressure-sensitive touch screen that can distinguish between a tap and a press, a digital crown dial that can be turned to scroll or zoom and pressed to return to the home screen, activity and fitness tracking capabilities similar to other wearable technologies, a mobile payment service–Apple Pay–introduced at the same event in September, iMessage and SMS text capabilities, the ability to send and received phone calls, the use of third-party applications, and an Apple feature called "Handoff" that is able to be used as long as you own another Apple advice. The smartwatch can also control the Apple TV, act as a walkie-talkie and viewfinder for the iPhone camera, and is comprised of the aforementioned collections, featuring two sizes (38 mm and 42 mm) spread across 34 individual models.
The Apple Watch Sport features a composite back, a strengthened Ion-X glass screen, and the options of two aluminum cases, and five plastic bands. The Apple Watch includes the customizable options of two stainless steel cases and nine leather, stainless steel, or fluoroelastomer plastic bands, while the Apple Watch Edition features the option of two hardened 18-karet gold cases and three leather and fluoroelastomer bands. Both the Apple Watch and the Apple Watch Edition also feature ceramic backs and a sapphire crystal screen. With early sales estimates ranging from a few million to as many as 40 million units in the first year, the Apple Watch is undoubtedly a technological breakthrough.
For more information on Apple and the Apple Watch, visit apple.com and apple.com/watch. Check out the Apple Watch reveal courtesy of Apple's YouTube channel and a "first look" overview from BBC News below.
https://www.youtube.com/watch?v=gCluaJe3lb4
Videos by Apple/YouTube.com & BBC News/YouTube.com
Photo by Justin Sullivan/Getty Images