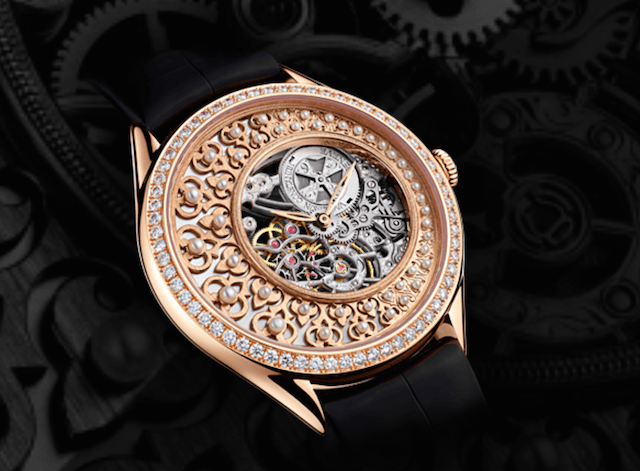 Vacheron Constantin is a Swiss manufacturer of high-end, luxury timepieces that was founded in 1755. Since the company is so old, Pope Pius XI and Napoleon Bonaparte are among many who have been known to worn some of their watches. Today the company is currently a brand of the Rochemont Group and they produce some of the finest watches in the world. Vacheron Constantin has many different collections of watches, but their Metier D'Art collection features some of the brands most exquisite and amazing pieces. These watches are produced with the rarest materials, feature amazing complications, and are made in extremely limited amounts; they are truly works of art. Since that collection features the companies best work, we are going to take a look at some of the most amazing watches from that collection.
The Kalla Haute Couture À Pampilles
While it may not look it, the Kalla Haute Couture À Pampilles is in fact a watch. Obviously the watch is almost entirely made from a variety of diamonds. There are 310 individual diamonds on this amazing piece (1 guette-cut, 38 baguette-cut, 87 flame-cut, and 184 round cut diamonds) that come to a total of 29.40 carats. The watch face is hidden behind some diamonds and can be opened like a locket. The watch itself is made from 18 carat white gold and displays the minutes and hours. The watch has 89 parts and 17 jewels and is just absolutely breathtaking.
The Fabuleux Ornements Ottoman Architecture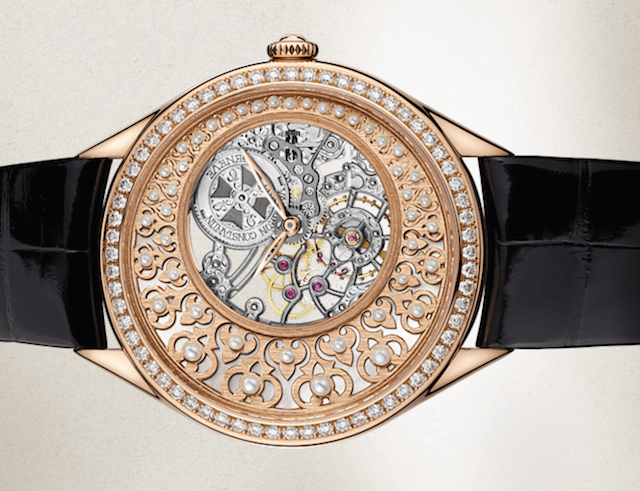 Another impressive piece from this collection is the Fabuleux Ornements Ottoman Architecture. This amazing watch is made from 18 karat 5N pink gold and features diamonds and pearls on the face. The movements of this watch can also bee seen from the face of the watch. The watch has 117 parts, 18 jewels, and has a frequency of 18,000 vibrations per hour. This stunning watch also has an alligator leather band and only 20 have been produced.
 The Mécaniques Ajourées High Jewellery 
The Mécaniques Ajourées High Jewellery is another stunning watch from the company. This watch features the companies most complex movements. The face of the watch displays all of the inner-workings, which are quite amazing to see working in person. The case and dials of the watch are made from 18 karat gold, the gears are made from gold, and the band is alligator leather. Notice the diamonds that are positioned around the face of the watch as well. The watch has 127 parts, 21 jewels, and indicates the minutes and hours. This piece, along with all the others from the Metier D'Art Collection, are displayed with no price tags as the company only reveals them to serious buyers. However I would imagine that these watches cost hundred of thousands of dollars, if not close to a million dollars.
 Photos from Vacheron Constantin