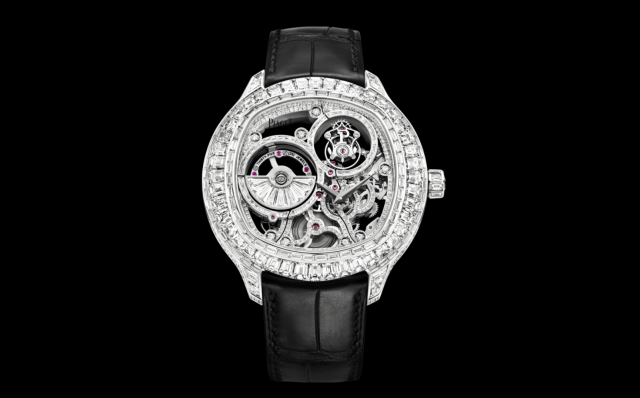 If asked to think of the most luxurious watches in the world, the name Piaget would come to mind. Piaget is a Swiss luxury watchmaker and jeweler founded in 1874 in the village of La Cote-aux-Fees. The company earned its reputation for making the finest pocket watches and watch movement. At the beginning of the 20th century, the company decided to exclusively make wristwatches. They have been earning the esteem of a selective group of buyers ever since.
Two of the most expensive watches are in production today but only a small group of people could afford to purchase these special timepieces. One such watch, the Emperador Cushion Shaped Watch is a work of art. The case is made of 18K white gold set with 44 emerald cut diamonds, (almost 8 ct total weight) and 92 baguette cut diamonds, (approximately 3 ct total weight) and 650 brilliant cut diamonds, (approximately 4 ½ ct total weight). The buckle is set with 24 baguette cut diamonds, has a sapphire case back and is manufactured with Piaget's ultra thin gem set skeleton automatic mechanical movement – the thinnest in the world. The movement of the watch is set with an additional 71 baguette cut diamonds and 561 brilliant cut diamonds. These watches are all numbered and in limited edition.  The cost of this watch is close to $200,000.  It is obvious why this watch is reserved for a very special clientele.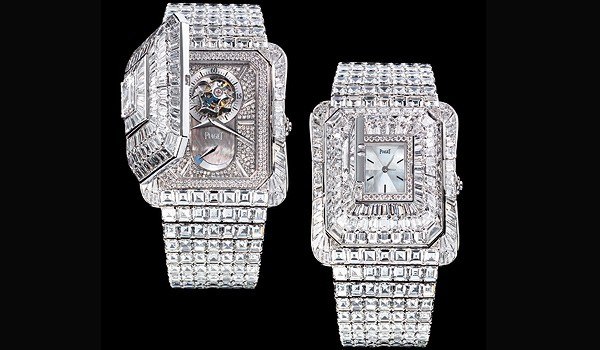 Another watch from Piaget is the Emperador Temple.  This is truly a one of a kind piece and spectacularly unique.  This watch is actually two hidden watches that are revealed by pushing on certain parts.  It also contains an amazing amount of diamonds of various cuts and sizes.  The "hidden" watch or second watch has a tourbillion and a 40 hour power reserve, a Polynesian mother of pearl dial and is also set with a dizzying amount of diamonds.  The bracelet for this watch contains over 350 baguette cut diamonds.  This watch has already been sold but others can be created by Piaget on a commission basis – and if you happen to have $3,300,000.
Photos from Piaget