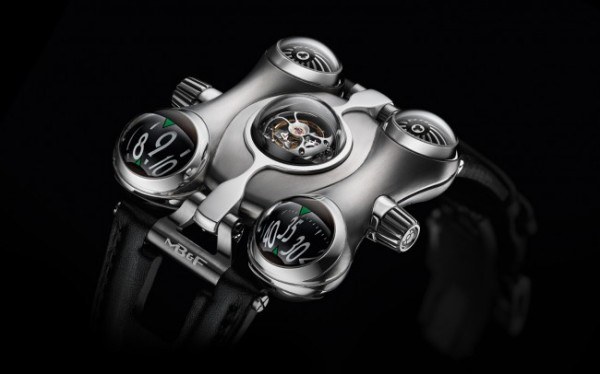 MB&F is a relatively new Swiss watch  jewelry company that was only founded 9 years ago in 2005. Despite the company being one of the newer watch brands in the market, MB&F has been wildly growing with their unique luxury watch designs that have been selling worldwide. MB&F calls their products "horological machines" because they view their products as being mini mechanical sculptures rather than just simply watches, and their most recently released watch, the HR No.6: Space Pirate, proves it.
The design of the Space Pirate draws inspiration from classic Japanese sci-fi cartoons that were largely created in the 1970's. It's the companies most complex watch to date and really does look like something from the future and way ahead of its time. While the watch is not ready to take on all the feats of space, it can conquer any wrist and look fantastic. The Space Pirate has a biomorphic case that features four corners all crafted into a 360 degree transparent spheres with sapphire crystal domes for a clear view of eat dial.
Two of the see through spheres will always rotate vertically to sit facing the owner while displaying the current hour and minutes. Everything is driven by an automatic winding rotor with twin spherical turbines. The turbines can be seen in the other two spherical sapphire cases while the watches centerpiece features a 60-second flying tourbillon that has a retractable cover.
All of these domes allow for watch owners to see all of the different movements and little things that make the watch run, but in a very original way. This super complex watch is a piece of art for the wrist that also tells time, and MB&F has really created a completely unique and original timepiece. The Space Pirate is crafted out of Grade 5 Titanium and only 50 are being made. For customers to get their hands on one, they'll have to be willing to put out $250,000 for this futuristic watch.
Photo Via MB&F