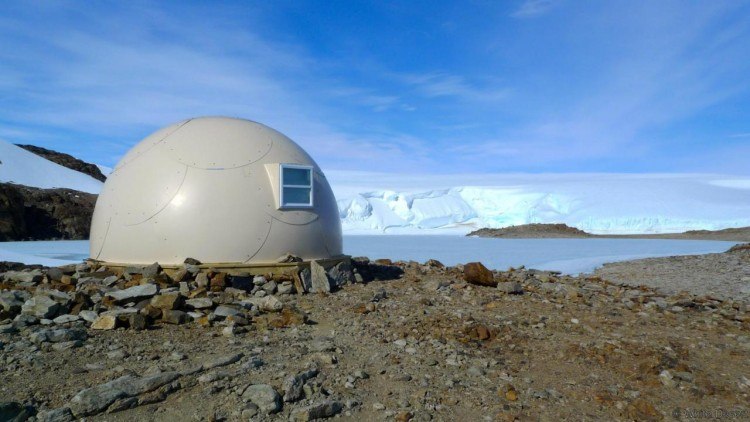 Many people long to see the world. Traveling across different countries, visiting famous sites, and experiencing new cultures are often what people dream of for their vacations. For some, however, seeing the world means more than seeing tourist destinations. Some people long for the unique experience of witnessing nature unimpeded by human activity. One such destination is Antarctica.
When most people travel to Antarctica for vacations, it is merely seen from a distant cruise ship as it travels the periphery. The blanket of white, the penguin colonies, and the stark beauty of its ice caves and frozen rivers are all attractive. However, there is a vacation spot that allows people to experience the frigid South Pole in its entirety, by providing accommodations on the interior.
White Desert
Explorers Robyn and Patrick Woodhead created the White Desert Antarctica resort after their own treks across both poles. They wanted to help others witness the beauty of inland Antarctica without suffering through nights trapped in tents, running out of supplies, and waiting out storms.
Luxury is not often associated with remote areas like the South Pole, but this resort offers incredible comfort and activities for casual travelers and seasoned explorers alike. It only offers packages in November and December, and comes with a hefty price tag (over $70 000). However, for individuals with the means and the desire to have a one-in-a-lifetime experience, it is worth every penny.
Amenities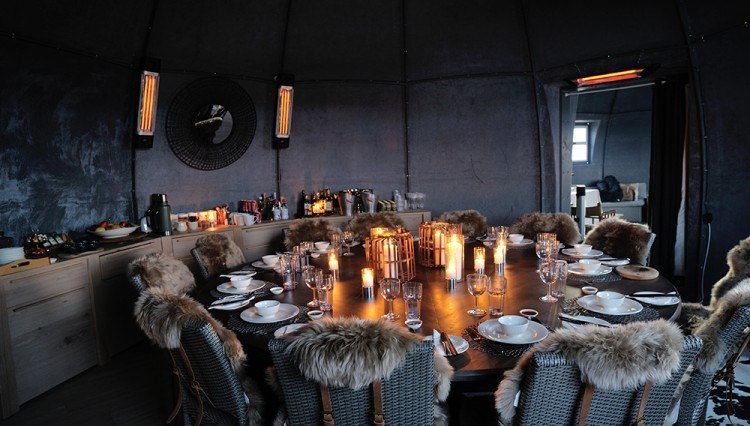 Celebrating its 10th anniversary, White Desert Antarctica has upgraded its facilities for guests. It consists of a small camp of heated pods for shelter, food, and leisure. The dome pods are equipped with hot showers and plenty of upscale toiletries. They are prepared for two people in each pod, with double beds. Guests need not worry about sacrificing comfort for experiencing the remote location; the pods even feature en suite bathrooms.
For meals, there is a separate dining room. The picture of Victorian luxury, this room has a large, round oak table. Chairs are kept warm and comfortable with fur throws. The meals, too, can make guests forget the isolation of their location. They are prepared by a professional chef who, when not providing delicious meals for White Desert guests, cooks for Formula 1 driver Lewis Hamilton.
In terms of leisure, the resort does not simply rely on its environment (although there are many activities that will be discussed later). It also provides writing areas in the sleeping pods, as well as a separated lounge and library. There is also a bar with included alcohol.
Activities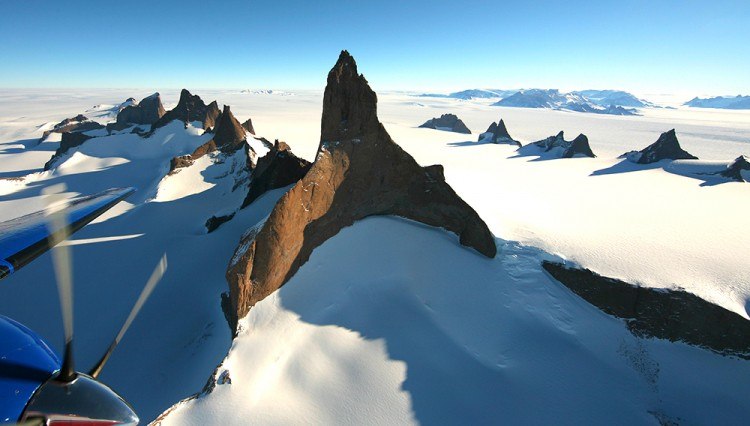 Of course, the main attraction of this rare vacation spot is the uniqueness of its location. There is a great deal to experience, and White Desert strives to provide guests with a wide range of activities.
There are three "adventures" available, which are the Emperors and South Pole adventure, the Mountain and Emperors adventure, and the Greatest Day adventure. These are guided adventures that allow guests to experience the beauty of Antarctic nature. Activities include traversing ice caves, kite-skiing, visiting remote research stations, and seeing nearby mountains.
Perhaps most moving of all is witnessing the penguin colonies that call the South Pole home. While penguins can be viewed at some zoos, to witness thousands of emperor penguins (many newly hatched) in their natural habitat is a moving and memorable experience.
For anyone who simply wants to have a wonderful view and visit a part of the world that so few people ever will, there is no pressure to partake in any of these activities. Guests do as much or as little as they please, ensuring a rewarding and exciting trip in addition to all the luxurious accommodations.
Environment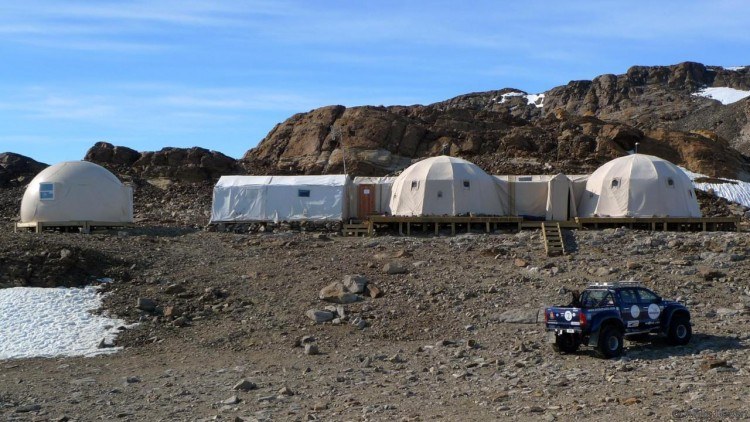 While White Desert aims to make the most out of its environment, it does not exploit its resources. In fact, although being a high-end vacation spot, it is an accredited Carbon Neutral company. This means it offsets all of its emissions (mainly due to the flights to and from Cape Town) in order to have a neutral carbon footprint.
Further, it has its own zero-impact policy. This involves protecting the beauty and health of the surroundings while allowing guests to enjoy them. All of the structures are temporary, and all waste (including human waste) is flown out of the area. Even the wallpaper and glue used are environmentally friendly. It is also largely powered by solar and wind energy.
Too often, beautiful and unique destinations are exploited for profit and suffer because of it. With White Desert, however, it is apparent that the company aims to help people experience Antarctica because of the respect they hold for the climate, the animals, and the area itself. The resources here are cherished, not exploited, all the while providing a comfortable and exciting experience.
Additional Features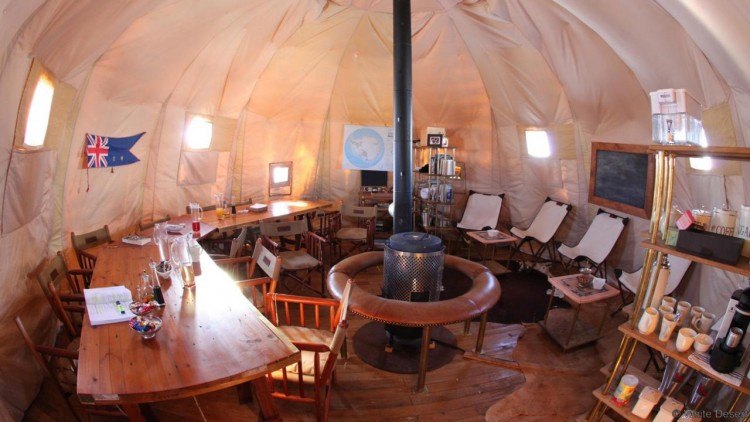 As stated above, White Desert has existed for a decade. While its location may be remote, it has attracted some notable figures. Both Prince Harry and Bear Grylls have experienced the White Desert resort. Its history as a luxury vacation spot in a harsh environment is well-documented.
For more adventurous guests, there is the possibility of earning a unique timepiece. Completing a frigid overnight trip can earn a person a custom Bremont watch, which will be engraved with the date of the person's visit. This rare and precious timepiece is a testament to the commitment of the individual to truly experience nature on the lowest area of the planet.
Conclusion
This is a rare, unique, and impressive resort. While its hefty cost may dissuade some vacationers, it should be on the bucket list of every traveler who really wants to experience a fresh perspective of nature. The beautiful frozen lakes and mountains would be enough for many, but the opportunity to visit caves and witness thousands of emperor penguins in person makes it a destination that is well worth the money.
It is attractive for the adventurous and timid alike, because it provides outstanding comfort for such a harsh location. Anyone who is able to muster up the funds will enjoy the all-inclusive meals prepared by a professional chef, as well as the luxurious sleeping pods. Further, there are a wide variety of activities available, ranging from sightseeing to exploring caves to overnight excursions. The real beauty of Antarctica can be experienced in comfort and style with White Desert.