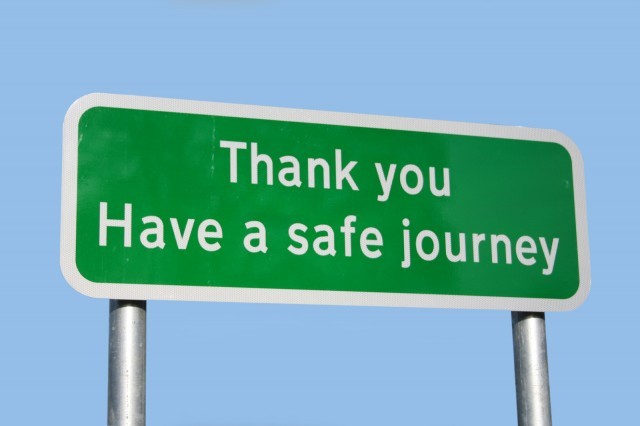 With the entire world struggling with the pervasive feeling that nowhere is safe and terrorists are likely to attack anywhere, the truth most travelers carry with them in these uncertain times is this: "If we stop traveling, then the terrorists have won." This phrase is repeated often, as travelers worldwide seek to find some sensible way to travel where they need, and choose to go.
Those who travel often have put into place measures that make them feel better about their travels, even though they may no longer feel completely comfortable. Some are official measures; while others are currently being passed along during friendly conversations. Despite the most recent terrorist attacks you can still travel more safely by following these tips:
Travel the Road Less Traveled
Many frequent travelers are using this method for booking flights. Once your destination is decided, look for alternate, less prominent and busy airports for your departures and arrivals. Though it can be much faster and cheaper to book airline tickets traveling to the larger major airport hubs, there are often nearby airports that are less well known, with less airline traffic, yet close enough to major cities for convenient connections. There is no certainty that it will keep you safe, but it makes many who use this method feel better. Many recent problems have taken place in the larger, world-recognized cities. Traveling to smaller airports may be one way to avoid problem areas.
Book Reservations Directly With the Destination Country
Many travelers book all their reservations online. Whether using individual airline, hotel and car reservation websites or booking through any of the discount travel sites, it is a convenient way to get all sorts of discounts and deals. But, it might be wise to contact each of these services directly, contacting the country and specific location you wish to book. You can discuss recommendations directly with those who know their area best, with the goal of avoiding disturbances not widely publicized, but do this only when using major international brands. Consider home stays with friends. Using airlines common to the country rather than major carriers is another way to sidestep advertising your own country of origin.
Cruise Smaller
Some devotees of cruises have recently re-discovered the joys of river cruises and traveling on smaller vessels. River cruises have the benefits of allowing passengers more intimate visits of popular locations within a country. These cruises are limited in the number of passengers the sleeker vessels will carry and the pace is slower, with many stops at towns and cities along the way. Sea-faring possibilities include booking passage on cargo freighters who also book a small number of passenger rooms for each sailing. The accommodations can rival those of the big cruise ships, and the cost is significantly cheaper. These must be booked far in advance due to limited availability, and you must be ready for flexible itineraries, but these are adventurous options for those that appreciate them. These are lesser known and those that explore them feel that these smaller, less well known trips just might be safer in the long run.
Use an RFID Blocking Passport Wallet
The most common form of pickpocketing today is skimming information from credit cards. Because it is possible for anyone to walk past you and access your Radio Frequency Identification (RFID) chips in your credit cards and passport using portable card readers, you are at risk for your private and personal information to get into the hands of criminals. When you put these sensitive items in a RFID blocking passport wallet, you protect yourself from leaking personal data into the wrong hands.
Dress to Match the Culture
Most travelers don't realize how easy it is to spot tourists by shoes and clothing. To dress appropriately in other countries means avoiding sneakers and open-toed shoes. Don't wear shorts. Avoid logos, foreign languages or locations printed on clothing. Wear plain, neutral colors rather than bright and bold ones. Don't wear expensive jewelry. Make sure your arms, knees and chests are covered, as most cultures find bare skin offensive, unless you are visiting the local beach. Keep religious jewelry hidden under your clothes, or leave it at home. Do not wear military or flag symbols, or profanity of any kind. One savvy traveler tip for not calling attention to yourself is to buy some outfits from a local store so that your chances of being singled out as a tourist are much less.
Check Government Identified Official Hot Spots
The US Department of State Bureau of Consular Affairs has the U.S. Passports & International Travel page which is found at http://travel.state.gov/content/passports/en/alertswarnings/worldwide-caution.html. This page provides all the latest Alerts and Cautions and is updated regularly. The page lists cautions, warnings, and alerts using a colored system of symbols. Here are their rankings and symbols:
• Travel Alerts– A bright yellow triangle with an exclamation point.
What does this mean? These are issued when short term events occur which the government believes is necessary for US travelers to know before they go to a particular area. These might include health alerts such as outbreaks of various viruses, political disturbances such as demonstrations or strikes, and elevated risk of terrorist attacks.
• Travel Warnings– A bright orange shield with an exclamation point.
What does this mean? These warnings mean that the US government wants you to consider very carefully whether you want to go to this destination at all. There may be frequent terrorist attacks, ongoing intense violence or crime, unstable government or even civil war in these locations.
• Worldwide Caution– A bright turquoise circle with an exclamation point.
What does this mean? This is the listing of all the current threats against American citizens worldwide including terrorist attacks, demonstrations, violence against Americans and news about US military actions currently in place.
You can click on the specific country or location for in-depth information about what exactly is happening there, a map pin-pointing various hot spots and contact information for the US Embassy in each location.
Use the Government Travel Safety Checklist
• Be Aware of Travel Alerts and Warnings Before You Go
• Be Certain Your Passport is Current• Check Your Destination's Child Abduction Proof of Relationship Requirements
• Keep the nearest US Embassy or Consulate contact information with you, and learn what they can and cannot do to help you in an emergency
• Make sure your Driver's License and Insurance are up to date and country specific
• Pack lightly so you can move quickly if necessary and cover your luggage ID tags so that your nationality and identity are not easily seen
• Make copies of your travel and itinerary documents; leave one set with a friend at home and pack one set separately from the originals
• Do not carry or flash large amounts of cash, notify your banks of your traveling destinations
• Learn about what's legal and what is not for your destination
• Pack extra medications in the event you are delayed; carry doctor's letters about your prescription medications or any physical condition that requires help
Enroll in the US Government STEP Program
This free program allows you to enroll your trip with the nearest US Embassy or Consulate. You will get important announcements about safety conditions in your destination. When emergencies occur, the Embassy can help your families find you more easily.
Though it is impossible to predict when any traveler may be placed in harm's way by the unexpected, it is best to become informed, aware and alert while traveling in new and different ways than were necessary in the past. The heightened level of awareness, armed with extra knowledge, can go a long way to help travelers on their global journeys.