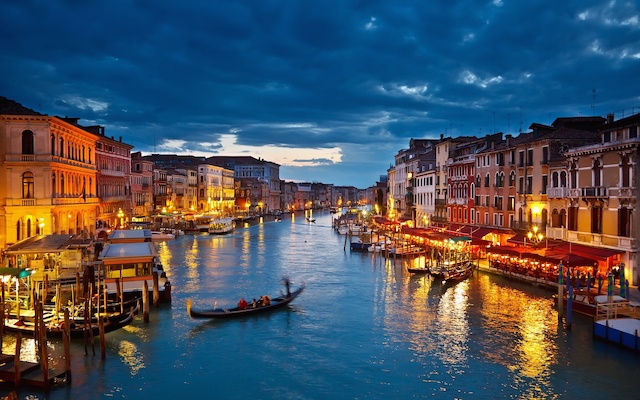 Asking someone to marry you is certainly a defining point in anyones life. Getting married is a big deal, and you will always remember exactly where you were when you go engaged. So if you could go anywhere to ask someone to marry you, where would you travel? There are some cities in the world that are more romantic than others, so let's look at the five best cities in the world for marriage proposals.
5. Venice 
From the amazing food and intricate waterways to the incredible night life and historic buildings, Venice is a great city to pop the question. There are many great places within the city to propose at, or you could go for the classic gondola ride and propose on one of them. Venice is extremely romantic and beautiful, which is why it attracts many couples each year.
4. New York City  
New York is filled with literally anything you could possibly want from a city, and many people (cough New Yorkers) consider it to be the best city in the world. Whether or not that's true, it is also a great place to propose. If you want a quieter and semi-private moment, Central Park would be the best place. If not, there are plenty of amazing restaurants where you can ask your loved one to take your hand. This is also the city that never sleeps, so your post-proposal celebrations can go late into the night and the next morning.
3. Prague 
Prague is one of the few European cities that did not get completely devastated during World War II, which means it is filled with many historic buildings and landmarks. We're talking about buildings that date back to the 1100's. Prague is an extremely old and beautiful and many parts of the city seem to come right out of a fairy tale. A simple stroll through any of this cities streets is all it takes for you to understand why this is a great place to propose.
2. Rome
Rome is certainly one of the most romantic and incredible cities in the world, which is why it is a great place to propose. From the tiny and charming streets to the historic landmarks, Rome is filled with culture, amazing food, plenty of life, and amazing sights.
1. Paris 
Okay we get it, asking someone to marry you in Paris is horribly cliché and it's been done before. That being said, Paris is still an exceptionally beautiful city and is arguably the most romantic place in the world. Sure it's the capital for marriage proposals, but there's a reason for that. Most people that have visited Paris will understand why so many people get engaged here.
Photo from jayhawksabroad.dept.ku.edu