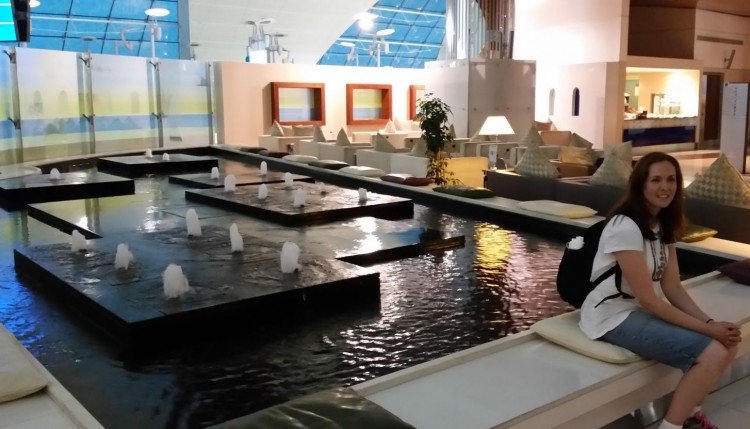 Flying can be very stressful. You need to pack according to the airline's guidelines. When you get to the airport, you need to get through security and then wait for your flight to leave. If you are going to have a layover at another airport during your flight, it can make things even more stressful. The best way to relieve a bit of the stress is to relax in the airport's lounge. Most airport lounges are the same.
There are, however, a few exceptions. If you are lucky enough to be flying in or out of an airport with luxury accommodations, you should definitely take advantage of the time that you can spend there. It will be an experience that you will never forget.
The Qantas First Class Lounge, Sydney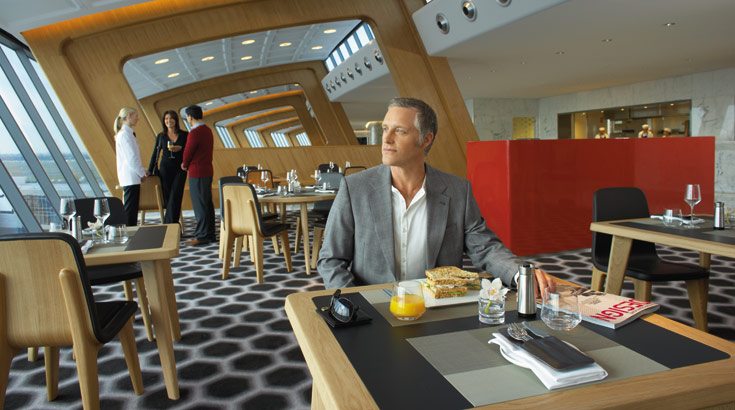 If you are flying first class, this is an airport lounge that you will want to spend some time in. It is not your typical airport lounge. When you arrive at the terminal, you will find that the first class check in counter is roped off, away from the rest of the terminal. There are two check-in counters, and the employees who work at these counters make sure that you are checked in as quickly as possible. Along with your boarding passes, you would also be given an Express Path card.
It will help you get through security and immigration faster. There is seating in the first class check in area, so that you can sit down and be comfortable while you fill out your immigration forms. Once you get through security, you simply follow the signs to the lounges, which are only a two-minute walk from check-in. The entrance is one flight up from everything else, and an escalator will take you right up there. If you are worried about missing your flight, you shouldn't. There is a flipping departure board right inside the lounge. Once inside the lounge, you will see how nice it is.
It's bright, colorful, and very inviting. Even though the lounge is huge, it feels private because all of the areas are sectioned off. If you need to check your email or go online, there is a business center inside the lounge complete with iMacs and phones. If you want to grab a quick drink, you can take advantage of the self-serve bar area a coffee machine. There is also a fresh menu available daily. The snacks on the menu are delicious, and they make your stay in the airport lounge well worth it. If you want to have a sit down meal, the restaurant is gorgeous. You can choose to sit at a table or up at the bar.
The restaurant is often crowded, however, finding a table shouldn't be a problem. The food selection and the wine selections are amazing. The food that you are served can be compared to that of a 5 star restaurant. At the far end of the lounge is the spa. The day before your flight, you will get a phone call to find out if you want to schedule a treatment before you flight. If you schedule a massage, that is exactly what you will get. You get the full 30 minutes, lying down with your shirt off. If isn't like the typical 15 minute massage that you can get while sitting up at other airports. If you need to freshen up, the lounge also has shower rooms. Everything in this lounge is first class. Spending some time in the Quatas First Class Lounge in Sydney is a great way to start your trip.
Paris Charles de Gaulle: Air France First Class Lounge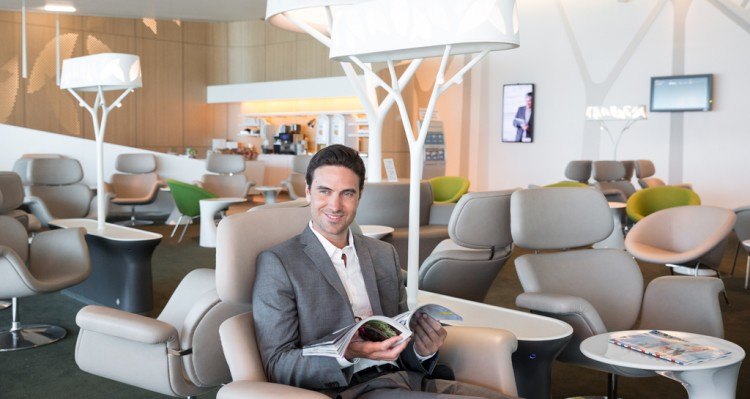 Customer service is the main focus in this airport lounge. When you get through security, which takes just minutes, you are taken on a tour of the lounge. The lounge is large, with plenty of open seating. If you want some privacy, you can sit down on one of the more secluded couches. The bar is stocked with top-shelf liquor and there is red mood lighting surrounding the bar. When you are sitting facing the bar, it is easy to forget that you are sitting in an airport lounge.
It feels more like the VIP section of a nightclub. Even though you can eat anywhere in the lounge, there are tables set up for your comfort. The restaurant is catered by Alain Ducasse, and you can expect to be served a three course meal. If you don't want something from the menu, you can check out the buffet, which has more food choices than you could ever imagine. If you need to get some work done, there are several workstations set up with room for more than one person to work. If you need something to keep you busy while you wait, there is a large assortment of magazines and newspapers.
If you want to freshen up, the bathrooms contain showers, toiletries, and even a terry cloth bathrobe for you to put on after. If you need a nap while you wait for your flight, there are a handful of daybeds, and each of them is sectioned off, giving you ultimate privacy. You will also be given a pillow and a blanket. If you want to relax in the spa, you can choose from one of many complimentary 30 minute treatments. You can pay for a longer treatment, however, it is very expensive. Before you leave the lounge, you will be given a gift.
The staff will offer you a bag and a USB drive before they whisk you off to your flight in a private car. Your escort will walk you from the car all the way to the plane. Your escort will introduce you to the flight attendants who will be taking care of your during your flight. The comfort, the ambiance, and the food and drinks make spending time in the airport lounge feel like a vacation in itself.
Emirates First Class Lounge, Dubai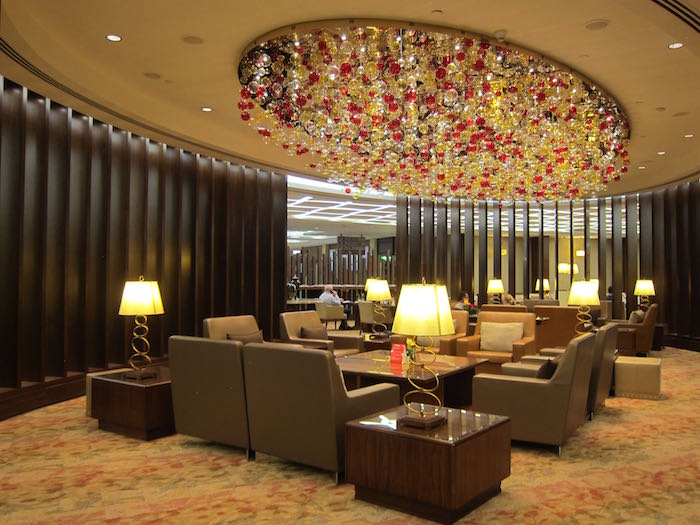 When you arrive at the terminal at Dubai Airport, you will feel more like you are in a shopping mall rather than an airport. Once you have marveled at the terminal itself, you would take the elevator up to the first class lounge. The lounge itself is enormous. It spreads across the entire length of the terminal, which allows you to board the plane directly from the lounge. This is not something that you see very often. At first glance, you will see the duty free shops and feel like you are in a quiet terminal.
That will all change after you walk a bit further. There is plenty of seating, by plenty it means possibly over 1,000. To make sure that you have everything that you need, you can expect to see over 100 employees walking around. If you want to grab a bite before your flight, you can take advantage of the light buffet that is served at every individual gate. The drinks in the lounge are supposed to be self-serve, however, there are so many people on staff, you can be sure that someone will help you find exactly what you are looking for.
The wine is liquor list is quite extensive. If you want to have a smoke, you can have a seat in the lounge's cigar bar. Inside the bar is a large selection of wines and cheeses. It is isolated and quite comfortable. The lounge's restaurant menu is quite extensive. There are plenty of meal and dessert options to satisfy even the pickiest traveler. If you would rather step up to the buffet, the choices are endless and the food is excellent.
If you want to lay down and nap while you wait for your flight, there are two large sleeping rooms with dozens of day beds, complete with pillows and blankets. The soft lighting in these rooms makes falling asleep quite easy. If you want to relax, you can enjoy a complimentary spa treatment in the lounge. They offer massages, haircuts, professional blow dries, and even manicures. You can even enjoy a complimentary shoe shine right outside of the spa doors. This is an airport lounge that you should experience if given the choice.
Virgin Atlantic Clubhouse, London Heathrow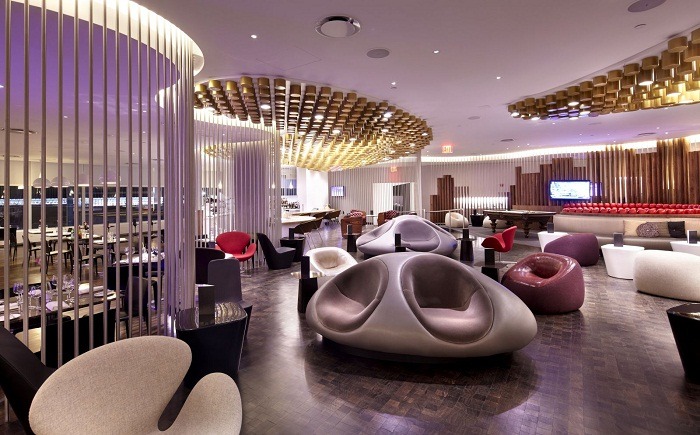 When you arrive at the airport, you can be dropped off directly at the first class check-in facility. This means less walking and you won't get lost. While waiting to check-in and get your boarding pass, there are couches to sit on. There is never anyone on them however, because the staff gets you checked in immediately. Upon entering the lounge, you will find a wide variety of magazines and newspapers from all around the world. There is plenty of seating around the lounge, both out in the open and in private.
If you want a drink, you can either sit at the bar or sit in one of the circular chairs that hang from the ceiling. You can also sit at one of the communal high top tables. The liquor and wine selections are much more than you would expect from an airport lounge. When sitting in the lounge, you will be approached by a server offering your food and drinks. This is great if you don't want to sit at the bar or sit in the restaurant area. If you are traveling with your children, there is a special section for families, which has seating, books, and toys for kids.
There is also an area called The Cinema. There are several chairs and ottomans facing a huge television. You can also play pool or arcade games in the lounge. If you need to get some work done, you can visit The Den which is a business center. If you want to get a breath of fresh air, you can go one flight up to the garden terrace. There is plenty of seating, and it is a nice place to wait on a nice day. If you want to grab a bite to eat, you can either enjoy the breakfast buffet or you can order something from the lounge's extensive menu.
The food is more like something you would get in a 5 star restaurant than in an airport lounge. While waiting in the first class lounge, you receive one complimentary service from the spa. You can choose from a variety of treatments such as a back massage, a scalp massage, a manicure, and many more. You can also take a shower in the shower room or relax in the lounge's hot tub. When it is time to board your plane, it is just a short walk. This is one of the nicest and most comfortable airport lounges in the world.
Cathay Pacific The Pier: First Class Lounge, Hong Kong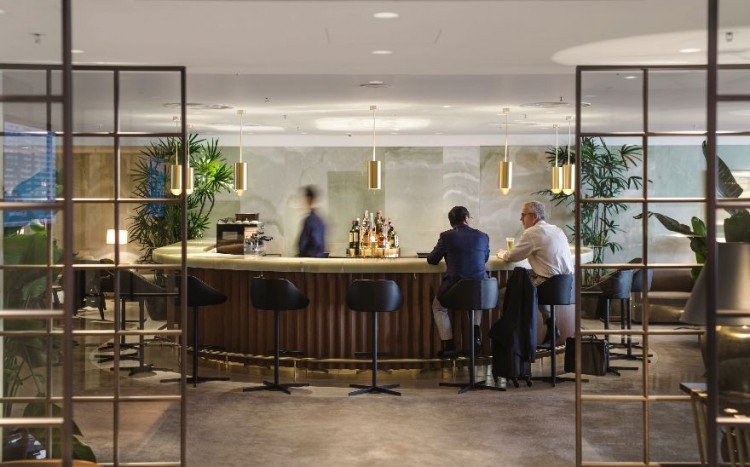 Flying first class from this airport, you can expect check-in and security to be very quick and easy. Once you check in, you would take a train to the airport lounge. When you arrive at the lounge doors, you would be welcomed by one of the friendly staff members. When you walk in, you will first see the horseshoe-shaped bar surrounded by high-top tables. The furniture in the lounge is set up so that you can sit comfortably alone or in groups.
The wine and beverage lists are so extensive, chances are it would be impossible not to find what you want on the menu. If you want a quick snack, you can take advantage of the self-serve snack bar. If you are more interested in a sit down meal, the menu choices in the lounge is quite extensive and the food is amazing. If you want to stay busy, there are plenty of newspapers and magazines for you to read. If you want some privacy, you can sit in one of the many private rooms in the section called The Retreat. The lounge has a nap room if you want some privacy. You can relax, take a nap, or get some work done on your laptop.
If you need a more formal setting, the lounge has a business center complete with comfortable chairs and an iMac. The shower rooms are nicer than the bathrooms in many 5 star hotels. The complimentary toiletries are amazing. You are allowed a complimentary treatment at the spa, and there are several options to choose from. When you schedule your treatment, you would be given a buzzer to let you know when it is your turn. Spending time in this airport lounge will make you feel like your vacation has already begun.
Some airport lounges are better than others. The lounges on this list are among the best in the world.