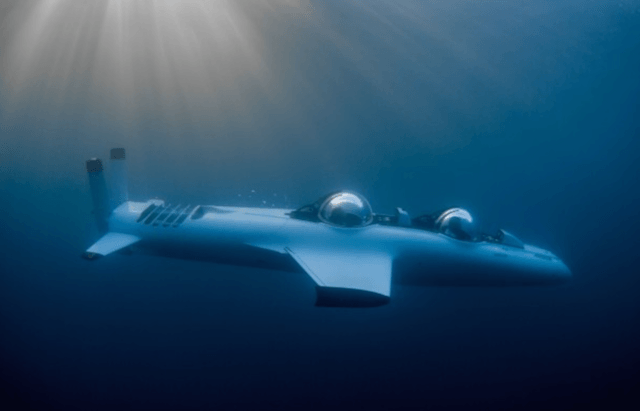 There are many different reasons to come to Fiji as the various islands offer some of the most luxurious tropical island experiences around. Well now their is another great reason to come here as a specific resort is offering guests a trip in a very unique submersible device: the Super Falcon.
The Super Falcon is a 22-foot long personal submarine that is produced by the company Deep Flight. To date the company, lead by Graham Hawkes, has only released three of these awesome devices. Priced at around $1.7 million dollars each, the Super Falcon certainly is not a toy. While two units have been sold to private individuals, the resort known as Laucala has also gotten their hands on one.
Laucala is a private-island resort in Fiji that offers guests an amazing tropical experience. The resort has everything you would expect from amazing villas, great restaurants, a terrific spa, and premium beach access. Well now guests can also take advantage of the resorts Super Falcon and go on underwater excursions in the surrounding water and coral reefs.
Hawkes took a trip to the resort after they purchased the device to train them how to use it and maintain the device. Hawkes says the Super Falcon isn't that difficult to use and is controlled in a similar way that small airplanes are. While that may seem like a daunting task, Hawkes says that it is very much worth it. He has used his own Super Falcon on countless excursions and has spent three years in the Pacific exploring the waters.
The Super Falcon can achieve depths of 400 feet and can reach speeds of around 6 knots. Additionally the device is very small compared to other submersibles and it is very agile. Guests at the Laucala resort can now enjoy a once-in-a-lifetime experience onboard the Super Falcon. The island has around 1,500 different types of fish, 400 different species of coral, and the water is extremely clear. Originally it costed guests around $2,000 for a 45 minute trip, but that fee is now included in the resorts all-inclusive rates.
Photo from Deep Flight