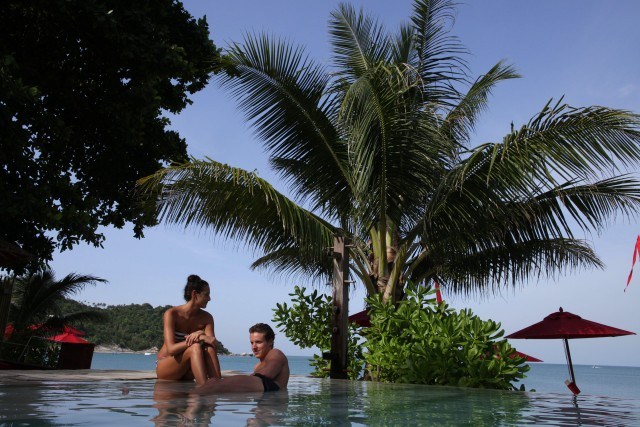 Typically, when a couple is planning a honeymoon, you can expect the usual destinations: Caribbean islands, Greek islands, Hawaii or Bermuda. Sun, sand and beautiful blue beaches are a sure bet for the recently married. But what if you want to do something a bit different? Where do you go? Here are a few unique destinations that are typically not your standard fare for honeymooners.
1. Virgin Gorda
Yes it is a beach paradise, but it is not a popular destination for honeymooners which is why it should be considered. This beautiful jewel in the British Virgin Islands is only accessible from another nearby island such as Puerto Rico so there are no direct flights into the island from the United States. Also, there are no large "all inclusive" hotels that sprawl and span all over the beaches. This serene island has quaint cottages and small inns for the honeymoon couple some even come with their own private swimming pools. The vibe is considerably more quiet and subdued which may just be the thing after months of planning a wedding.
2. Kauai
Yes this is a Hawaiian island but it is not chosen as often as its neighbors, Maui and The Big Island. But consider this: it is the island that is known as the destination for true nature lovers. Kauai has over 50 miles of pristine beaches and the wonder known as Waimea Canyon which is often called "The Grand Canyon of Hawaii". Another natural wonder is the twin Wailua Falls which could provide some of the most romantic settings for your honeymoon pictures. 
3. Barcelona, Spain
Don't be put off by this city that is known for its nightlife and party atmosphere. This beautiful Mediterranean city can prove to be an extremely romantic town. Spend a lazy day soaking up the sun followed by a tasting trip to La Boqueria Market's food stalls. Don't forget that this is a seaside town so avail yourself of the many sunset sails that are offered.  You can literally sail off into the sunset with your love while sipping on the locally made Cava wine.
Photo by Paula Bronstein/Getty Images