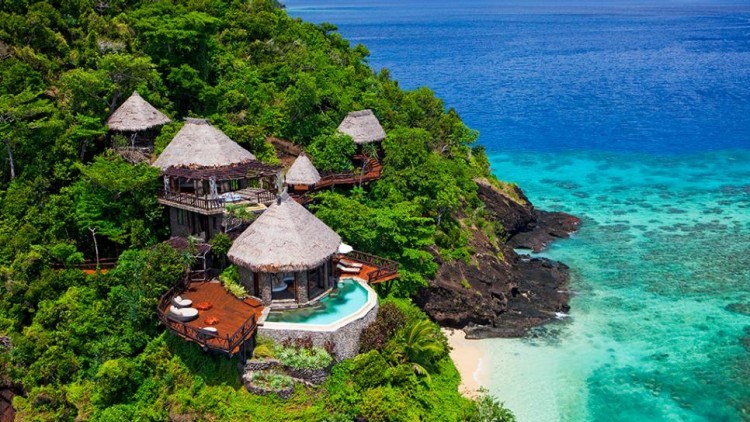 Private islands are associated with great luxury, wealth, and relaxation. Resorts operating on private islands often provide some of the most expensive and extravagant vacation packages available. The Laucala Island resort is no different. It is the epitome of pleasure, offering fantastic views, meals, and accommodations. Naturally, experiencing this degree of luxury comes at a high price. For those who can afford it, however, Laucala is an unforgettable island paradise.
Laucala Island
Located off the coast of Fiji in the South Pacific, Laucala is an approximately 3500-acre island. It boasts an incredible array of tropical sights and scents, with its mountains, beaches, palm trees, and beautiful turquoise water. On average, its temperature ranges from 71 to 94 degrees Fahrenheit.
It was first discovered in the 17th century by a Dutch man named Abel Tasman. It was used as a copra plantation until 1972, when it was purchased by Malcolm Forbes. Forbes began investing in the island, transforming it into a personal paradise. After his death, he was even buried on the island. Later, billionaire Dietrich Mateschitz, the head of Red Bull, purchased the island from Forbes' heirs.
Under the guidance of Mateschitz, the island was transformed into an exclusive resort. Not only did he aim to provide the highest degree of luxury for guests, he also strove to create a high-end resort that had minimal impact on the island's beautiful environment.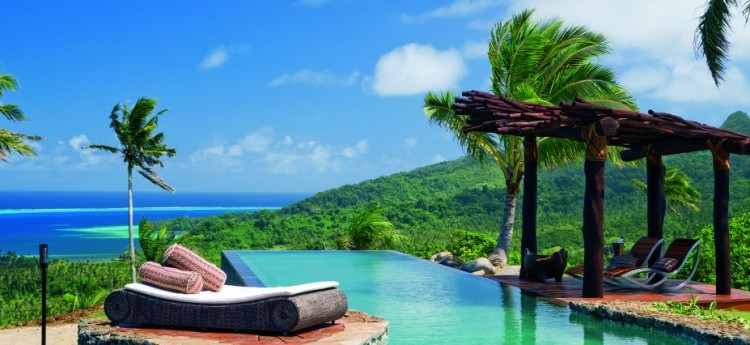 Accommodations
Mateschitz enlisted the help of London-based designer Lynne Hunt to produce an unforgettable island experience. Guests can look forward to choosing between 25 available villas for their stay. Each villa is equipped with its own private beach and surrounded by tropical gardens. With 1 to 3 bedrooms per villa, there are options suited for couples as well as families.
The villas are designed for guests to seamlessly enjoy their interior and the surrounding environment, with indoor and outdoor showers. There are also incredible wood and stone baths. The comfortable and stunning villas are designed using natural Fijian materials, which drives home the relaxed feel of the tropical island.
With Wi-Fi access, cordless phones, satellite television, and even private golf carts included in each residence, guests will be getting their money's worth and more
Dining
The island resort features 5 separate restaurants. They include beachside barbeques as well as fine dining.
Plantation House offers delicious breakfasts as well as gourmet dinners.
Beach Bar features seafood, meat, and dessert served right on the sandy beaches of Laucala
Pool Bar offers fresh beverages and features a lovely shell design.
Rock Lounge is the perfect choice for drinks and finger foods, and lets guests enjoy the fantastic view of Seagrass Bay.
Seagrass Restaurant offers a diverse menu of Asian inspired dishes.
In keeping with the resort's philosophy of minimal environmental impact, much of the food served is farm-to-fork. With a 240-acre farm and 3 large greenhouses, meats and vegetables arrive fresh and without the need for shipping. Seafood is often caught by and purchased from local fishermen.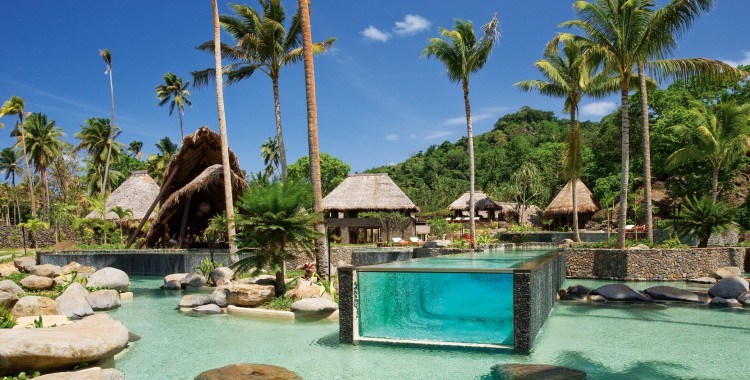 Activities
While the luxurious villas, sensational cuisine, and tropical surroundings may be more than enough for many guests, some desire to experience more excitement while on the island.
Pools and Water Sports
Aside from the beaches and private pools included in each villa, there are also many pools within the resort. There is even a massive 60 000 square foot pool that guests can enjoy. For the adventurous, the resort offers diving, water skiing, jet skiing, windsailing, and more at its Water Sports Center
Leisure
For those seeking relaxation and pampering, the Leisure Center offers a spa, library, and gym. Certified yoga instructors and personal trainers are on hand to help guests get the most out of their exercise sessions
Nature
For animal and nature lovers, the resort offers tours of its 240-acre farm. Here guests can witness the diverse array of animals and crops that provide sustenance for the resort. The island's steep mountains and expansive views can be experienced on guided hikes. Even more incredible are the available horseback riding lessons offered by the resort.
Golf
Perhaps best of all, the resort offers an incredible 18-hole course designed by David McLay Kidd. The signature 12th hole has a green that actually meets the beach. Golfers can find clubs, caddies, and everything else they require at the Club House.
In keeping with the resort's extensive luxury, there is always a professional golfer on hand to provide lessons for guests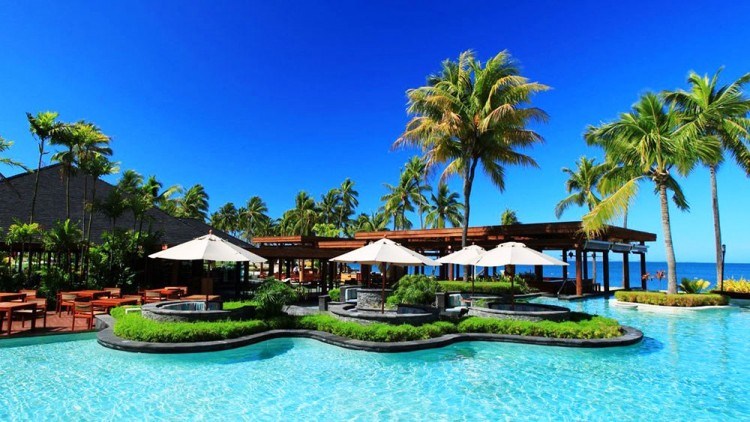 Environmental Impact
For people who wish to experience luxury but are hesitant to support ecologically destructive resorts, Laucala is the perfect destination. Environmentally friendly design is a priority that comes straight from the island's owner.
While the resort is all-inclusive and fulfills every possible wish, it only covers about 15 percent of the island's land. It is estimated that with the island's gardens, greenhouses, and large farm, it is roughly 80 percent self-sufficient. Even the golf course was designed to make the most of its location without tarnishing the environment.
Pricing
For booking individual villas, nightly fees begin at about $4000, although they can be much higher. For renting the entire island, the nightly fee is $150 000 with a minimum stay of five nights. The luxury of this resort is reflected in its high prices, but for those with the funds, it is an unforgettable experience.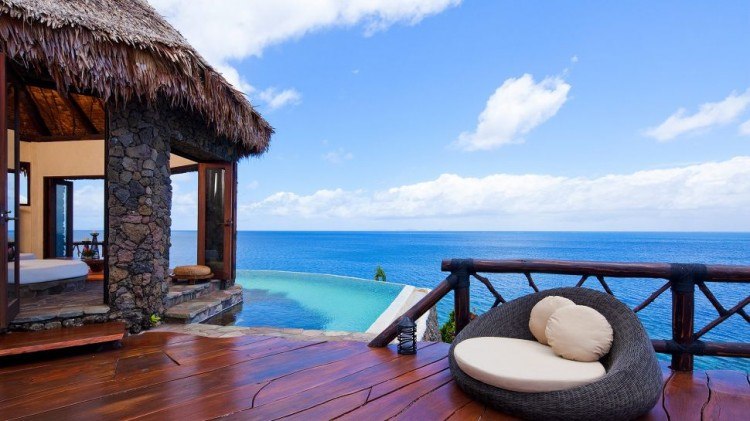 Conclusion
Laucala Island is an expensive, remote, and incredible resort. Guests who can afford the island will experience unparalleled comfort and care, given that the island boasts the highest staff-to-guest ratio available, with 350 staff for a maximum of 80 guests.
With 25 secluded villas, each with its own beach, guests will feel at home on this Fijian island. Features like wireless Internet access and satellite television are offered as well. However, the resort offers more than enough activities to keep people occupied. With diving, horseback riding, hiking, and an outstanding golf course available, there is something for everyone at this resort.
Defined by its great food, comfort, and scenic location, Laucala is a unique and beautiful resort. It manages to provide guests with the highest degree of satisfaction for their stay while minimizing damage to the island itself. It is a truly special tropical paradise.