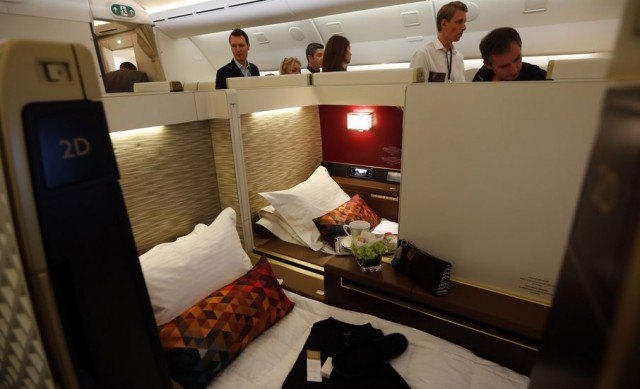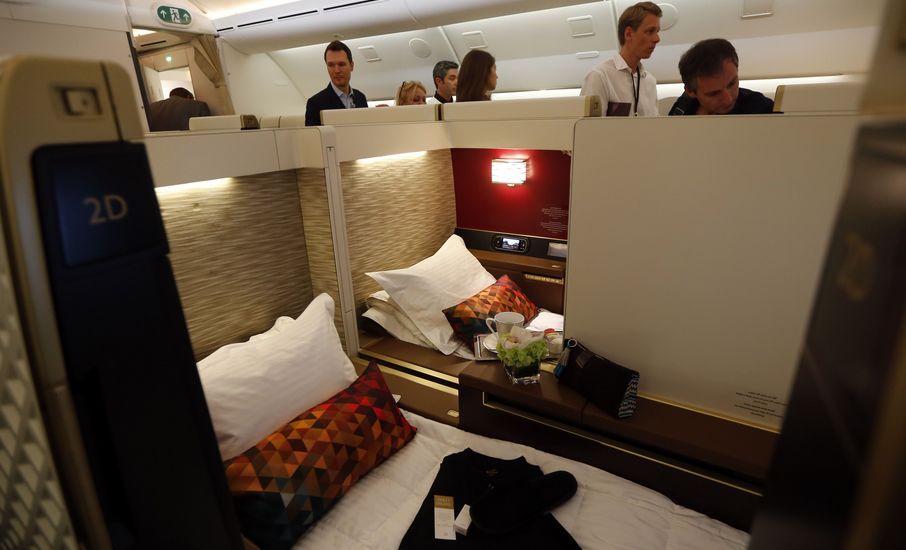 The further along we get with technological advances in aviation, the closer we get to having "homes" in the sky.    What used to be a cramped seat littered with cigarette smoke and awful food has become,  in some cases, a virtual hotel room.  While coach seats still don't offer the kinds of amenities one would hope for, first class cabins are getting better and better with each passing year.  So much so that you now find yourself having your own apartment in the sky.
We decided to take a look around at airlines around the world to see who had the best first class suites.  While these don't come cheap, you might just have to indulge once or twice to experience these incredible perks and comforts in the sky.  We've also included real videos and not just touched up photos so you can truly see what you're getting here.
Etihad's First Class A380 Private Suite
Etihad Airways has the ultimate First Class experience. It's called The Residence, and it's a three-room, private suite aboard their new Airbus A380 planes. Complete with a personal butler (trained at the Savoy in London), the suite has a living room, private bathroom with shower and a full bedroom.  With a living room, separate bedroom and ensuite bathroom, The Residence by Etihad is the only three-room suite in the sky.  It'll cost you though!
Cathay Pacific First Class 777 First Class Suites

Their 777-300ERs feature just six first class seats per cabin so the personal attention factor is amazing.  They have what many consider to be the most comfortable bedding of all the airlines.  You'll also get served Krug and Caviar.   Sit back, relax, and enjoy the views (of the interior that is!)
Singapore Airlines Suites Class A380
Singapore airlines first class features a double bed.  So there's no lie back seat on this plane.  The bed fits two people and cabins come with a 23 inch screen TV with USB and HDMI ports. Between their caviar and lobster thermidor, there's not room for much else.
Jet Blue Mint's Private Suite with Closing Doors
Jet Blue's private suit in the mint program is the only suite offered in the U.S. that has closing doors.   Tapas style food offering.  When you leave the plane you get a free amenity kit.  It's not the airline suites on the international planes but it's a matter of time before U.S. airlines adopt these too.
Japan Airlines First Class 777 First Class Suites
JAL has fantastic mattress pads, and you can even choose whether you prefer a soft or firm one.  JAL also has a Japanese toilet which most people don't get to experience here in America.  They provide both Japanese and Western menus, a huge selection of wines, spirits and sakes.  Pajamas, amenities and a proper bed turn down service are provided during the flight. The open suite full flat seats turn into a large bed and the flight attendant offer 2 options of mattress – soft and hard – according the passengers request. Called airwave system – apparently the same developed by NASA
Lufthansa First Class 747-400 First Class Suites
Their 747-400 first class deserves a special mention, given that it offers a separate seat and bed for each passenger.  Also passengers get the entire upper deck of the plane for just eight seats so it's about as private and exclusive as it gets.   Lufthansa offers some of the finest amenities of any Western airline.
Qatar Airways A380 First Class Suites
The seats don't have much privacy while on the ground, though once airborne there's a partition you can raise between seats for added privacy. The ottoman at each seat can be turned into a buddy seat, in case you'd like to dine with a friend.  And you'll get plenty of sleep on these beds.
Emirates A380 First Class Suites with Shower Spa
Showering on a plane is sort of the coolest thing ever. Like, really. Between the incredible entertainment system, blingy suite, onboard bar, and shower, even a 16 hour flight will feel way too short.
Qantas First Class Celebrity Dining on Their A380
This video is particularly awesome because the theme from Forrest Gump is being used.  In any event, Qantas has also gotten into the celebrity chef game using Neil Perry for their A380 suites.
Japan Airline Suites Wooden Interior on the 777
Japan Airlines suites feature wood grain interiors and air-weave pillows.  The airline has also partnered with Michelin-starred chef Seiji Yamamoto to create their first class menu.
Air France Private first class cabins
The ultimate in comfort.  All throughout your trip, including upon arrival and during connections, an Air France team member will be available at your side at every turn. You receive priority access when exiting the aircraft and our staff will accompany you to the baggage claim area.