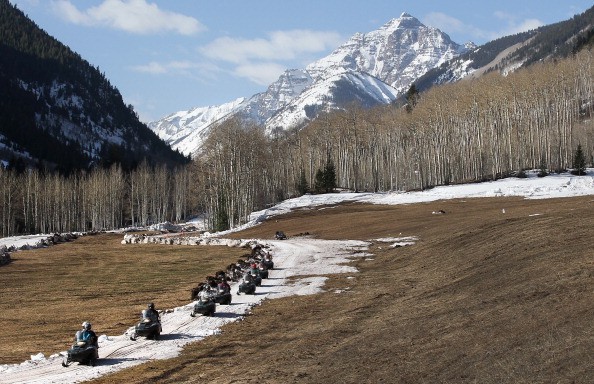 Aspen, Colorado is a beautiful place to vacation in if possible and offers tons of amazing aspects to offer for those seeking out a new travel destination. Aside from the amazing skiing and mountain ranges, the city itself is a great town that has lots going on and plenty to take advantage of. The luxury hotel, the Hotel Jerome, an Auberge Resort, has been finding unique ways to celebrate their 125th anniversary and many have been through interesting packages for guests. The most recent is an overnight that would be amazing for couples on Valentine's Day.
The entire package at the Hotel Jerome costs a total of $125,000 and includes round trip plane tickets from major cities such as Denver, La or Chicago as well as a luxury suite in the hotel for one night packed full of romance. Couples find their day filled with a relaxing carriage ride through Aspen with stops to select his and her watches from the luxurious Meridian Jewelers and eventually returning back to the hotel to have some champers and canapes by the Jerome's Living Room fire.
In the evening, a private wine dinner with a personal butler is scheduled and customized by the couple to their liking. The dinner features a solo violinist and professional photographer to make sure the memories created are never forgotten. After dinner, when they return to their hotel room, guests will discover chocolate covered strawberries, dessert wine, and even a ready to go bath with bath salts. The entire package sounds like an amazing getaway even if it's only for a single night. This is the perfect Valentine's Day gift for people looking to change things up a bit from the boringly normal dinner and roses. The Hotel Jerome is constantly looking to create opportunities like this, so if you already have plans made for Valentine's Day, be sure to look out for anything else they might announce in the future.
Photo by John Moore/Getty Images