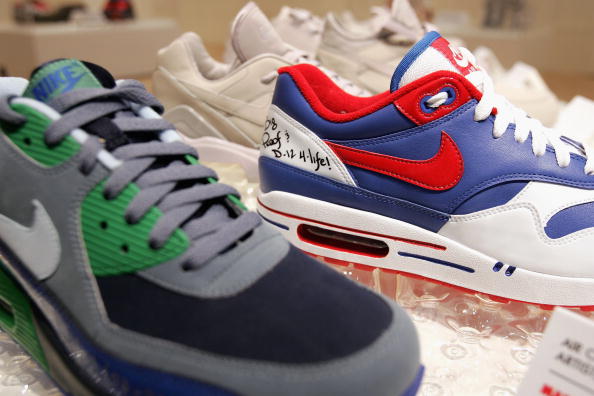 Being a "Sneakerhead" has become quite popular throughout the past give years. A "sneakerhead" is someone who collects shoes, mainly all of the limited edition fashion pairs that are constantly coming out. Some of these pairs of shoes might never be worn, but certain people find a major attraction to the craft and artistic styles that are being produced. Purchasing these premiere sneakers is interesting, but  actually begins to cost a lot of money; and it's to the point where men are willing to spend up to $1,200 for a single pair of sneakers.
Despite there being a drop in luxury sales during 2014, the sneaker industry continues to boom and rake in tons of large sales. Famous designer, Giuseppe Zanotti, has found a niche making luxury sneakers that sell from anywhere between $500 to $1,500 for a single pair. He noticed his success when Kanye West was wearing his designs and compared to last year, Zanotti's sales are up 127%.
There is an increasing care for style among men and they aren't afraid to drop some serious cash for a nice pair of sneakers. The luxury sneaker trend is becoming a massive part of the men's fashion industry and it continues to grow. Kids are even beginning to follow the trend and ask for these luxury shoes as presents rather than the normal action figures or skateboards. There is a massive culture behind the luxury sneaker market, full of buying, re-selling, and trading with one another, which has allowed for the market to grow even more and establish a niche market for third party re-selling websites (like this one).
The sneaker market is becoming increasingly more popular, which is a great thing. It allows for designers to expand their talent and vision into a new market that is thriving with sales. In 2014, men's athletic sneakers are covering 29% of all shoe sales, only sitting behind women's non-athletic shoes that control 31% of the sales. Although it seems ridiculous to spend $1,200 on a single pair of sneakers, it is a new luxury industry that is booming.
Photo by Gareth Cattermole/Getty Images