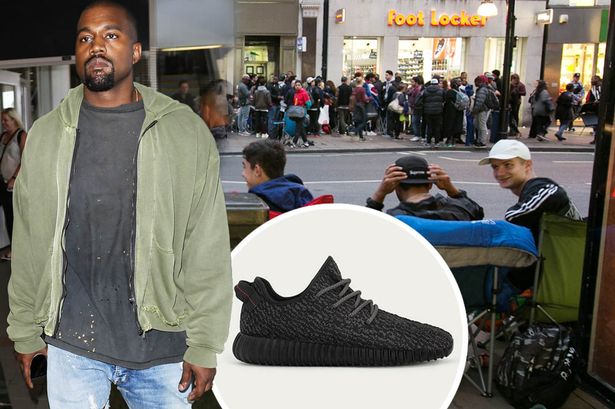 Kanye West fans were finally able to get their hands on a pair of limited edition trainers.  However, it was only if they were super lucky.    People had been waiting since Thursday to purchase one of only 50 pairs of his Adidas Yeezy Boost 350 black sports sneakers at a London store.
Over 100 people were lined up outside a Foot Locker in London ahead of the trainers going on sale.  West, a musician, and husband of Kim Kardashian is also becoming a major fashion icon.  One fan, Madhana Loredo,  traveled from Oxford at 7am on Friday to queue for the artist's limited-edition trainers. "I personally wouldn't pay any more than £1,200, but people pay crazy money – I've seen some for £20,000," she said. "Even if you don't get in your size, that's alright, you can keep it and make a lot of money."
Outlets throughout the UK will be offering the exclusive design and in London shoppers were made to register their contact details to get the chance to secure a pair. West first penned a deal for his shoe range with Adidas in 2013 and the first 9,000 pairs of his Yeezy Boots sold out in 10 minutes.
Seems as though his latest pair is having the same effect on fans.   Were you lucky enough to make a quick purchase?