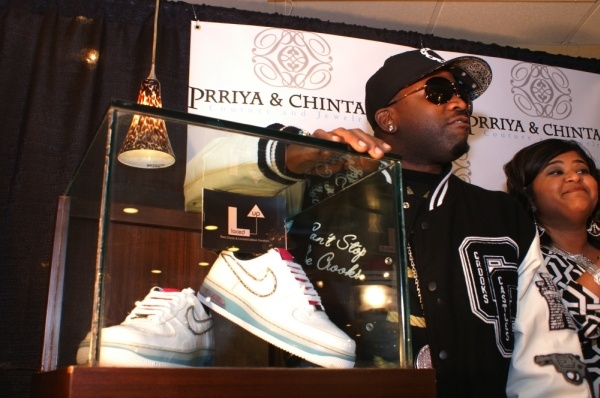 In November of 2007, Big Boi–an Atlanta rapper and half of American hip-hop duo OutKast–became the owner of a brand new pair of $50,000 Nike Air Force 1s. The most expensive pair of Nike Air Force 1 sneakers in the world, these special edition "So Cal" Air Force 1s were officially unveiled and presented to Big Boi at the Solitaire Kicks launch party in Atlanta, Georgia. Ernel Dawkins of Atlanta sneaker boutique Laced Up teamed up with local jeweler P&C Diamonds to add 11-caret champagne diamonds and gold accents to the pair of Nike Air Force 1 Supreme Max. Even though Big Boi didn't have to pay for the diamond encrusted shoes, the pair of Air Force 1s was valued at $50,000, and proceeds from the event went towards the rapper's Big Kidz Foundation. "When it came time to consider which celebrity to honor with this shoe, we thought it would be perfect to go with Atlanta's top sneakerhead Antwan 'Big Boi' Patton," Dawkins said. "To us, he represents style and affluent flavor." Customers interested in covering their own sneakers in yellow, blue, or white diamonds and silver and gold could contact Laced Up–which is now closed–and order their own custom pair for a whopping $50,000.
The owner of the most expensive Air Force 1s in the world, Big Boi, is an American rapper, songwriter, record producer, and actor who, along with André 3000, is best known for being a member of American hip-hop duo OutKast. His work in the iconic Atlanta hip-hop duo has garnered six studio albums and six Grammy Awards over the course of his 22-year career along with a current net worth of $40 million . The 39-year-old rapper's solo debut, Sir Lucious Left Foot: The Son of Chico Dusty, was released in 2010 to respectable sales and critical acclaim, while his second solo album, Vicious Lies and Dangerous Rumors, was released in 2012. The Nike Air Force, now known as the Nike Air Force 1, is an athletic shoe originally created by designer Bruce Kilgore. The first basketball shoe to use Nike Air technology, the Air Force 1–available in low, mid, and high-top versions–was introduced in 1982 and discontinued the following year until its re-release in 1986. Bringing in an estimated $800 million a year in revenue, little has changed over the years to the Air Force 1 since its creation, while over 1,700 color variations have been produced. Originally considered the favored shoe of inner-city youth (especially in Harlem, New York), Nike Air Force 1s have since become the brand's most iconic and popular shoe as both a collector's item and a cultural statement.
Visit nike.com for more information on the classic Nike Air Force 1s or click here to browse and purchase your own pair. Also, check out the trailer for Air Force 1: Anatomy of an Urban Legend, a documentary centered around the shoe, below.
https://www.youtube.com/watch?v=edpGjf3RSIU
Video by NIKE JAPAN/YouTube.com
Photo by pursuitist.com