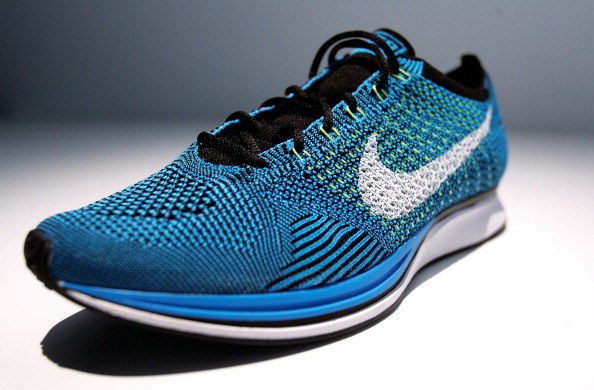 Nike is one of the best-known and most popular manufacturers of sports shoes. While they have many styles available at reasonable prices for the general public, some of their shoes have sold for sky-high prices. In fact, few people could afford the prices fetched by these shoes and only the most die-hard of shoe fans with a large budget would even try to get hold of a pair. The prices are influenced by celebrities that have worn the shoes and the rarity or uniqueness of a particular design. Here are the ten most expensive Nike shoes of all time.
1) Autographed Nike Air Jordan I
First in the list is a pair of Nike Air Jordan I shoes that were actually autographed by Michael Jordan himself. The unique shoes brought a record-breaking $60,000 when auctioned on eBay. These shoes may get knocked-off the top spot as a pair of Nike Air Yeezy 2's owned by Kanye West are expected to achieve almost $90,000 when he sells them.
2) Nike Air Force One by Prryya & Chinatan's Couture and Jewelry
Laced Up, a boutique in Atlanta, gave Big Boi the most expensive pair of Air Force One sneakers ever. These stunning shoes are adorned with gold and 11 carats worth of diamonds. They are valued at an amazing $50,000.
3) Autographed Kobe Air Zoom
Just 25 pairs of shoes autographed Kobe Byrant, a professional basketball player nicknamed the Black Mamba, were released for sale. The price reached for a pair of these in an auction was a jaw-dropping $25,000.
4) Air Jordan I
Another pair of Nike shoes worth $25,000 are the Air Jordan 1's designed by Peter Moore. Controversially, these were originally red and black. The NBA specifies that all basketball shoes should have some white in them. After initially rebelling against this, Jordan and Nike finally agreed and a new design containing white was created. During the time when he continued to wear them in spite of the ban, Jordan was fined $5,000 for each game.
5) Air Mag
These futuristic style shoes were made famous by Michael J. Fox when he wore them in the 1989 movie, 'Back to the Future'. Nike created just twenty replica pairs of the shoe and these are worth $25,000, in spite of Michael J. Fox having no connections to basketball other than his role in 'Teen Wolf' as a basketball player.
6) Air Jordan V
A special pair of these shoes was created for Michael Jordan in 1990. It featured the number '23' in black and silver. It has a clear sole, reflective tongue and was the first shoe to sport lace locks. The unusual spiked mid-section of the sole was inspired by fighter planes from World War II. They are worth $10,000.
7) Air Jordan I
Not as rare as some of the others on this list as about 1,200 pairs were produced. However, they still cost $8,000. Manufactured in 1985, the Air Jordan I features metallic white, metallic silver and pearlized leather.
8) Air Jordan VI
Anyone buying these Nike's could choose from five different color combinations including white and sport blue, white and infrared, off-white and maroon, black and infrared or carmine black and white. Other features include a molded heel that supports the Achilles tendon, two holes in the tongue and a reinforced toe section. It is the last Air Jordan to feature the Nike Air logo. The carmine black and white shoes worn by Jordan in the 1992 Olympics are worth $7,200. He also wore them in the championship game against the Lakers.
9) Gold-Dipped Nike Dunks
These gold-dipped Nikes are not the most practical choice as you won't be able to wear them without spoiling them. However, they do look fantastic on display. The value of these shoes is $5,405, rather a lot for something to look at!
10) Air Jordan III
When Nike let designer Peter Moore go, he was replaced by Tinker Hatfield. This is the first pair of shoes he designed for Nike. Priced at $4,500, these shoes feature the Jumpman logo, an air unit in the heel and a leather finish. When Peter Moore left, Jordan was tempted to go with him. However, the design of this shoe encouraged him to stay with Nike.