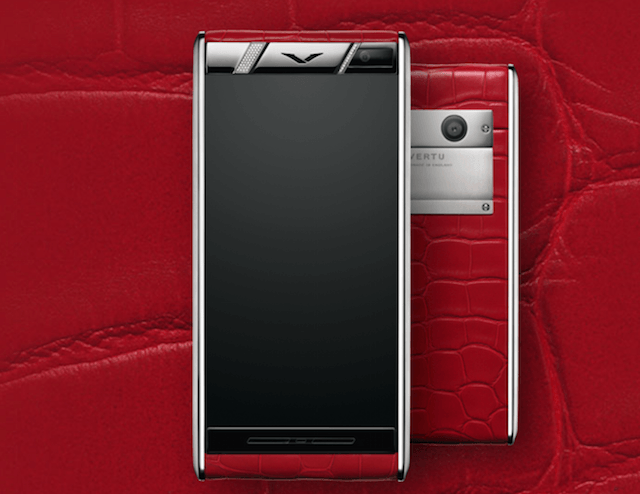 Despite the recent trend of ultra-affordable phones with flagship levels of features an performance (the OnePlus One for example), there are many companies out there that cater to those seeking luxury smartphones. Vertu would be one of those companies, and they have recently just released a new smartphone that costs $12,500 dollars, making it considerably more expensive than pretty much they entire competition by a long shot. For nearly everyone a phone from Apple, Samsung, or Motorola is fine, however a few want something that is more of a status symbol and the all new phone from Vertu in their Aster collection is certainly that.
Originally established by Nokia, Vertu is now a British manufacturer of high-end luxury phones. The company asked the question "If you can spend thousands of dollars on a watch, why not a phone too". Their current lineup is large and their newest phone is very interesting.
The first thing that you will notice about the phone is that it is encased in red leather, alligator leather to be exact. The leather is wrapped around the devices polished stainless steel pillow, and the phone has a back plate made from high-quality titanium. The phone also features 55 diamonds near the ear piece that weigh in at 0.15 carats.
Specifications wise this phone has a 4.7 inch 1080p screen thats made from sapphire crystal glass. The phone also has a 2.3 GHZ quad-core Snapdragon 801 processor, 64GB of memory, a 2.1MP front facing camera, a 13MP rear camera, and a 2275 mAh battery to power the device. The phone runs Android 4.4 with a skin developed from Vertu on top. The phone has a few 4G bands and is NFC compatible. So while the devices does have premium materials, many phones currently on the market that cost around $650 dollars have better internals and higher-resolution screens.
Additionally there is a version with back alligator leather and it has 33 black diamonds and 22 white diamonds (0.16 carats worth) for those wanting a different color option. All of the phones are produced by hand in their factories in England. You can purchase the device off of their website or at one of their boutiques.
Photo from Vertu