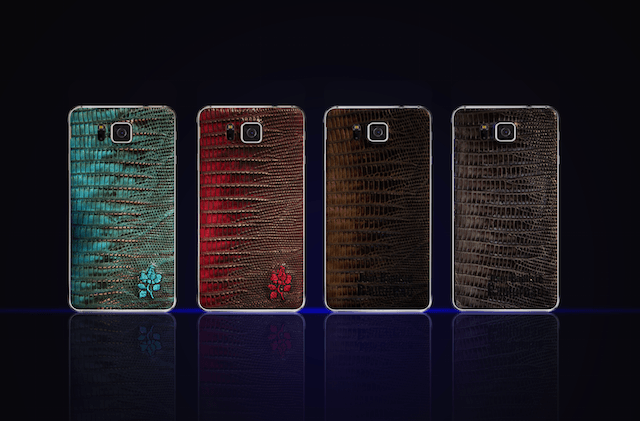 As of late we are seeing more and more cellphone manufactures move away from traditional materials to build phones, in favor of more exotic materials. Motorola is well known for doing this with their Moto X phones, as consumers have an option of many different backs to choose from that range from real wood to kevlar. We saw phones like the OnePlus One offer wood backs on their phone, and I own a phone (the Droid Turbo) whose back is made from ballistic nylon. Well it seems Samsung is getting aboard as they announced these amazing leather backs for their Galaxy Alpha phones.
The Galaxy Alpha was introduced by Samsung in August of 2014, and was released globally in September of this year. The device was the first phone that Samsung produced with a metal exterior frame. The company is known to primarily produce devices made entirely out of plastic, however they seem to be trying to distance themselves from that notion as we see the newer Note 4 with a metal frame as well.
Samsung is working with luxury French shoe designers Free Lance and Jean-Baptiste Rautureau, to bring high-fashion to phones. They are going to produce four different leather backs for the phones that will be available in limited number of 100 per version. Free Lance is producing two in either burgundy or teal blue with an embroidered flower for women, while Jean-Baptiste Rautureau designed two for men in either brown or grey leather.
Unfortunately you cannot just purchase the back, as you have to buy the whole phone which will cost around $790 dollars, which is about $100 dollars more than the original Alpha. Oh and you can only get them in France. This release is also interesting as Samsung has just announced that they are going to discontinue this model of phone, after a short lifespan of just a few months. The company is known for releasing the most amount of devices per year, and is looking to cut down its product line around 30%, and the Alpha will be one of them. Either way it is nice to see companies using different materials for their phones, making them more interesting. It would be nice to see future phones from Samsung that use premium materials as they are a welcomed addition.
Photo from Samsung Mobile France