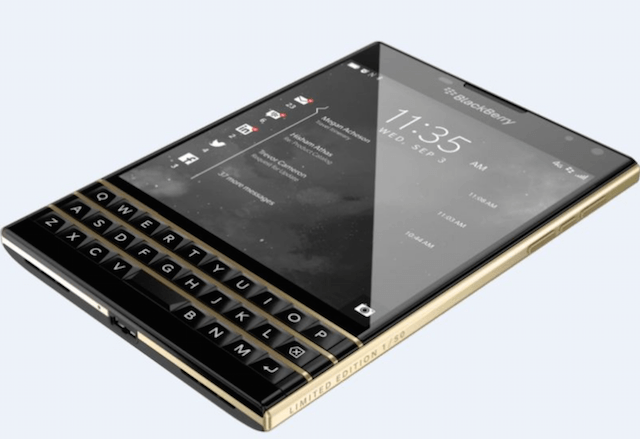 A few years ago, Blackberry used to be the leading cell phone manufacturer. Then the iPhone came out, and the world ditched their Blackberry's for touch-screen phones. The company has been struggling over the recent years, however they are still very much alive. While you don't see really any Blackberry devices in the wild, they do make a few good devices. They have always been especially known for their business-oriented devices. One of their more premium devices, the Blackberry Passport, is pretty cool and it just became even more exclusive.
The device is unlike pretty much any other smartphone in the market due to its design: it's essentially a big square. The Passport rocks a 2.2GHz quad-core processor, 4G bands, a 13MP camera, an HD IPS display, 32GB of internal storage, 3GB of RAM, and it runs Blackberry's 10.3 OS. In addition to the touchscreen, the device also ahas a physical keyboard. The Passport is being marketed at no-fuss business people that want a device to check emails, view spreadsheets, and do other "business-y" things.
Despite an awkward size, the device has received pretty good reviews. Blackberry is confident in the Passport, so they have also just released a limited edition model. Known as the Passport Black and Gold edition, this device replaces the stainless steel on the stock version for gold. No it is not real gold, however it does look very cool and premium. This limited edition version is being produced in a run of just 50, and they have been offered at a more premium price ($899 compared to the original price of $599). If you want to get your hands on one, unfortunately they have already sold out. But don't worry, there's one for sale on eBay for $4,000 dollars.
While this phone is certainly appealing to some, there are some major downsides. The largest one would be the app support: there simply aren't enough apps in Blackberry's ecosystem compared to Apple or Android devices. However if you don't care about that, and want a premium business phone, the Passport is not too bad. Check out this video from Cam over at PhoneDog to see more about the device:
 Photo from Crackberry