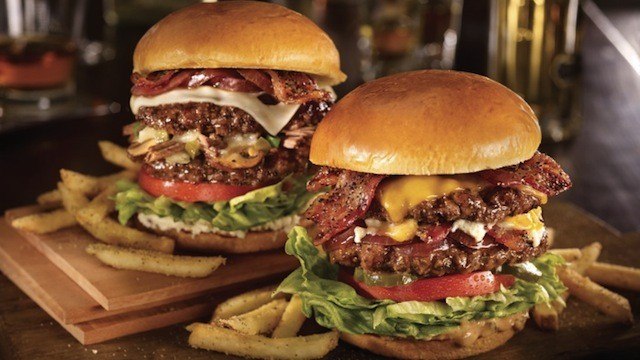 Burgers are arguably America's favorite fast food. There, of course, are the naysayers that say pizza, pasta, or even vegan dishes have trumped the burger as the United State's #1 food. Even in the center of the financial district of New York City you can find a plethora of burger joints that will cater to your craving for your favorite burger with all the trimmings and today, you'll find out about 10 of the best places to go to get your burger done just the way you like it done.
New York is famous for its eclectic food tastes as it is where most of the immigrants poured into the country in numerous waves over the last 100 years and each group has brought their cuisine and style of cooking to our shores. Only in New York can you find Sicilian cooking that can compete with the best Italy has to offer. A few blocks away you can treat yourself to Kolachke from Warsaw. Bulgarian beef in the form of Kapabcheta, which is grilled, minced beef on a skewer severed with either a domestic beer, Kamenitza or a Zagorka, famous Bulgarian beers. In fact, whether you crave Filipino Adobe, Chinese General Tao's chicken, and any other cuisine you'd care to name. You'll find it in Manhattan any time of the day or night.
But, they all pale in comparison with the American Burger and we got the places to find the best.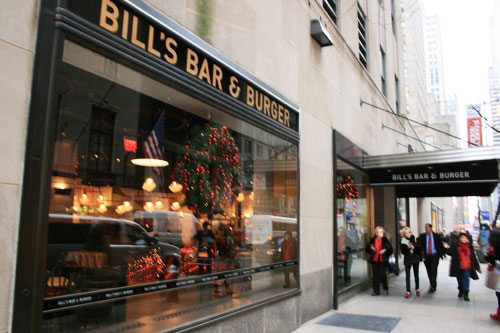 1. Not only one of the 10 best in NY but America as well
Bill's put one of the best burger spreads out anywhere in the US bar none. The Fat Cat is where it's at and if you walk away still hungry after devouring this monster. You are obviously on your way to becoming a world champion burger gourmet. But this national award winning burger with its caramelized onions and slab of cheese on an English muffin is only the tip of the iceberg as they have a full array of burgers, specialty sandwiches, sides, and desserts as well. You can even get a selection of tacos and BBQ also. There's something here for everyone at Bill's Bar and Burger.
http://www.billsbarandburger.com/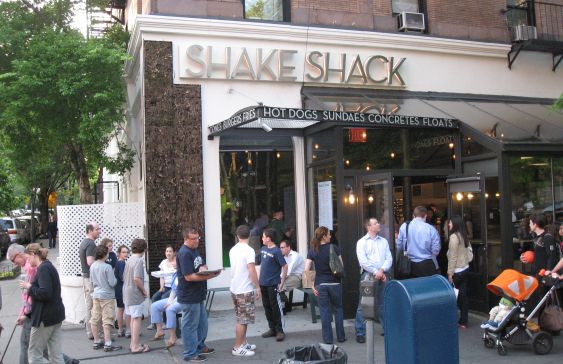 2. The place that started the Burger Craze in New York
The Shake Shack originally came in from sunny California and it has made itself a home in the Big Apple in numerous places. Midtown, both Upper and east sides and all the venues are packed at lunch and for evenings after a hard day's work. Their Shake Sauce is one of the draws with a special flavor all its own. However, what brings everyone in is the burger. Fresh ground beef made to a proprietary mix that is 100% and with nothing added.
No hormones, No GMO with this burger and it is filling and many can't fit it into their mouth to take a full bite and have to nibble their way into the juicy meat and tasty condiments that pack the bun to overflowing. It's all made to you specific order as well.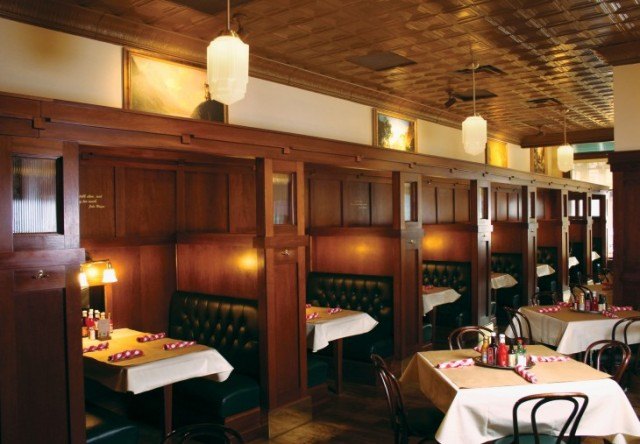 3. For a taste treat, try a Bison Burger
In the Time-Life Building, you'll find Ted's Montana Grill. Here you get their signature Bison Burger with ever thing added or not as you choose. This is range fed Bison and beef from Ted Turner's range. Of course, if you are a vegan there are vegan burgers prepared to your exacting taste as well and at no time do any animal products mix with you taste experience as the ingredients are Kept separate.
A bit pricey as a beef burger will run you around $12 – $16 and Bison starts at $16. You are of course paying for the best taste in a burger that some say is the best New York has to offer.
http://www.opentable.com/teds-montana-grill-nyc-reservations-new-york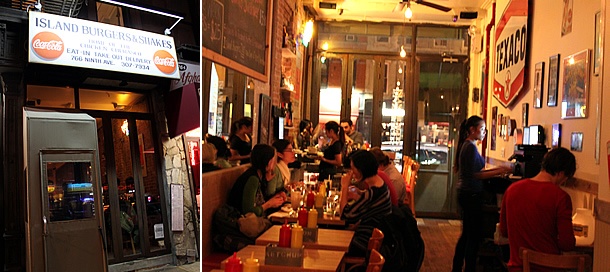 4. The largest Burger Menu is right here
Island Burgers and Shakes does for burgers what Amazon does for books. They provide you the widest variety possible in the city. Locate in the 700 block of 9th ave. you have to see their menu to believe it. In the middle of Hell's Kitchen, you can savor a burger, you build from their vast array of topping and condiments.
This is also the home of the famous citywide Churrasco, which is a grilled meat dish from Brazil that you can also slap into a bun as well for a taste that's out of this world.
Prices can range up to $16 for your burger experience, but the cost is worth it as you get exactly the taste you've been craving with sides that are unbelievable as well.
http://www.islandburgersandshakes.com/hellskitchen.htm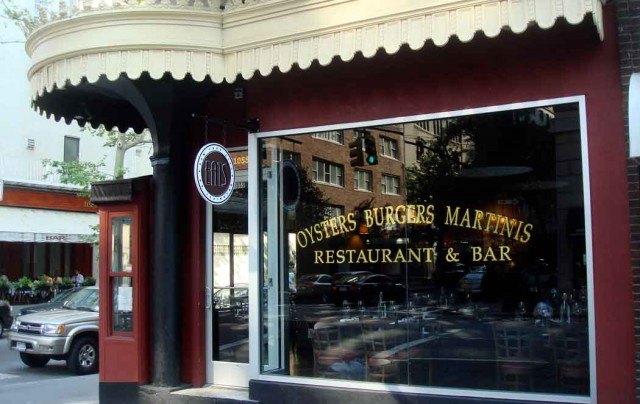 5. How about an aged steak burger?
Chop the beef fine add a mix special herbs and spices, put it between in a large bun, and smother it in canalized onions. Oh, did we say that the burger is done up right in a cast iron pan? That's what you get here at Lex on the Upper East Side. "Eats on Lex's" burger will run you $15 dollars and that's cheap for prime aged beef. That'll make your mouth water when you walk into this classy bar and grill for this great burger treat.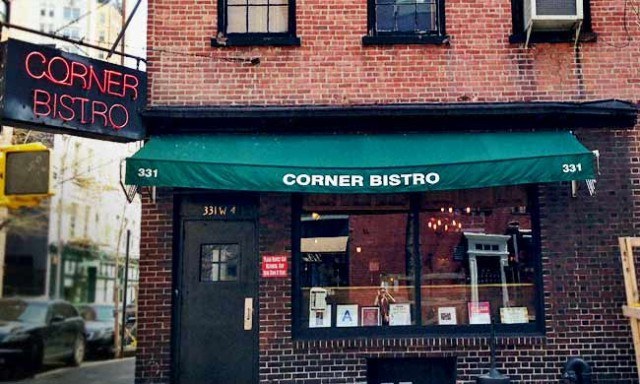 6. Not to be outdone…
The Corner Bistro serves up an amazing assortment of burgers and with all the fixings and sides, you could ask for. Their famous ambiance along with their classic burger, fries, and if you wish, a pitcher of beer is reasonably priced. The Bistro Burger is 8oz of prime beef cooked to order and topped with cheese and bacon. So, it's not for those on a diet. Priced at $9.75 it's a steal in this part of the city.
This Long time traditional pub in West Greenwich Village is still going strong today and just opened a new location as well.
http://www.cornerbistrony.com/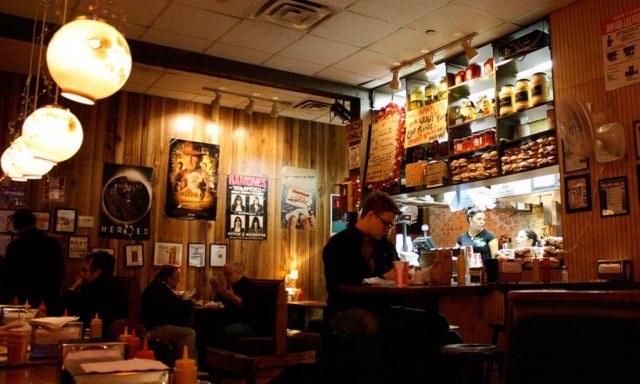 7. Just Burgers
That's the claim to fame for the Burger Joint, which has two locations in the big Apple. A regular burger will run $8.50 and the double burger is $15.16 the double Cheeseburger a bit over 16 bucks. So you have the best of all burger worlds and you get the right amount of fries and a drink with a regular burger for about 15 clams.
Considering you are in Greenwich Village, you are doing well to get off so lightly. This is one of the few places in New York where you can still step in off the street and order without calling in ahead of time.
http://www.burgerjointny.com/8thstreet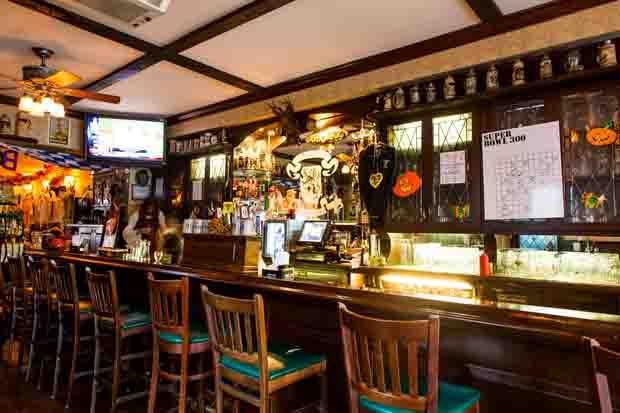 8. For a German Burger, you need only say Nürnberger Bierhaus
Yes, it's true you can get one of the best burgers in the city at a German Beer Garden and why not. Germans have been part of the Big Apple since colonial days. It is only natural that they blend their famous German beer with the American Burger that makes for a fabulous combination and their take on the burger has to be seen to be believed. You have to take the ferry to Staten island and go during the lunch hour.
The dinner menu is more formal but if you ask nicely you can probably still get a burger for dinner. The prices for this work of German culinary engineering is reasonable at $7.50 for the Nürn-Burger platter and you get a 10oz monster with all the trimmings. Add to that a German Dark or Lager and you're set for the best burger feast ever.
So bring you appetite and don't worry about learning the language. They'll understand when you point at the menu.
http://www.nurnbergerbierhaus.com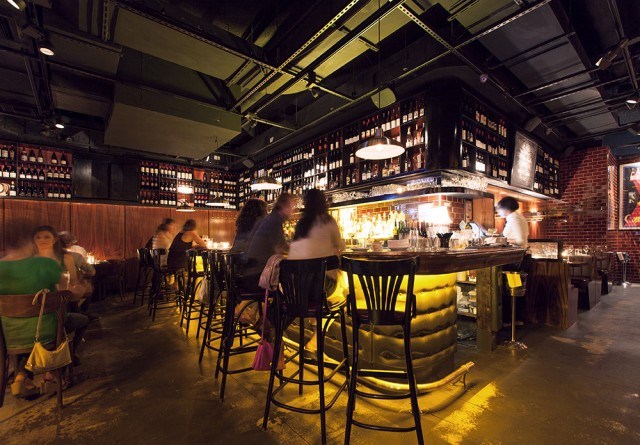 9. For a Truffle, as well as the famous Bash Burger there is only one place to go
Think of a fine British pub lifted up and dropped into New York and that's what you have here at Burger and Barrel. However, here the burgers are "All-American." The chef there had rolls the brisket used to make each one to perfection. Along with the sides, this burger from a truly classy restaurant will set you back about $18 dollars for their award winning Bash Burger and is a taste that you'll be craving again and again. On occasion, you'll be able to sample, the much sought after Truffle burger, but this is not for the faint of heart, as it'll run you $45 dollars without drinks and dessert. Their BMC burger is a bit less expensive at $22 dollars. Check out their selection of wines, as beer does not go with these burgers.
http://www.burgerandbarrel.com/
Final thoughts on burgers in New York
In reality, there are many more than these great burger restaurants in the Big Apple. However, this reviewer had to whittle down the list from over a hundred to the 10 that finally made this list. You too may have your favorites as well. But remember whenever you go out on the town and someone wants to get something to eat, the Burger is always your best choice and you can get the best only here in New York City.