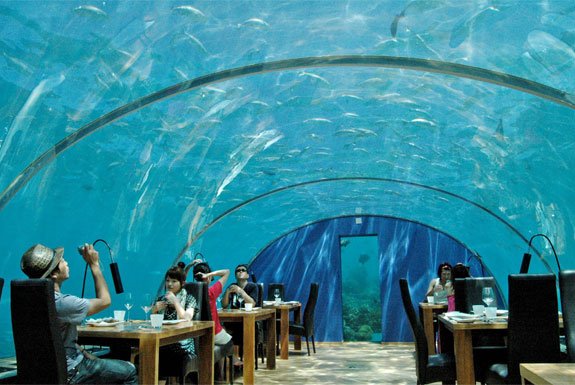 When burgers and fries get old and every salad starts to taste the same, it might be tempting to switch things up a bit and experience some foreign foods. Or perhaps while on a vacation one might deem it foolish to miss out on the best food their new environment has to offer. Either way, stumbling upon an exotic restaurant filled with items you've never seen before can be a great experience; it's a great way to pick up on foreign cultures or find a new favorite food to recreate at home.
The problem is, stumbling upon such a restaurant is not easy. For every truly exotic, cultured restaurant, there seems to be a dozen tourist traps, often serving food locals themselves wouldn't eat. Among these traps; however, are hidden gems just waiting for an adventurous foodie to discover. Here are twenty of those hidden gems for Westerners bored of their current local menus.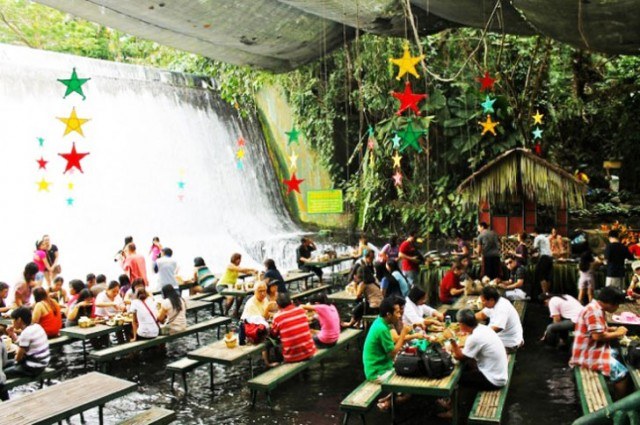 1. Waterfall Restaurant
Located within the Villa Escudero resort, a world-renowned resort situated in the Philippines, the Waterfall Restaurant is situated atop the base of a waterfall. Guests are meant to take off their shoes as they'll be up to their ankles in water. Being that the waterfall is relatively small and perfectly controlled, guests are actually able to sit within a couple of feet of the waterfall itself without any danger, though they may get a little wet. While the food at the Waterfall Restaurant doesn't differ much from other, similar places throughout the region, the environment is certainly exotic and is not something one may expect to see recreated elsewhere. It is; however, worth mentioning that the food is good -very good at that. As with most outdoor restaurants, the Waterfall Restaurant is perfect for families and single adults alike. It's fun, it's energetic and it's certainly exotic.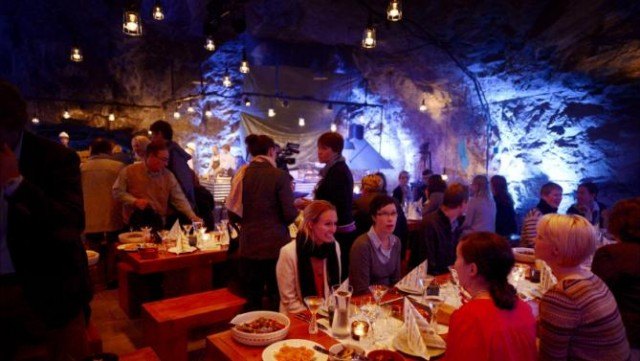 2. Pop-Down Restaurant
Much like the above restaurant, this establishment's name says it all. The Pop-Down Restaurant is literally situated within a mine shaft. The mine itself is over 100 years old and is over 1200 feet below the Earth's surface. While it may be dressed up with tiled floors, hanging ceiling lights and beautiful decor, there's no escaping the fact that you're eating in a mine shaft. The walls of the cave are left majorly untouched, as is the ceiling aside from its typical restaurant lights. Despite this, the Pop-Down Restaurant is not at all gloomy and sets a nice, relaxing mood for any occasion. While eating here, you'll get treated to world-class Finish dishes and drinks brought to you by chef Timo Linnamaki of Finland. This is one of those most exotic restaurants to date in terms of its atmosphere alone. If you find yourself passing through the area, this is a must-see (if not a must-eat).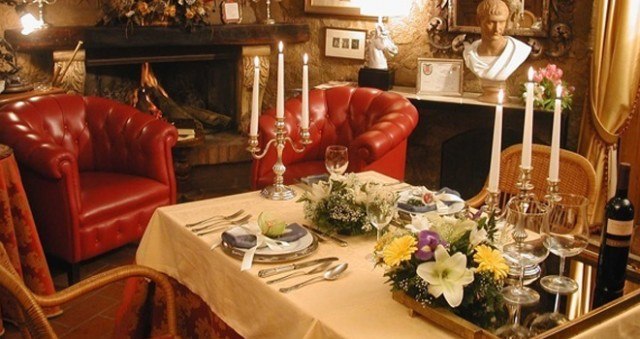 3. Solo Per Due
The Italian translation for "just for two," the Solo Per Due restaurant has been appropriately named. Unlike any other exotic restaurants on this list, this particular establishment isn't the place to bring your family or to meet up for a small get-together. The reason for this is Solo Per Due only has one table. Not only that, the one table it has can only fit two people. If it's anything, it's certainly romantic. While this restaurant is known for its absurdly small size, it's also known for its great food. For a good meal; however, expect to pay a few hundred dollars. Solo Per Due is the definition of fine dining, and then some. If you're traveling through Italy with a special someone and other romantic restaurants just won't cut it, consider dropping into Solo Per Due. Just make sure to bring some cash!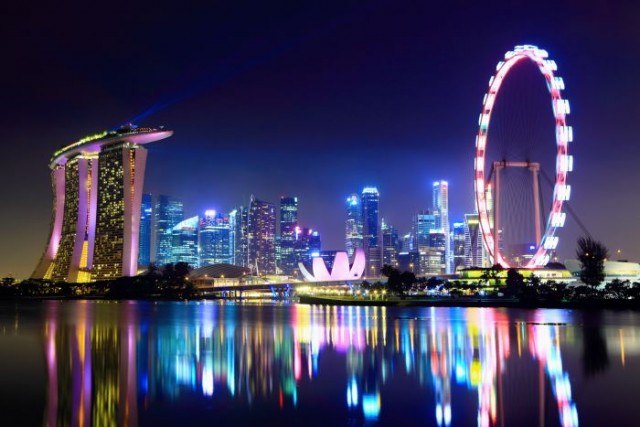 4. The Singapore Flyer
The Singapore Flyer is currently the world's second largest observation wheel. For those unaware, an observation wheel is essential a mostly-glass room dangling from a Ferris wheel. It can fit up to a dozen people comfortably for a far more sociable Ferris wheel ride. On this particular observation wheel, which happens to be huge guests are served food restaurant-style. While many locals may head over the the Singapore Flyer for a night out or a friendly get-together, the observation wheel is great for tourists. Not only do you get to have a bite to eat and later get to say you've been on the Singapore Flyer, you'll get a great view of the wheel's surrounding area that you just can't get elsewhere. The Singapore Flyer guests are treated to traditional Singaporean dishes, furthering the case to check this place out.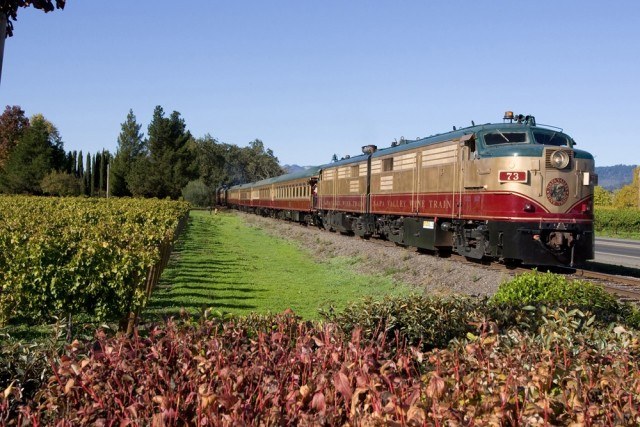 5. The Napa Valley Wine Train
Perhaps leaving the country isn't on your agenda for the near future. Not a problem! The Napa Valley Wine Train (situated in the heart of California, naturally) takes guests on a journey through the history of the wine trade in California. While tasting some of the best wines the country has to offer, guests are driven down a track which passes an array of vineyards. No matter where you're from, you are, without a doubt, going to come out of this train ride with some more knowledge of California's heritage than you went in with. Not only are guests treated to great wines, the food is said to be spectacular, as is the decor. So feel free to bring your beer-loving husband or bourbon-drinking father along for the ride; there's certainly going to be something which appeals to everyone, whether it be the wine, the food, the history or simply the beautiful scenery.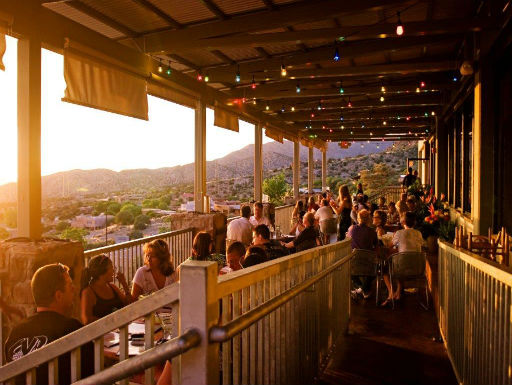 6. High Finance Restaurant and Tavern
The High Finance Restaurant and Tavern was made with adventurous, sporty travelers in mind. It's not that the restaurant is littered with sports paraphernalia – in fact, it has none whatsoever – but to get there you're going to have to take some pretty big leaps. The restaurant is situated on an observation deck, one which sits at over 10,000 feet in the air. Unless you plan on walking, the preferred method of travel for patrons is tramline gliding. Once you make it there, you won't be disappointing. Those who like scenic nature sights will be more than pleased with the view this restaurant has to offer, let alone its exotic menu. If you're up for an adventure, this is certainly the place to wind up on your next cross-country trip.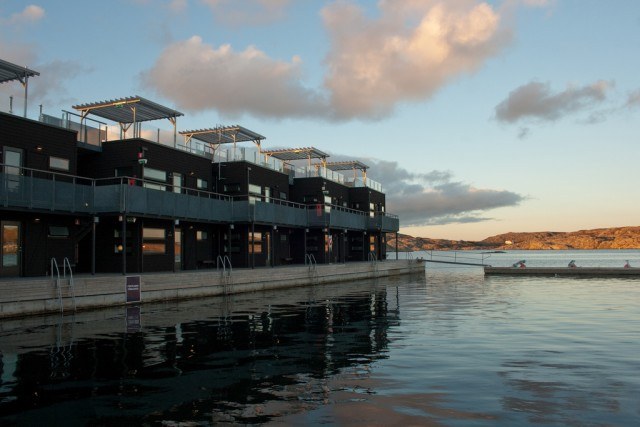 7. The Salt & Sill
Situated in the middle of a lake in Sweden, the restaurant known as The Salt & Sill is essentially a barge (otherwise known as a floating dock) that serves food and offers hotel rooms to guests. Believe it or not, the barge which houses this restaurant and hotel was actually built out of necessity when the immediate area started running out of room. Floating on the lake, guests get a taste of Swede-style (you guessed it) seafood from top-notch cooks while enjoying their stay in a luxury hotel. While hotel residency isn't mandatory to dine at the restaurant, nothing polishes off the experience like spending a night atop the lake. The restaurant and hotel both give an amazing glimpse into some of Sweden's history while serving excellent food and providing beautiful hotel rooms which shouldn't be overlooked by those passing through or planning on spending a night in the area.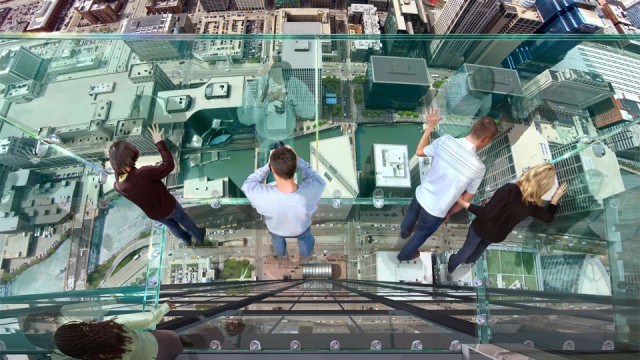 8. The Ledge at the Chicago Skydeck
Imagine being in an NFL VIP suit during a standard football game. Now, take away the football and boost the VIP suit up over 1,000 feet. Coupled with a romantic atmosphere, fine dining decor and great food, you've got yourself one of the more exotic restaurants throughout the USA – The Ledge. The Ledge is known for serving very fine foods made of equally fresh ingredients. They have some great drinks and service as well. Even if exotic restaurants aren't your thing, The Ledge is just a great restaurant all around, one which everyone visiting Chicago should try to experience (getting reservations may be tough). Perhaps its most impressive feature; however, is the view. There is no structure in Chicago that can offer the same view as The Ledge can. Just make sure to make reservations ahead of time.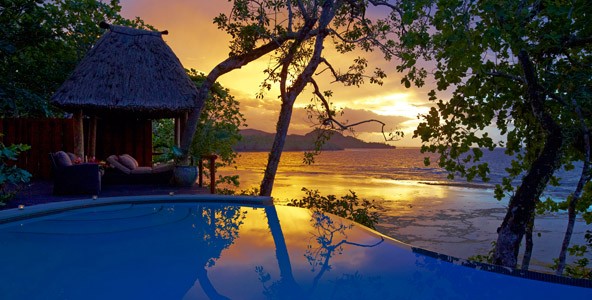 9. Namale Resort & Spa
When we think exotic, beaches, waves and warm temperatures often spring to mind. This is one of those paradises. After arriving at the Namale Resort & Spa in Fiji, guests are treated to an all-inclusive, sea-side dining experience. A ways outside of the hotel, guests may stumble across a path made up of flower pedals and candles. Upon reaching the other side, a freshly-set table with a server will be waiting for them. Guests can eat on the beach to the sounds of the sea while enjoying some of Fiji's best dinner service. This is, by far, the most romantic restaurant on this list and, quite possibly, in the whole world. The mood is set not only by the beach and sea, but by the surrounding tiki torches casting a dim light over the table. For those planning on going, try going at night – you'll be glad you did.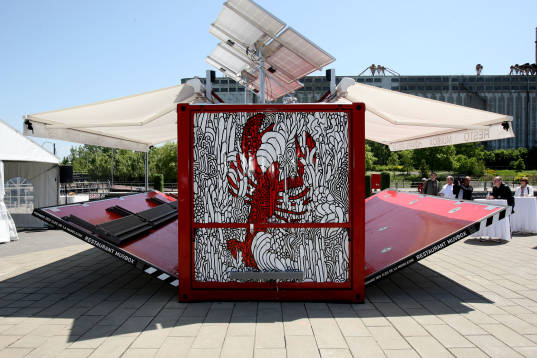 10. Müvbox
While perhaps not the most culture-heavy exotic restaurant, Müvbox, situated in Montreal (though not necessarily confined to any one location) is a one-of-a-kind restaurant. While it may seem a little more close to home, Müvbox serves a variety of Westernized dishes involving lobster, duck and beef among other things. The chef in charge of the establishment picks ingredients at the start of every day to ensure quality and freshness. While this is great, none of it is quite exotic. What is exotic about Müvbox is that it moves around. Well, it doesn't, but it can! Müvbox is a portable restaurant (as the cheeky name would suggest) powered completely by solar panels. Unlike a chip wagon or other similar eatery, this restaurant actually has tables and chairs for patrons to sit at and eat. Being outside in the heart of Montreal while one eats is a great way to pick up French-Canadian culture and will certainly send tourists home with a good story or two.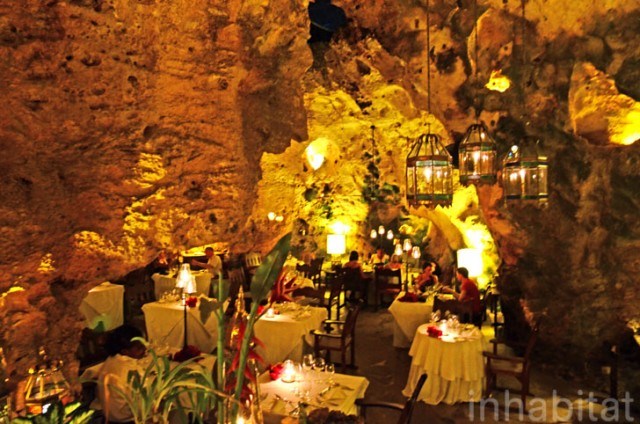 11. Ali Barbour's Cave Restaurant
Ali Barbour's Cave is situated in the Diani Beach resort in Kenya. As the name would suggest, the restaurant is housed in a cave. Unlike the mine shaft restaurant we've covered, the cave which houses this restaurant is relatively shallow and the cave actually opens up above so that guests may still see the sky as they dine. The restaurant serves traditional Kenyan food, offering the majority of foreign visitors the chance to try something completely new to them. The restaurant's (cave) walls are lined with old fossils, further adding to the exotic element present at this restaurant. The decor in Ali Barbour's Cave loosely resembles that of American and Canadian fine dining, though the cave gives it a unique twist.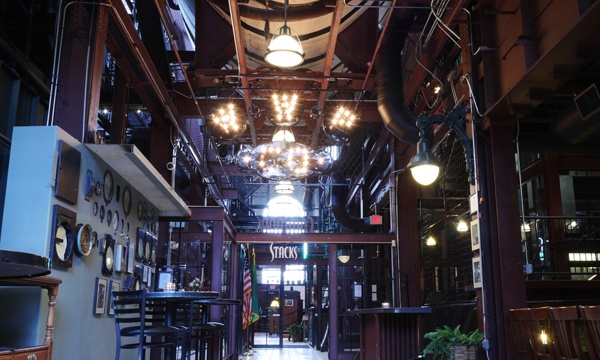 12. Stacks Restaurant
While exotic is one word to describe Stacks Restaurant, I think it's safe to say this establishment easily takes the cake as being one of the stranger restaurants on this list. In Spokane, Washington, someone clearly didn't like the idea of losing their steam plant as technologies changed, being that Stacks Restaurant is housed in one. At Stacks Restaurant, guests are eating in a giant boiler and are treated to some of the finest foods in the state. Any serious beer drinkers will definitely want to drop by as well, as they have a vast beer selection and many foods with beer in the recipe, particularly ales. In contrast to most exotic restaurants, which tend to lend themselves to romantic occasions, Stacks Restaurant has a more rustic, industrial feel to it. It's a bigger place and has no beautiful view. With Stacks, it's the jolt back in time through old, industrial age technology that catches the eye more than anything.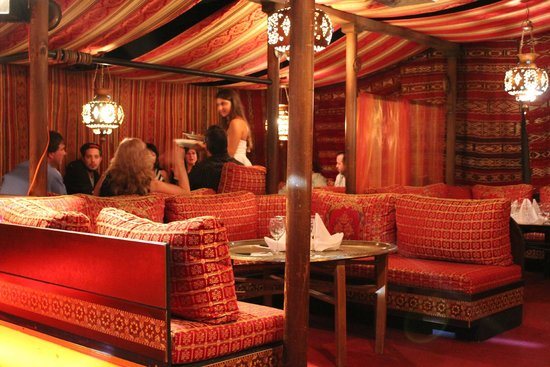 13. La Menara
Another Montreal-based restaurant, La Menara is one of the most unforgettable restaurants in Canada. Upon stepping through La Menara's doors, you immediately forget that you're in Western Civilization altogether. The decor has a renaissance-meets-Arabia feel to it which almost distracts entirely from the food. Speaking of which, the food served here is traditional Moroccan food that hasn't been westernized in any way whatsoever. They do an amazing job of preparing it as well, I might add. It can be hard to find such menus in our culture nowadays. The restaurant has an old-school theater in the front and comes complete with a classical piano. As one of the world's most beautifully decorated restaurants, this definitely deserves a spot on the list.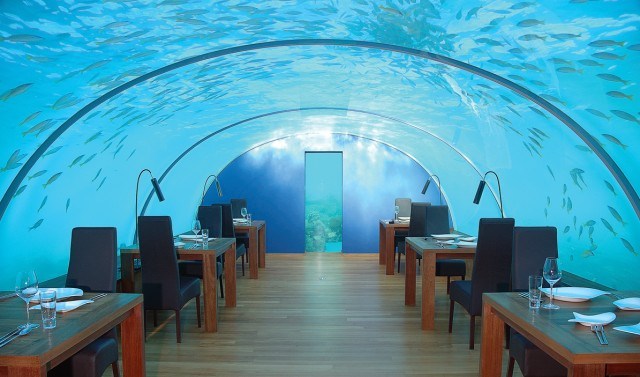 14. Ithaa Restaurant
Ithaa Restaurant isn't found on a mountaintop, nor is it on a beach or a hot resort. Ithaa Restaurant exists completely under the sea. Other than its hardwood floors, the restaurant is made completely of glass, giving diners the opportunity to watch numerous species of underwater life in their natural habitat. As you can probably guess, the restaurant specializes in seafood, though it has a wide range of menu items for those who prefer other dishes. The feeling of being at the bottom of the sea without getting wet is wonderfully disorienting and sets a tone that just can't be beat. This is one of those sights that might just be worth traveling across the globe to see. Even if you're not feeling hungry when you get there, simply stepping inside of the restaurant is a wonderful experience.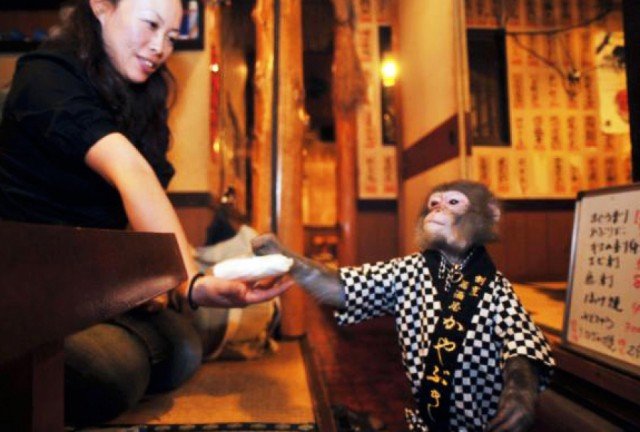 15.Kayabukiya Tavern
The Kayabukiya Tavern for the most part follows the same customs as your typical, Japanese sake-house, a style of restaurant similar to the UK's pubs in their mixed use of food and drinks. However, unlike other sake-house restaurants throughout Japan, patrons at this establishment tip their servers with soya beans instead of money. The restaurant's owner, instead of relying on people to do all of the table waiting, enlisted in the help of his two pet monkeys, Yat-chan and Otsuka. Oddly enough, the owner claims little training was needed as the monkeys started bringing things to customers after seeing him do it. Kayabukiya Tavern is a great place to go if you'd like to experience typical Japanese food and culture first-hand. The menu closely resembles other local restaurants and will give tourists great insight into Japanese culture. The monkey servers; however, are exclusive to this particular restaurant.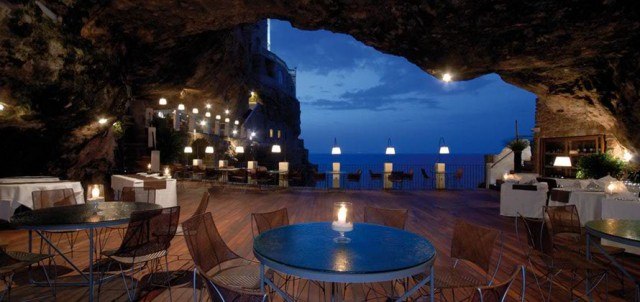 16. Grotta Palazzese
Situated in one of the most scenic areas of Italy, Grotta Palazzese is a hotel restaurant housed by a cave. Unlike the previous cave we mentioned that opens up into the sky, this cave opens up into a beach, giving diners the most gorgeous, natural view they could ask for. The menu consists much of typical Italian foods found in the USA, though with a more authentic Italian touch. The menu has every pasta you could ask for; pastas the majority of us have never even heard of or fathomed. When we think exotic foods, Italy may be the last thing that comes to our minds. But upon dining at this beautiful restaurant, you'll come to realize that Italian food is a lot more than pizza and chicken alfredo. Any Italian food lover will appreciate the food, while everyone will be able to appreciate the beautiful view. It's worth noting that the gorgeous scenery stays consistent throughout the hotel as well, not just the restaurant.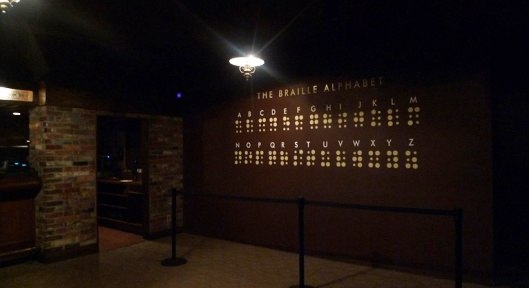 17. O.NOIR
In Toronto, Canada, someone thought it would be a good idea to open a restaurant and turn off all the lights. While this is certainly an exotic restaurant, it is also quite the novelty. For those looking to have some fun and share a laugh, O.NOIR is the place to be. When you get there, you're led to a table wherein your server brings you mystery foods. Not only is trying to figure out what on Earth you're eating a fun little game, but trying to eat it at all may also prove difficult being that you can't simply look down at your plate. The restaurant is always pitch black so that guests may rely on their other senses (in this case, taste, smell and touch) to enhance the flavors, textures and dining experience. While not the average person's idea of an exotic getaway, O.NOIR can be a fun experience for families and groups of friends. Just make sure not to bring any picky eaters!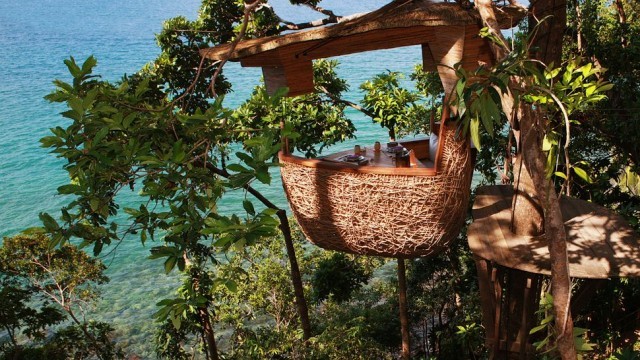 18. Soneva Kiri Tree Pods
Soneva Kiri is a Thailand resort well-known for its eco-friendly approach to resort vacations. Filled with greenery and nature, this resort is the answer to travelers who would refrain from being cooped away on a resort during a vacation in favor of exploring the land and has been popular among nature enthusiasts for this reason. At Soneva Kiri, guests have access to "tree pods," which are essentially giant nests rather than treehouses. In these pods, guests are served natural, fresh, local foods where they may dine atop some of the worlds tallest trees. It's tropical, it's filled with nature and the food is great. While guests may miss out on some of the local culture (being that Thailand citizens tend to not spend their time eating in trees), the general consensus is the overall experience more than makes up for this. Just be careful if you're afraid of heights!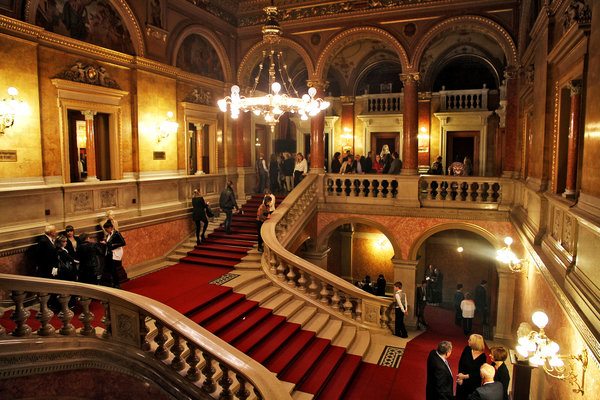 19. The Hungarian State Opera House
Located right in the middle of Budapest, the Hungarian State Opera House has a rich history dating back to the 1800s. While most choose not to dine in the house, many tourists may still find themselves heading down to the opera house simply to admire the beautiful architecture which lights up the entire neighborhood. Those who do decide to dine in the opera house; however, are able to rent the entire building out for a whole night while they are served traditional Hungarian foods which they dine upon right in the middle of the center stage. It's one thing to stop by the opera house and admire the history behind it; it's another thing to sit down with that special someone right where some of the continent's most influential musical pieces were preformed. Coupled with fantastic food and amazing decor, you really can't go wrong eating here.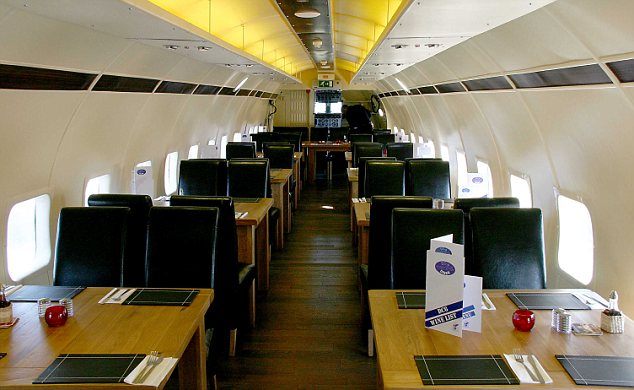 20. The DC6 Diner
Based in England, the DC6 Diner is a airplane-themed restaurant. Built within an actual airplane, guests can enjoy chef-inspired, pub-style food in a surprisingly spacious setup. The restaurant is actually based in an airport, though the plane which contains it has its own walkway leading up to the restaurant, differentiating itself from the other planes and giving off a relaxing, stress free environment in contrast to the other planes in its vicinity. The menu consists of many pub foods with a flying-related twist such as the Bomber Steak. Despite its modern decor, the menu is sure to offer guests a glimpse into the history of England (particularly that of its culinary culture) while providing something new, keeping us entertained the whole way. For anyone passing through this England airport, the DC6 Diner is a very worthwhile site and a great place to grab a bite to eat. As an added bonus, you can count of finding better deals out here than inside the airport.