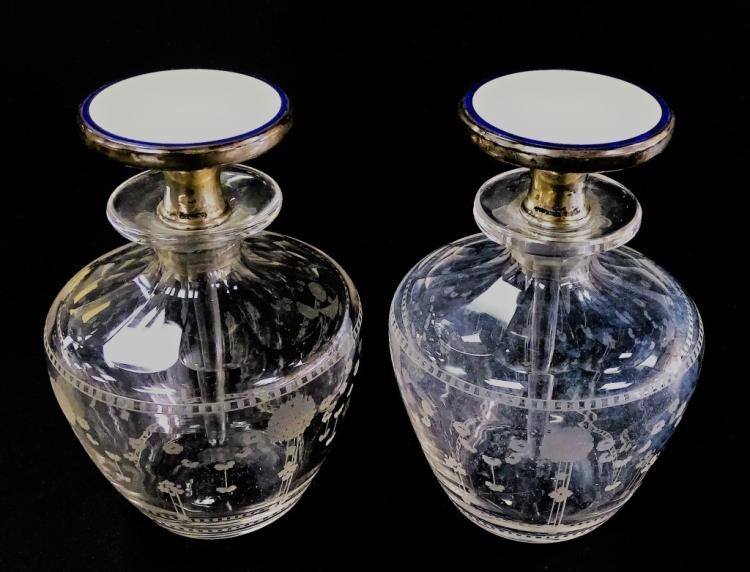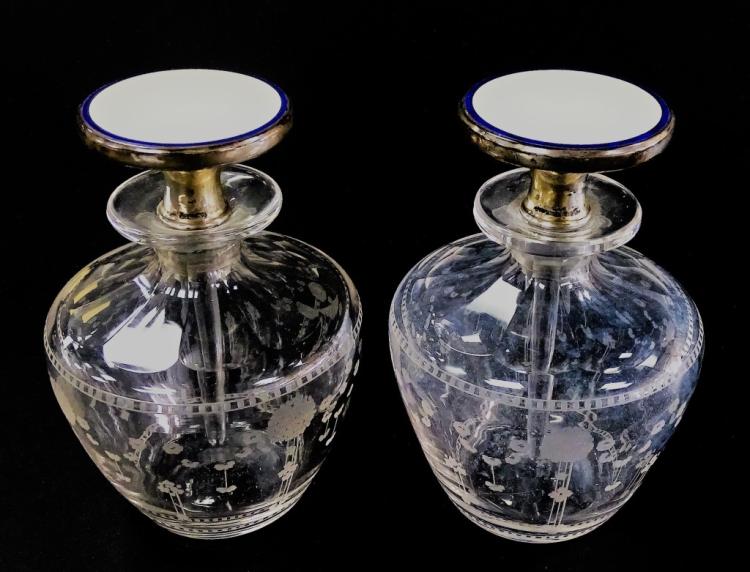 Some people collect perfume bottles because of the aesthetics and the fact that they are unique in appearance. Others collect them for their commercial value, and sometimes a combination of both reasons. There are some amazing examples of collectibles on the market, generally being offered through auctions which specialize in the more rare and valuable pieces. There are thousands of perfume bottles manufacturers both currently and historically who have left their marks with rare and unique bottles. Some of the more collectibles include those with a long history dating back to ancient civilizations such as the Egyptian and Roman eras of antiquity.
How is value determined?
The leading factor determining the value of a perfume bottle is in the rarity of the piece. Throughout the ages, top perfumeries delivered their high end products, many in limited editions. To find one that is in near perfect condition is to unearth a treasure. The condition of the bottle is also a factor in valuation. The better the condition, the greater the worth. Accompanying packaging is also a plus that can elevate the value. While not all old bottles fall into the collectible category, some of them are well worth obtaining to add not only diversity to your collection, but additionally, value in monetary terms. We're going to take a look at five of the best perfume bottles that are worth collecting.
1. Lalique France Limited Edition "Les Sirenes" Flacon Collection Perfume Bottle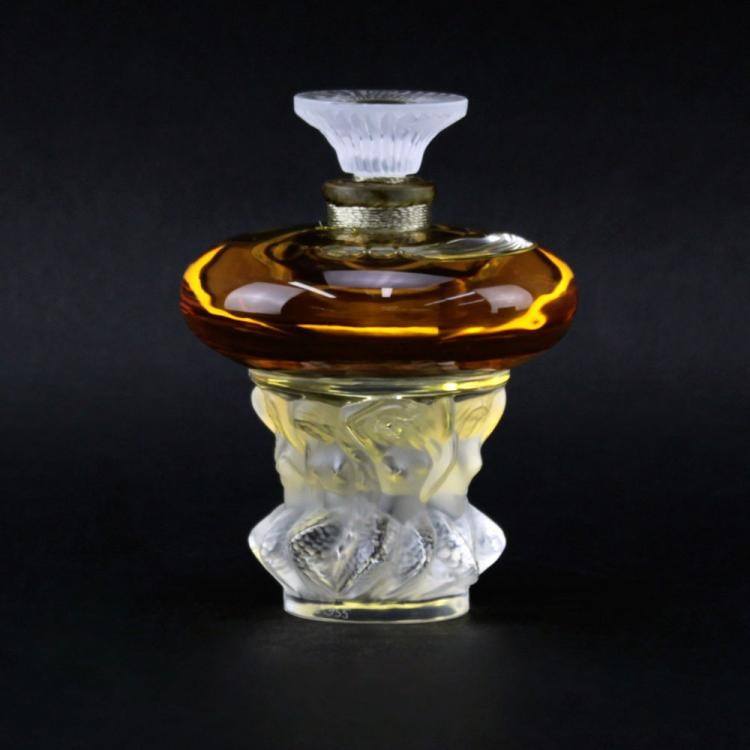 The "Les Sirenes" Flacon Collection Perfume bottle of the Lalique France Limited Edition is a rare find that has some unique features which drive its current value of between $300 and $500. It is going to auction and it is unknown what the final sale price will be. What makes this bottle so valuable is that it is in "good condition" which means that there is a minimum of wear displayed on the item itself. Another plus is that the original box that it was sold in from the manufacturer is also included along with the pamphlets that also came with the box. There is a signature beside the edition number that is hand painted on the bottle which also indicates its rarity as a member of a very limited edition and its place in production preserved. All Lalique France limited Edition bottles are worthy of appraisal.
2. Gallé cameo glass perfume bottle and atomizer, France, circa 1905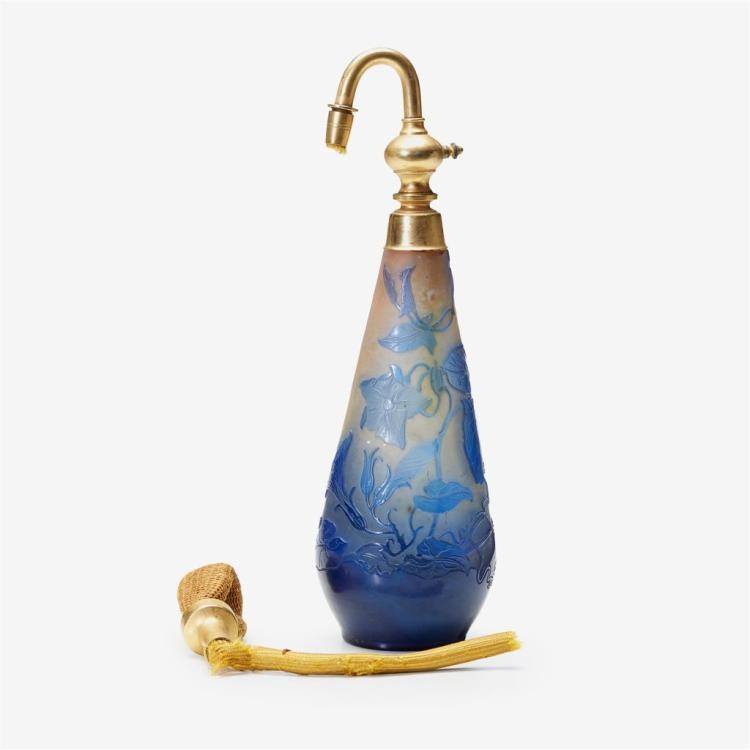 This particular perfume bottle has an estimated value between $400 and $600 even though the condition report indicates that it has some cosmetic issues. The Galle cameo glass perfume bottle and atomizer has survived for more than one hundred years. Its unique design features a frosted ground with blue glass leaves and flowers adding contrast. There is a small portion of the original paper label still existing on the base and it is marked Galle. This ten and a half inch in height bottle and atomier has a severed rubber tube for the atomizer, drying and brittleness on the bulb and rubber tube, soil and scratches to the glass and surface wear. It is still in fair condition because there are no obvious losses, cracks chips or breaks.
3. Gold Mounted Perfume Flask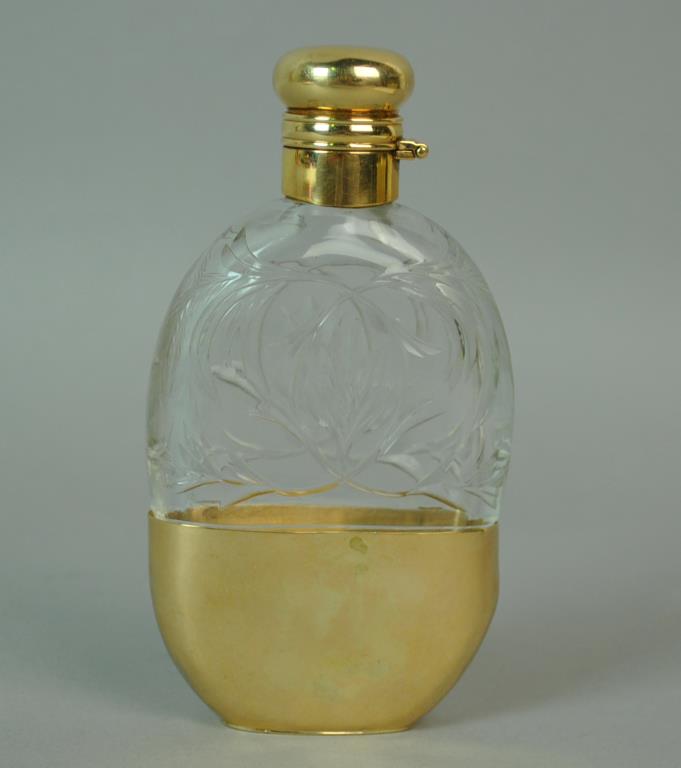 This perfume bottle is in the design of a flask which is in itself unique. It features a hinged lid that is crafted of fourteen karat good with a stopper. The condition has been assessed as good overall with a few minor dents in the gold and some degree of chipping to the stopper. It is likely to be a Gorham bottle with a foliate motif. The underside of the bottom of the mount is stamped with X816 14K with a lion over the anchor punch. This indicates that it is a member of a limited edition series that was numbered. The estimated value is between $400 and $500 as is.
4. Antique Silver-Capped Murano Glass Scent Bottle

This unique perfume bottle is appraised at a value of between $100 and $200 as a collectible. It is not hallmarked but it is made of red glass which has been flaked with silver foil. The stopper was silver tested and found to be authentic and is engraved "PK. 4" indicating that it is a member of a limited edition series.
5. Pair of French Etched Crystal and Sterling Scent Bottles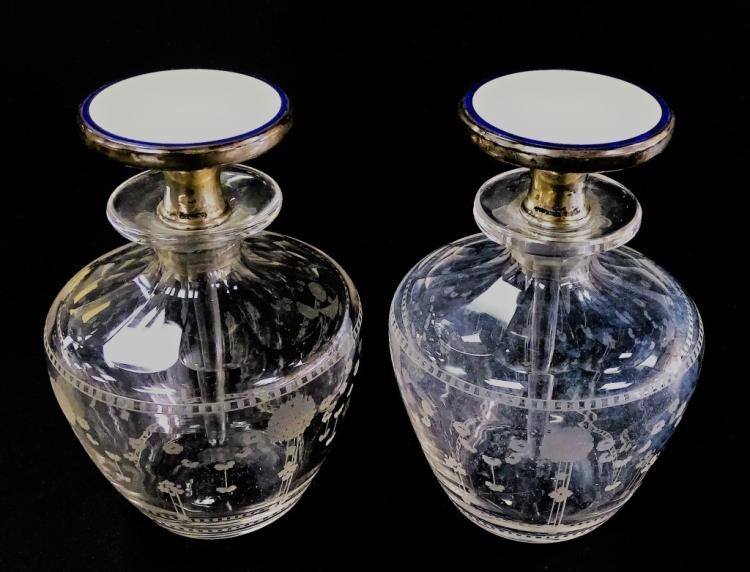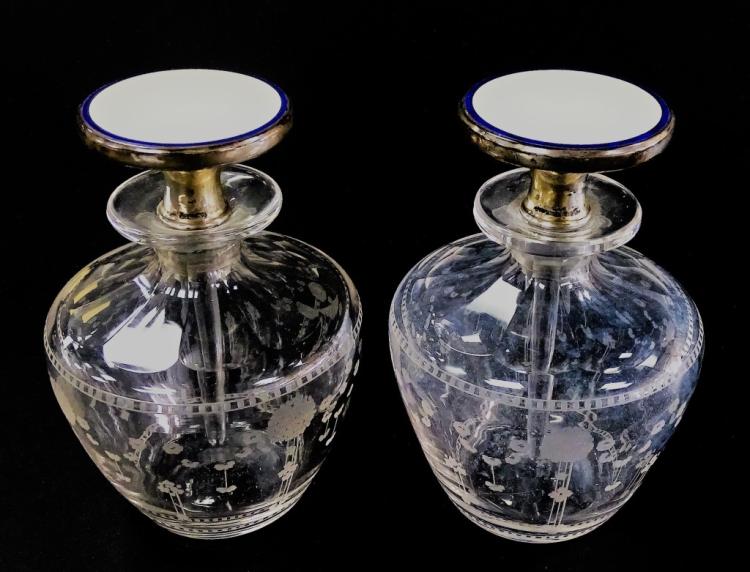 This pair of antique French etched and cut crystal perfume bottles feature Sterling silver stoppers. The unique bottles have a short bulbous design and facet tapered necks which flare at the lip. The etching is beautifully executed throughout the bottles. and includes an infusion of undulating floral garlands along with reeded band borders. This set features two matching bottles with circular shaped Sterling stoppers that are decorated with Cobalt and Cream colored enamels. The estimated value of this set is placed at $200 to $400.
Final thoughts
These are five examples of highly collectible perfume bottles along with their estimated values and accompanying photographs. There are literally thousands of examples available from the various brands and time eras that fetch a handsome price along with some amazing aesthetics for your collection. This list and the descriptions are intended to give you an idea of what to look for when searching for collectible perfume bottles. It is highly possible to find hidden treasures that have been locked away in garages, attics and basements for decades on display at estate sales or in second hand shops.
If you are the most interested in locating pieces which have already been assessed and appraised for value, there are several auctions which can help you to more easily find items that are on the block and up for bid. Most auctions will reveal the estimated price value and the final sale price will depend upon how many bidders place value on the item. We hope that this information has been helpful in giving you a more complete idea of the features to keep in mind when you are on the hunt for a collectible perfume bottle. You truly never know when you'll come across something that belongs in a collection.