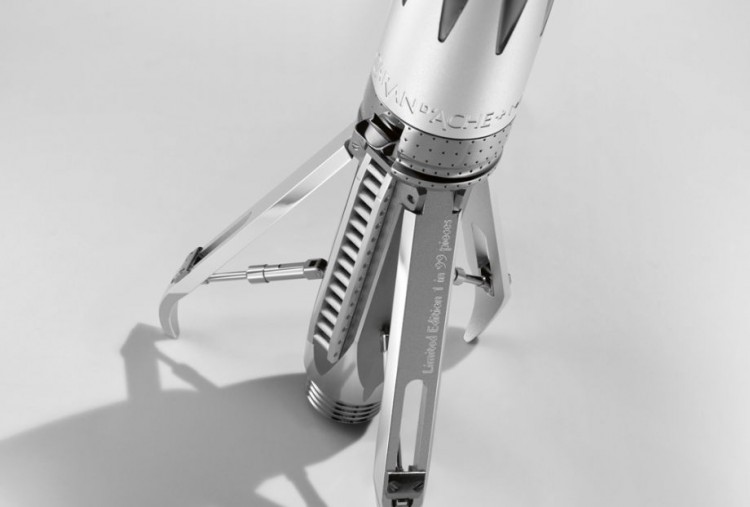 How many of us have had childhood fantasies about flying into space and using wonderful new gadgets that were futuristic, yet somehow seemed within grasp to our innocent minds? Perhaps those childhood notions were not so far off after all. The world has changed dramatically with the explosion of the new technology revolution. Things that once seemed impossible are now becoming realities. In opening the mind to the limitless possibilities that are possible with the advent of our newest and most daring innovations that we are seeing many of our dreams from the innocence of childhood actually taking form today. One such instrument is the Astrograph pen. This unique collectors piece is for many, the realization of dreams that may have long been forgotten, but are now resurrected. This piece deserves a much closer look.
The Amazing Space Pen
The Astrograph is the creation of MB&F. The founder of this unique company is Maximilian Busser. He and his team of extraordinary engineers took their inspiration from the notion of space travel and what it would be like to exist in a futuristic world to craft a one of a kind collectible series that is destined to become a highly prized treasure for many space enthusiasts who are reminded of their fondest memories from childhood mental journeys.
The creation of the Astrograph
The MB&F company collaborated with Caran d'Ache, a luxury stationery company that is based in Switzerland. They are well known for their manufacture of high quality and elegant stationery supplies. The pen is a novel item that has been produced in a limited edition production which will no doubt increase its sentimental and monetary value as a collectible item.
Description of the Astrograph
The pen has a design that is similar to a rocket ship. It is crafted with a curved fuselage with sleek lines that make it appear an aerodynamic vehicle ready to travel to the furthest reaches of space and perhaps even time. The artisans used anthracite laqueer to apply a checkered pattern. The rocket sip actually contains a fountain pen which is unveiled when the casement of the instrument is unscrewed. The pen itself features an anthracite ruthium or high gloss rhodium finish. It is also available in a roller pen that features a matte finish of sandblasted rhodium for variety.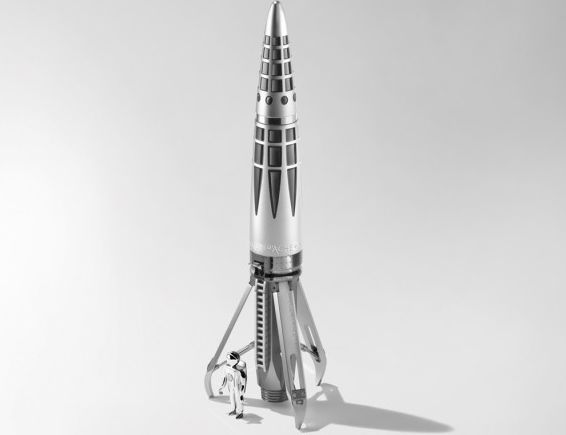 Is the Astrograph really capable of flight?
Although it is not likely to leave the stratosphere, it has the capacity for stimulating memories of our beliefs that we could soar past the stars. The Astrograph is equipped with a tiny level which resembles a spacecraft door which may be used to activate a series of three legs which act as stabilizers for creating a stand that allows the pen to stand in an upright position for a more excellent display viewing. So ingenious is the detail of the pen's design that the designers even added the figure of an astronaut which may be attached to the pen on any part so he will look as though he is about to climb aboard and depart on his next mission into outer space. The figurine is magnetized so he will cling to the pen.
Functionality
The pen actually works as a writing tool, but this one is a complicated creation that far exceeds the simplicity of any ordinary writing pen. As though this was not enough, the creators of this magnificent pen also designed a display box that has the appearance of a space ship launch pad. This completes the pen and its facility for storage in grand and whimsical style.
Limited release
There is a strict limit of ninety nine pieces for the release of the Astrograph. It will soon be released for retail sale at select vendors throughout the world. The suggested retail price established at carandace.com is $19,900 per pen.
Final thoughts
The Astrograph is a one of a kind production that will only be available for ninety nine fortunate dreamers who are the first in line to secure their edition. These are certain to be a hit for space enthusiasts and for everyone who is reminded of how the notion of space travel thrilled and intrigued them as children. This pen is not likely to be used for correspondence, but rather, placed beneath the safety of a sturdy glass display case for safe keeping.