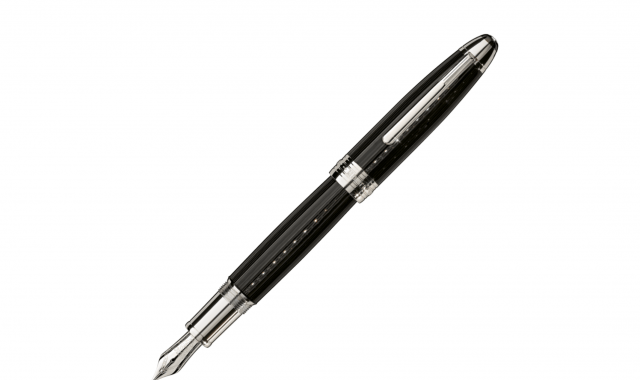 Montblanc International GmbH is a world renowned manufacturer of luxury writing utensils, instruments, watches, and jewelry. Known for their iconic White Star logo, their brand is well respected and is extremely valuable. The company was founded in Hamberg, Germany by engineer August Eberstein, banker Alfred Nehemias, and stationer Claus-Johannes Voss. They aimed to make the finest writing instruments in the world, and they have done just that. Pretty much all of their pens are expensive, with their least expensive pens costing $225 dollars. We are going to take a brief moment to look at the most expensive pen that is currently in mass-production: The Meisterstück Solitaire Jewelry Edition Legrand Fountain Pen.
Montblanc's Meisterstück (German for masterpiece) line of pens, are their top-of-the-line writing instruments and are also their most expensive. The Solitaire Jewelry Edition Legrand Fountain Pen is their most expensive pen currently in production with a price of $20,700 dollars. The pen has a premium guilloché engraving that is coated with an all black lacquer. All other parts of the pen are made from 18 karat white gold. The pen also has a Montblanc diamond that is located at the top of the pens cap, and weighs in at 0.5 carats. This piston styled fountain pen is made from hand and also features an 18 karat gold nib that is rhodium-plated. The pen is compatible with a variety of Montblanc inc such as Royal Blue, Myster Black, Burgundy Red, Oyster Gray, Irish Green, Toffee Brown, Midnight Blue, and Lavender Purple
This is pretty much as top-of-the-line as it gets when it comes to pens. Some people might think it's crazy to spend this kind of money on a pen, however people do buy these. These pens cost so much not only because their German, made from hand, and have premium materials, but they have the Montblanc name on them. They are basically the Ferrari's of pens, and provide a pretty amazing writing experience.
Photo from montblanc.com