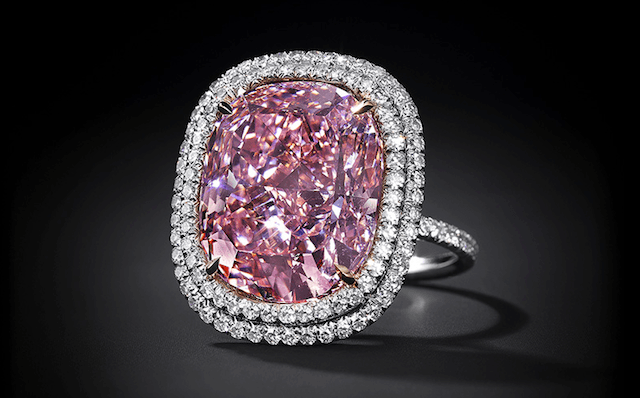 Out of all the valuable and prized gem stones in the world, is there any gem more sought after than the diamond? Diamonds come in all different sizes and colors and can sell for incredible amounts of money, like this extremely rare pink diamond that's to be auctioned off at Christie's Magnificent Jewels sale which will be held on November 10th in Geneva. Officials estimate that it's worth somewhere between $23 and $28 million dollars, so why is it that valuable?
There are a few different qualities that diamonds posses that contribute to their overall value, and this diamond has pretty much all of them. First off, this Fancy Vivid Pink diamond is completely pink in color. Pink diamonds are some of the most desirable diamonds in the world, but they often contain secondary colors like orange, purple, or grey. This diamond contains absolutely no other colors. The beautiful gem is also a certified Type IIa diamond. That means it contains basically zero traces of nitrogen, and it's estimated that Type IIa diamonds make up about 1-2% of all diamonds in the entire world. The diamond is also cushion-shaped and it comes in at a whopping 16.08-carats. Based on that fact alone, this is the largest cushion-shaped pink diamond that has ever been put up for sale at an auction. Then you factor in that the pink diamond is set within a ring that's surrounded by a double row of pavé white diamonds in addition to a third row of small pink diamonds. Add all those features up, and suddenly you've got quite the piece of jewelry on your hands.
Christie's says that in past 250 years or so, only three diamonds have been offered for sale that weigh in at over 10-carats, and this diamond is considerably larger than that. There's no telling how much this diamond will eventually sell for come November, but it's safe to assume that it will most likely go for somewhere between that $23 to $28 million dollar figure. While other expensive items sold at auctions can depreciate over time, diamonds will always hold their value. In recent years we've seen some incredible gems sold for unbelievable prices, so I'd imagine some lucky individual is read to spend a lot of money on this pink diamond.
Photo from Christies