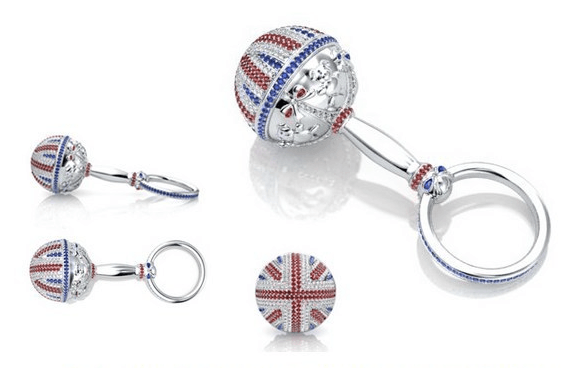 Royal family members have always been known for their affluence, but where is the line drawn? Price William, the Duke of Cambridge and Kate, the Duchess of Cambridge recently had their first child, Princess Charlotte Elizabeth Diana of Cambridge. The English Royal family has always attracted interest from the general public, and from various companies as well. The Natural Sapphire Company has recently designed and produced a "royal baby rattle" that they will gift to Princess Charlotte, and given the picture and the name of the company, it's pretty expensive.
The Natural Sapphire Company is an American jewelry that specializes in gemstones and other valuable materials. They wanted to create a luxurious product for the new Princess, and have come up with this rattle. The Royal Rattle starts with a base that is made entirely from 18-karat white gold. Then the company has adorned the rattle with a collection of sapphires, diamonds, and rubies that have been arraigned like the Union Jack. It's definitely the most British and luxurious rattle that has ever been created. So how much does it cost? Well it's worth a whopping $45,000 dollars.
That's a pretty extravagant rattle, if I may say so myself. Princess Charlotte will now probably be in possession of the most expensive and luxurious rattle that has ever been created. It's definitely absurd and highly unnecessary, yet at the same time still somewhat impressive. I highly doubt her parents will let her play with it often, since it's typically not the best idea to entrust and infant with $45,000 dollars worth of gold and gemstones, but it's the thought that counts. Right? Another thing to consider is that when she grows out of it, the Royal Rattle would be the hot ticket item at any auction. Just imagine how much it would sell for! So is the rattle the most absurd, waste valuable gems ever or is it a thoughtful and courteous gift? I guess that's for you to decide.
Photo from Natural Sapphire Company