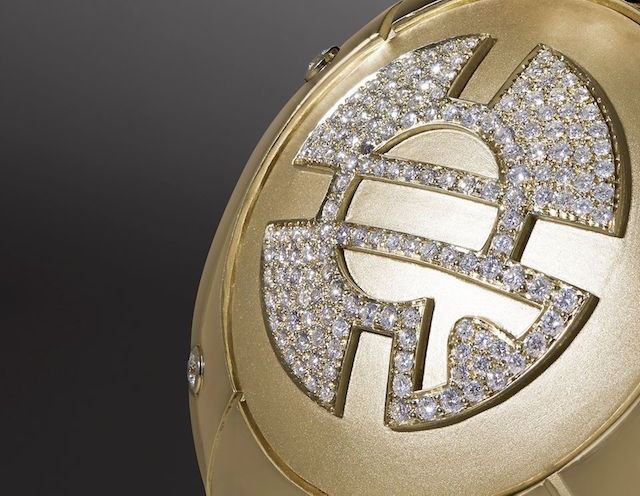 Star Wars: The Roce Awakens is set to hit theaters worldwide this December, and countless fans are gearing up for one of the most anticipated movies ever. As is this case with each Star Wars film, we typically see a range of Star Wars merchandise be released. This year one of the hottest Star Wars collectibles is the BB-8 droid that is seen in the movies. Well Kay Jewelers has recently created the "toy" to end all Star Wars toys, and it's a BB-8 figurine that's made from real gold and diamonds….and it costs $130,000 dollars.
Kay Jewelers teamed up with Disney Consumer Products to create this unique figurine for "Force 4 Fashion" event in New York City where top labels are all showing off their Star Wars goods. According to Kay Jewelers, over 600 hours of manpower went into creating this unique BB-8, and it's now probably one of the most expensive Star Wars memorabilia out there.
The figurine stands at around 4.25-inches in height and it weighs around 1.5-pounds in total. The entire droid is made from 18-karat gold and it features some 860 different diamonds that weigh out to be 18-carats all together. Kay says the Star Wars figurine is valued at $130,000 dollars. After it is shown off in New York, the gold and diamond BB-8 droid will be auctioned off for charity. There's no indication as too how much it will sell for, but I wouldn't be surprised if it was more than that $130,000 figure.
Photo from Kay Jewelers