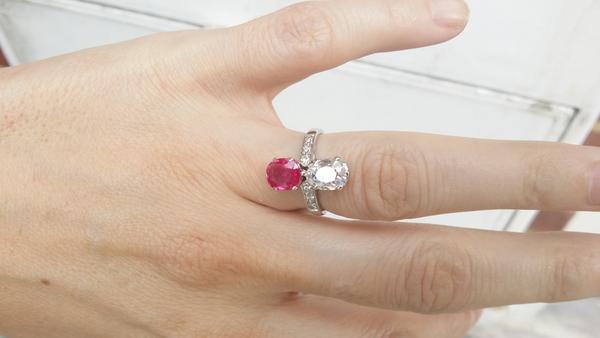 Precious gemstones set in engagement rings seems like a modern concept, but gemstones have long been used. Although not as common as diamond engagements, rings including sapphires, emeralds, ruby, amethyst, citrine and garnet are just some of the precious stones popularly used in engagement rings today. Whether because of the bride's preference or for symbolic reasons, gemstone rings are more popular than ever.
Rings have been symbols of loyalty for centuries. It was not until 1477, when the Archduke Maximilian of Austria gave a diamond ring to his betrothed Mary of Burgundy, that the ring became a symbol of betrothal, particularly among royalty. During the Victorian era, it became popular to give rings with terms of endearment spelled out in precious stones including diamonds, emeralds, rubies and sapphires. In the late nineteenth century, DeBeers monopolized the diamond market and pushed the "A diamond is forever" campaign, and the diamond ring became associated with engagement. However, in the late twentieth century, and particularly today, the use of precious colored gemstones has become popular in engagement rings.
We have seen precious stones other than diamonds used in engagement rings. In 1796, Napoleon gave Josephine a diamond and sapphire engagement ring. John F. Kennedy gave Jacqueline Bouvier a gold Van Cleef & Arpel ring set with a 2.88 diamond and a 2.84 emerald. Who can forget the sapphire and diamond ring that Prince Charles gave to Lady Diana and their son William passed on to Kate Middleton.
The current trends in engagement rings are artistic and dramatic, and often include colored gemstones in the settings. Intertwined bands of "rope" or "twig" are popular as well as Pave bands encrusted with diamonds. Rose gold is as common as yellow and white gold and is delicate and feminine. Vintage rings are popular. The one trend that seems to be getting bigger is the use of precious gemstones other than diamonds in the engagement ring.
Here are five of the most beautiful engagement rings with colorful gemstones.
Round Brilliant Emerald Ring by Tiffany & Co.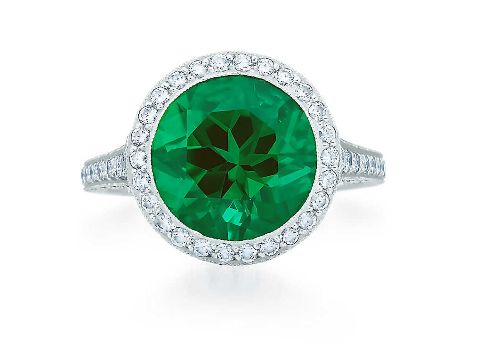 This emerald engagement ring by Tiffany & Co. is amazing. The unique brilliant round emerald that is the centerpiece of this ring is radiant. The emerald is haloed with round brilliant diamonds. The platinum band is further encrusted with round brilliant diamonds. The emerald is 4.852 carats. The diamonds total nearly a carat. Emeralds have been used in royal jewelry for centuries. Cleopatra loved emeralds. The precious colorful gemstone is very rare. In fact, emeralds are rarer and harder to mine than diamonds are. The emerald is a mysterious and beautiful green stone. Emeralds are symbolic in folklore. They are said to represent calm, growth, balance and fertility. The emerald is the perfect stone for an engagement ring setting. This Tiffany & Co. emerald and diamond ring is both beautiful and valuable.
Sapphire and Diamond Cluster Ring by House of Garrard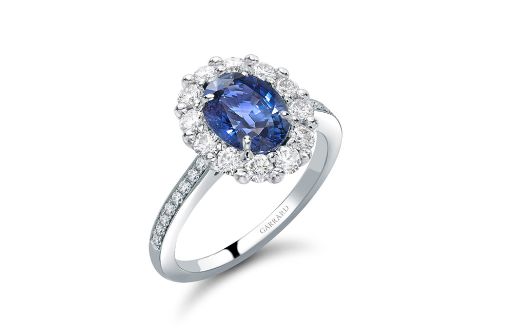 The House of Garrard created the beautiful ring that Prince Charles gave to Lady Diana in 1981 upon their engagement. It is one of the most valuable and most known rings in the world. The world was happy to see the ring again when Charles and Diana's son, Prince William, gave it to Kate Middleton upon their betrothal in 2010. The ring's statement is an 18 carat sapphire. The sapphire is haloed by a cluster of diamonds on top of a white gold band. The House of Garrard has a similar ring that is just as beautiful.
The House of Garrard in Britain's oldest jeweler. Since 1735, the jeweler on London's Paten Street has been providing jewels for the royal family. In 1843, Queen Victoria appointed the jeweler as the Crown Jeweler. This ring by the House of Garrard is very similar and just as valuable as the Windsor's family engagement ring. Like that ring, this one has a beautiful 18 carat sapphire. The ring is haloed by round brilliant diamonds. The round brilliant diamonds continue around the platinum band. The sapphire is symbolic of purity and loyalty. In folklore, the gemstone symbolizes truth, wisdom, and is the preserver of chastity. This beautiful sapphire and diamond ring is fit for royalty. It is precious and stunning.
Likoma Pink Tourmaline Ring by Mellier dit Meller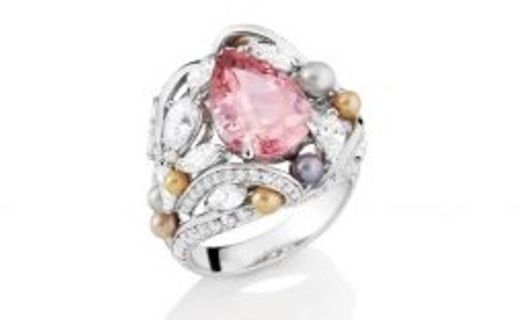 Mellier dit Meller is one of the most renowned jewelers in the world. The French jeweler has been family owned for more than 400 years. They create authentic, artistic and precious jewelry. The Likoma Pink Tourmaline is beautiful. The band has 9 grams of white gold. the centerpiece is a 4.18 carat pear shaped tourmaline stone. Pink tourmaline is not only feminine and beautiful, it is symbolic of friendship, companionship and transformation, perfect to symbolize a wedding betrothal. This ring is much more than the tourmaline stone. It also includes 10 natural pearls in gray, white and gold set around the tourmaline stone. There are also 3.5 carats of diamonds encrusted throughout the ring. This ring is absolutely lovely.
Burmese Ruby Platinum Ring, Vintage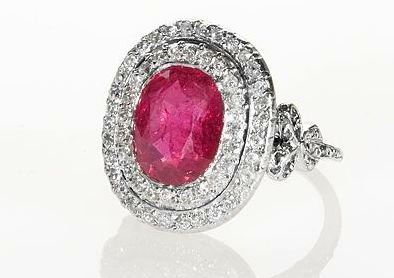 This vintage natural Burmese Ruby Ring is vintage and classic. It is a statement piece of great value. The oval cut Burmese ruby is 3.6 carats and a radiant, soft shade of red. It is haloed by more than a carat of diamonds arranged in a star motif giving the ring its vintage appeal. The ring setting rests upon a platinum band. The ruby has long been treasured as a precious gemstone. It is deep, vibrant and beautiful. The Ruby is symbolic of wisdom, peace and romantic success. It is supposed to offer the wearer health and wisdom. Red has always been a representation of passion and love. For a vintage ruby ring, this one is outstanding.
Small Twig Aquamarine Ring by K. Brunini Jewels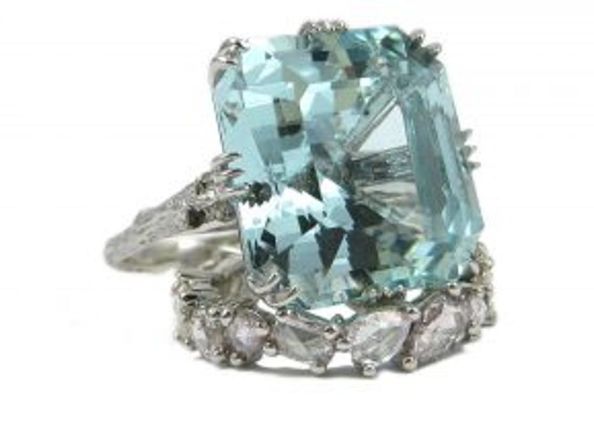 Katey Brunini is the artist behind this fabulous ring. K. Brunini Jewels of Solano Beach, California is known for Ms. Brunini's beautiful, feminine jewelry designs. This ring features a Small Twig double band. The statement piece is its 19.99 carat aquamarine center stone. The stone is surrounded by diamonds, and the band is available in 18 carat yellow, white or rose gold. Aquamarine is a beautiful gemstone for an engagement ring. The stone comes in shades of blue that reflect the sea. The stone in this ring does so. Aquamarine is an appropriate colorful gemstone to use in an engagement ring setting. The stone is represented of the sea and has long been associated with sailors. It is believed to be symbolic of the ocean's ability to clean itself. Therefore, the stone represents the complimentary relationship to protect each other.