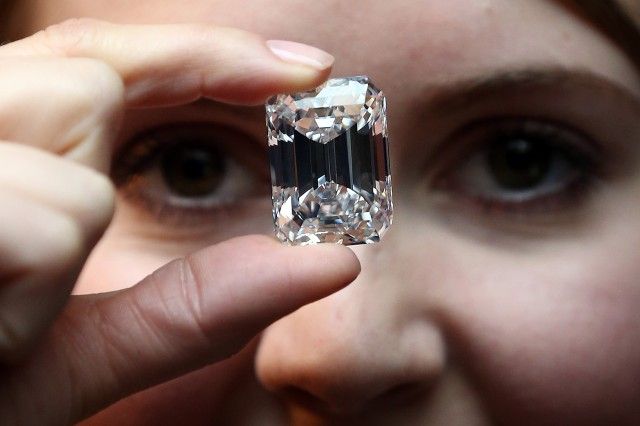 Diamonds, Diamonds, Diamonds. While these prized gems are simply just a different form of the element carbon, they are extremely rare and valuable. A lot goes into a diamond from finding it, transporting it, cutting it, and then finally to selling it. Typically diamonds are very small, however every now and then you find a large one. Well a really, really large one is about to go up for sale at a Sotheby's auction and they are calling it the "perfect diamond".
This incredible diamond, pictured above, is one of the largest diamonds ever produced (after it was cut) and is internally flawless. The diamond comes in at an astounding 100.20-carats. The diamond is a D-color, internally flawless Type IIa stone and is among one of the rarest of all times. The diamond features an emerald cut and is in fact the largest "perfect" diamond with the classic emerald cut that has ever been offered at an auction, perhaps ever in the world.
When the diamond was originally discovered at a De Beers mine in Southern Africa, it came in at an unbelievable 200 carats. When a mine uncovers something like this, they have to take extra precautions as these diamonds are worth insane amounts of money. The diamond was expertly cut and as said many times, it is internally flawless. For all intensive purposes, this diamond is perfect.
The diamond will be put on display at various places around the world including Hong Kong, London, Los Angeles, Dubai, and Doha. After its world tour, the diamond will be put up for sale at its exhibition in New York sometime in April. Sotheby's expects that it will fetch anywhere between $19-$25 million dollars and it will be interesting to see just how much people are willing to spend on this perfect diamond.
Photo by Carl Court/Getty Images