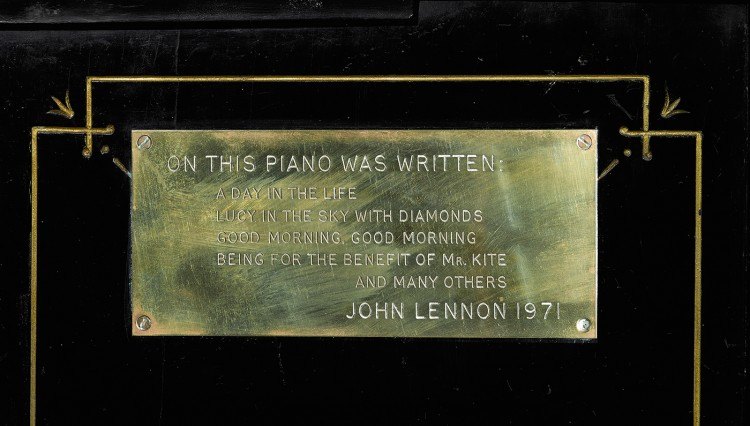 Sotheby's December 10, 2016 auction, titled "A Rock & Roll Anthology: From Folk to Fury" concluded with sales listed at $847, 318 USD. The auction was designed to feature important memorabilia, manuscripts, instruments, art, photographs, and other items which would provide the history of rock & roll in a broad survey of items. Also included were folk, pop and punk artists' items. One of the auction highlights was John Lennon's upright piano which he used to compose several of his iconic pieces and it was expected to "fetch millions".
But, Lot 75, the piano John Lennon played and used to compose some of his greatest songs at his Kenwood home, surprisingly, did not sell. It had been listed for auction valued from $1,200,000 to $1,800,000.
What Lennon items did sell, were:
One of his original drawings titled Sketch of Four Characters from around 1960; sold for $22,500
His wire rim glasses from Sam Green's collection; sold for $43,750
John Lennon along with Yoko Ono's record, titled U.S.A. Surpasses All the Genocide; sold for $1,375 USD
War is Over! From 1969, by John and Yoko; sold for $4,000
His Bag One line drawing, sold for $25,000
An original poster, Peace, featuring John's image sold for $938
The jacket John wore in the film "Help" sold for $50,000
There were other Beatle's memorabilia featured in auction Lots which had varied success, either selling for amounts near the auction estimates, or not selling at all.
Lennon's personally commissioned, engraved plaque tells the importance John Lennon himself attribute to his piano. He composed many songs meaningful to him on the Victorian-era piano. The top sentence reads: "On this piano was written:" and his list, which includes top songs from the Sgt. Pepper's era. Underneath, he wrote, "and many others" followed by "John Lennon 1971".
The cottage upright was made by John Broadwood and Sons, and its frame carries the number 41142. The wooden casework is of ebony, in ornate style with gilt lines incised on the music rack and side panels. The front panel is covered with fretwork and backed with scarlet red cloth. The keyboard is supported with two columns in fluted design, with additional gilt lines.
The piano was an integral part of Lennon's history. It resided with the composer in a country home with six bedrooms located in St. George's Hill in Surrey, England. Lennon bought the mansion for £20,000 when The Beatles were at the height of their popularity in the 1960s.
The mansion was built in 1913. The mansion is 12,000 square feet, with six reception rooms, a cinema, and six bathrooms. It features and indoor swimming pool with a sauna, changing facilities and a shower. Kenwood is situated within lovely, mature gardens on 1.5 acres. He, his first wife, and their son lived there from 1964 to 1968. After they divorced, it was sold. As of August, 2016, it is on the market with an asking price of £9m.
Lennon's music room was located on the top floor of the mansion in the attic. It is said that Lennon claimed the entirety of this third floor as his private space. At first, he used the space as his studio for painting. He started by painting the ceiling with a bright color, and then added another color when he ran out of the first one. In the attic space, he placed all his musical instruments and recording equipment, and it was transformed into his home studio for recording. He is said to have completed the majority of his songwriting there and it is where most of his iconic songs were composed.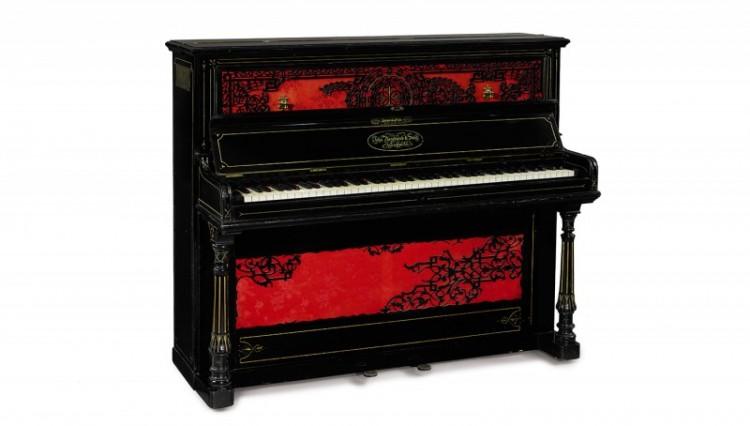 Lennon's attic music studio contained:
A piano
An electric organ
A mellotron (the electronic synthesizer which predated the Moog synthesizer)
German Studer tape recorders installed in sequence by an engineer from Abbey Road Studios and used for overdubs
A Vox AC30
Several guitars
Many reel-to-reel tape recorders
Many other state-of-the-art electronic gadgets and instruments
Lennon's Broadwood & Sons cottage upright piano was made by a company which has been building pianos for the British royal family for generations. Broadwood & Sons holds the Royal Warrant as the manufacturer of its fine keyboard instruments to Queen Elizabeth II. No other warrant holder has held the Royal Warrant for this long. In fact, the company has been appointed as the manufacturers of pianos to royals over the years from King George II to King George VI.
Composers such as Beethoven, Chopin, Haydn, Liszt and Mozart have owned Broadwood & Sons pianos. Ownership of a Broadwood & Sons placed Lennon in an illustrious line of famous composers.
It's not clear yet why Lennon's Broadwood & Sons piano was not successfully auctioned. In the past, other keyboard instruments he used to compose have. George Michael bought the Steinway & Sons white grand piano Lennon used to record the song Imagine, paying $2.1 million in 2000. Lennon's Yamaha organ sold in 2005 for £140,000. The Broadwood & Sons instrument was used for both writing and recording Lennon's songs, and that is said to be one reason why the auction estimate for the instrument was set in the millions.
While there are many photographs of Lennon playing various instruments in performance, and there are several photos of him in his attic studio with some of the keyboards used there, most frequently he is seen with the electronic versions. Where the Broadwood & Sons sat in the attic studio is not depicted in recent internet images. However, the compilation album of Lennon songs named Wonsaponatime, features a caricature of Lennon playing an upright grand piano with its characteristic high music rack, and curved front legs. Could this be the only image of Lennon playing the Broadway & Sons that exists? The album's technical credits list Lennon as Composer, Producer, Liner Notes, Drawing. Perhaps Lennon drew the caricature of himself playing his Broadwood & Sons? These are questions for artists and historians to answer.
Might it be that the lack of images of Lennon playing or composing with his Broadwood & Sons piano contributed to its lack of prominence in the public eye and less than expected auction response? Could the lack of photographic provenance for the instrument contributed to overall auction reluctance to bid for it? Only the auctioneers and buyers present at the Sotheby's auction know for certain what happened when Lot 75 was put up for bidding. For now, the Broadwood & Sons which caused such auction anticipation is still available.