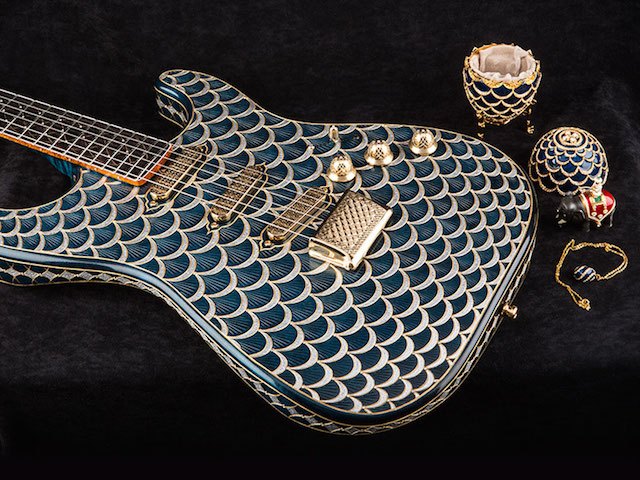 The Fender Stratocaster is arguably the greatest guitar that has ever been created. It's been used by the likes of Jimi Hendrix, Eric Clapton, and millions of others, making it one of the most successful guitars of all time. Over the years we've seen a variety of different Stratocasters produced from different materials, however we've never seen one quite like this: meet the Pine Cone Stratocaster.
Fender has a subdivision known as the Fender Custom Shop where they create their most expensive and unique guitars. While a normal Stratocaster built in America costs around $1,300 a Strat from the Custom Shop can start at $5,000. Their latest creation is this very interesting, and luxurious looking Pine Cone Strat. Fender tells us that they were inspired by a specific Fabergé Egg, you know, those eggs that were made from gold and diamonds that were given to Russian Czars and noblemen as gifts.
Master luthier Yuriy Shishkov laid the groundwork for this guitar and it is as beautiful as the egg that it was based off of. There are 550 diamonds throughout the guitars body, neck, and pickups and all of the metal parts on the guitar are made from 18-karat gold and silver. The guitar also features a very unique body styling as it is comprised of many petals or "scales". While Fender haven't announced a price yet (we probably can't afford it), the guitar also comes with a limited-edition Fabergé Pine Cone egg that beautifully matches it, and they both have the same serial number. I can't imagine how much this costs since both the guitar and the egg use a whole lot of diamonds, gold, and silver. But the real question is, will this make you a better guitar player?
Photo from Fender Custom Shop