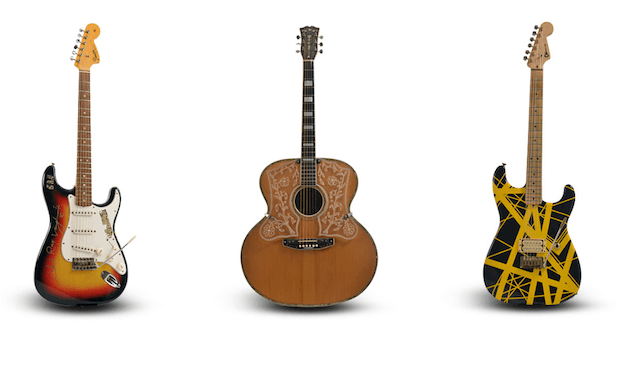 If you're an avid music or guitar enthusiast who likes to collect memorabilia, then you cannot miss the upcoming Guernsey's event simply called "The Guitar Auction". It's probably one of the largest auctions dedicated almost entirely to rare and prized guitars, as virtually all of the instruments have some sort of historical significance associated with them.
In total there will be 284 different guitars put up for sale on February 27th, the vast majority of which are quite legendary. Included in the mix are guitars that have been either used or owned by Eddie Van Halen, Ringo Starr, John Lennon, Steve Ray Vaughn, Eric Clapton, Elvis Presley, Fleetwood Mac, Pink Floyd, U2, Nirvana, Prince, The Rolling Stones, among many others. Almost every major rock guitarist or band has something being sold at this event. Additionally many of the guitars are also autographed by their respected owners or the entire band as well.
You can take a look at the all of the guitars being put up for sale over at Guernsey's, or if you want to see them in person they are having a public viewing on February 25th and 26th. The event will take place at the Bohemian National Hall in New York City and it is expected that all of these instruments will sell quite fast for loads of money. If you ever wanted the chance to own a guitar used by a rock legend, this Guernsey's auction is your best chance to make that dream a reality.
Photo from Guernseys