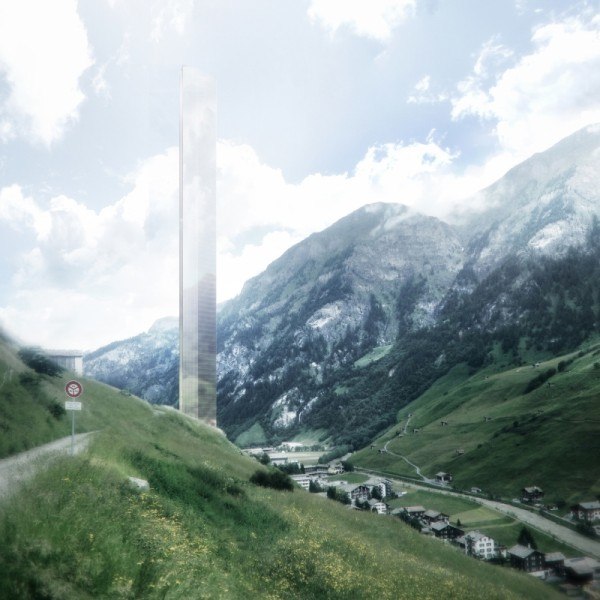 Europe is looking to expand their tourism market even further with new plans to build what would be the tallest building on the entire continent. The current tallest building is London's "The Shard" which is 1,012 feet to the highest point of the tip. This new building, which is only being called "the 7132 tower" would stand at 1,250 feet tall and is planned to be a hotel that would completely change a small Swiss Alps town forever.
The tower is being developed by the Los Angeles based Morphosis Architects and the selected European locations is the town of Vals in Switzerland. The town is right in the heart of the Alps that is hidden away but known for it's aesthetics and natural thermal baths.
While the current locals are extremely against the idea of this massive tower being planted right in the heart of their homes, it would bring in tons of constant money and is a very attractive business venture. The plan is to have the 7132 Tower include 107 guest rooms, a high end restaurant, a cafe, spa, bar, as well as a sky bar.
The tower would offer amazing views and a unique experience for travelers; however, the locals are uncomfortable with the idea that this gigantic building will intrude on their living space and disrupt the natural small town feel that has been there for decades.
Announcement of the 7132 Tower was supposed to be exciting and positive for the region, but the surprising negative backlash does not bode well for Morphosis Architects of anyone else involved with the project. A natural spring town in the Alps is a great vacation spot that should attract many customers, but the developers have to be nervous about the negative reactions thus far. The 7132 Tower is currently scheduled to open in 2019, and the process will be nothing less than interesting to follow along with as the time goes by and further progress is made.
Photo via 7132