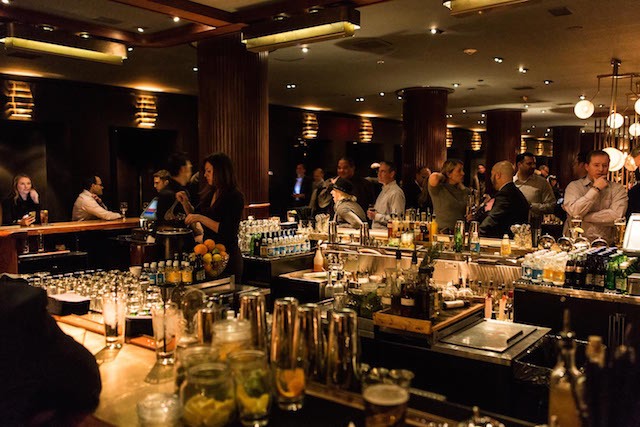 While often overlooked, hotel bars are a very important feature that hotels offer. In any major city, you'll have access to a host of other bars outside your hotel. So why would you go to the bar at your hotel? Well over the years hotels have upped their bar game exponentially. Now a bar at any luxury hotel is arguably one of the most stylish bars around. They are classy, stylish, and high-quality establishments that are meant to please even the most discerning guests. Now if any city does hotel bars right, it would be New York City. There are plenty of incredible hotels that have high-end bars here, but which ones are among some of the nicest? Next time you travel to New York and are in need for a classy drink at a premium bar, check out this list of the top 10 hotel bars in all of New York City.
Photo from morganshotelgroup.com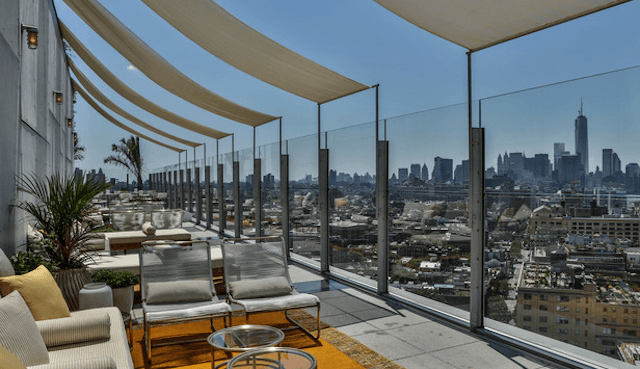 10. The Top of The Standard at The Standard High Line – 848 Washington at 13th Street 
The Standard High Line's premier bar is the Top of The Standard, and we have to say, it is pretty cool. It's stylish and certainly very luxurious and has all the offerings that you could want. Spanning the entire top floor of the building, the Top of The Standard offers both a large indoor lounge/bar in addition to an exterior space. With views like this, it's hard to complain.
Photo from standardhotels.com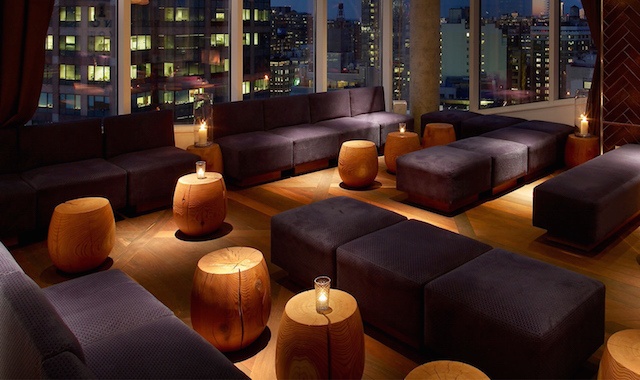 9. Jimmy at The James – 15 Thompson Street 
The James SoHo is an upscale, boutique hotel and their bar known as Jimmy is pretty grand. With 360° views of Manhattan and SoHo, Jimmy is certainly a great bar that has a lounge atmosphere. During the colder months, the interior space with the fireplace is certainly very appealing. However in the warmer months they open up their rooftop deck which is equally as exceptional. It's sophisticated, luxurious, and an all-around great hotel bar.
Photo from jameshotels.com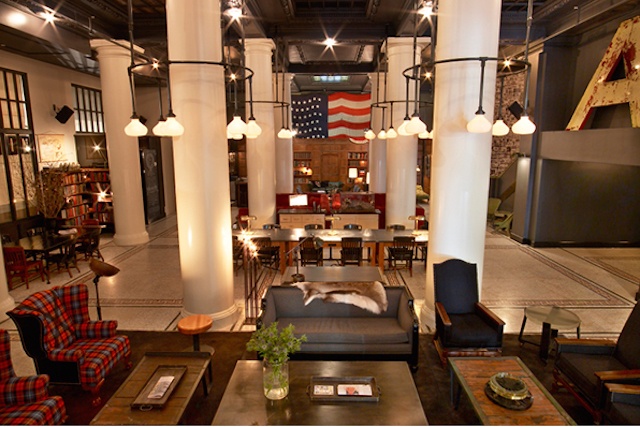 8. The Lobby Bar at the Ace Hotel – 20 West 29th Street
The Ace Hotel brand is known for their hip, boutique, and artistic properties that are found throughout the world. At their New York location, they have a pretty cool bar that is worthy of recognition. Their lobby bar offers guests a range of different cocktails and craft beers, and it makes for the perfect bar for those seeking a more casual, yet still stylish location.
Photo from acehotel.com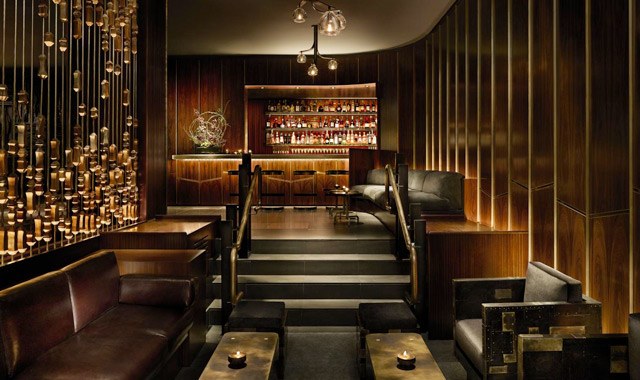 7. Forty Four at The Royalton – 44 West 44th Street
The Royalton's own Forty Four hotel bar is another establishment that stands out among the rest. It's a dark and intimate establishment that offers a range of different drinks. Their cocktail menu is absolutely endless and inventive, and the atmosphere of the bar is certainly one that is very desirable. Just be sure to dress appropriately.
Photo from morganshotelgroup.com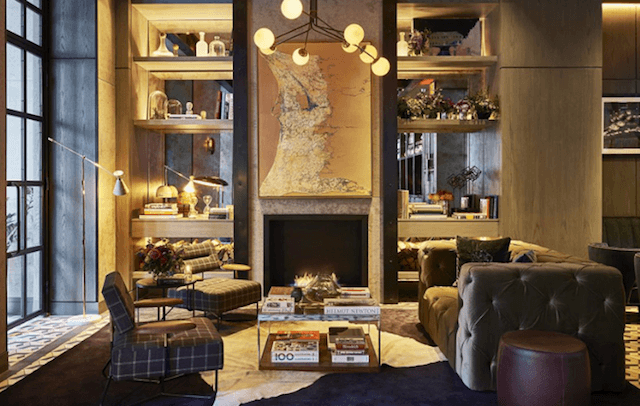 6. The Gordon Bar at SIXTY SoHo – 60 Thompson Street 
SIXTY SoHo is an upscale, boutique hotel in one of the cities most stylish and haute neighborhoods. Their Gordon Bar is equally as chic and premium as the rest of the hotel. It's a more intimate space compared to others, but with their comfortable couches, the fireplace, and exceptional views, the Gordon Bar is another great hotel bar in New York.
Photo from sixtyhotels.com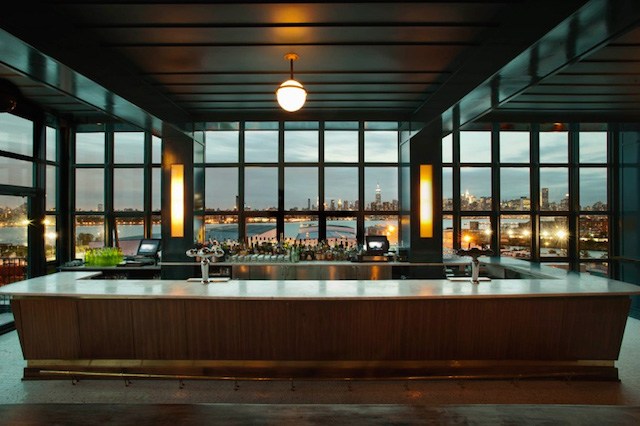 5. The Ides at the Wythe Hotel – 80 Wythe Avenue at 11th Street 
Williamsburg is filled with exceptional bars, however The Ides at the Wythe Hotel is one of the standout bars in the area. This rooftop bar is inspired by Art-Deco design and it offers an intimate and eclectic experience. Try one of their cocktails or just sip on a beer, either way, you will have a memorable experience here given the view.
Photo from wythehotel.com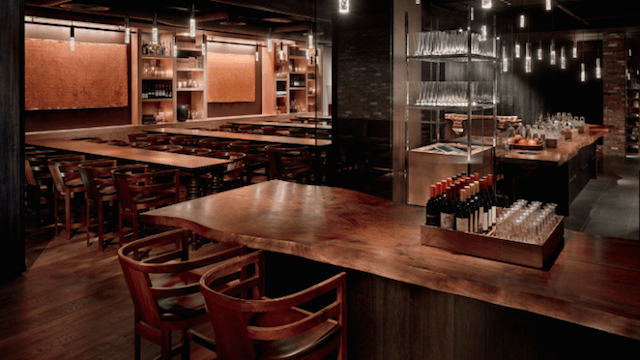 4. The Bar Downstairs at Andaz 5th Avenue – 485 5th Avenue at 41st Street
With an intimate and laid-back atmosphere, The Bar Downstairs at the Andaz 5th Avenue hotel is yet another great hotel bar that New York City has to offer. From it's stylish decor to the fact that you can get tapas here, this bar is a crowd favorite. Also the prices are actually pretty good too, well, for New York City that is.
Photo from newyork.5thavenue.andaz.hyatt.com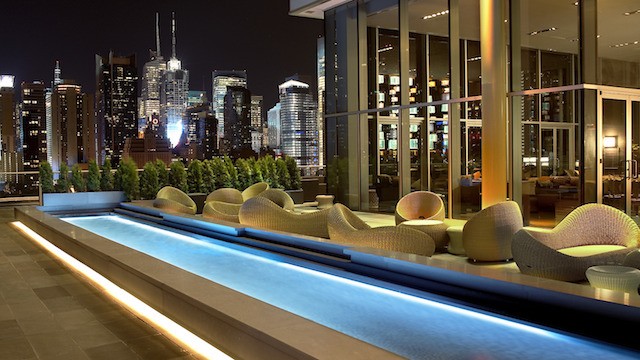 3. The Press Lounge at Ink48 – 653 11th Avenue at West 48th Street
Located on the roof of the Ink48 hotel is the incredible hotel bar that is known as The Press Lounge. From their large interior bar to the rooftop exterior deck that has plenty of space, this hotel bar is hard to beat. It offers some truly extraordinary drinks and cocktails, but the view is easily the best thing about this bar.
Photo from thepresslounge.com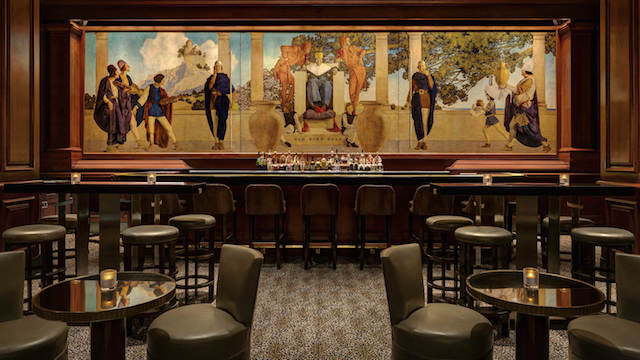 2. The King Cole Bar at the St. Regis New York – 2 East 55th Street at 5th Avenue
If you're seeking a sophisticated, expensive drink at a premium hotel bar, then the King Cole Bar is for you. It's located within the St. Regis New York, so you should probably wear some nice attire if you're stopping in for a drink. It's fancy, upscale, and certainly very desirable. Since it's attached to the St. Regis name, you just know that it's going to be good.
Photo from stregisnewyork.com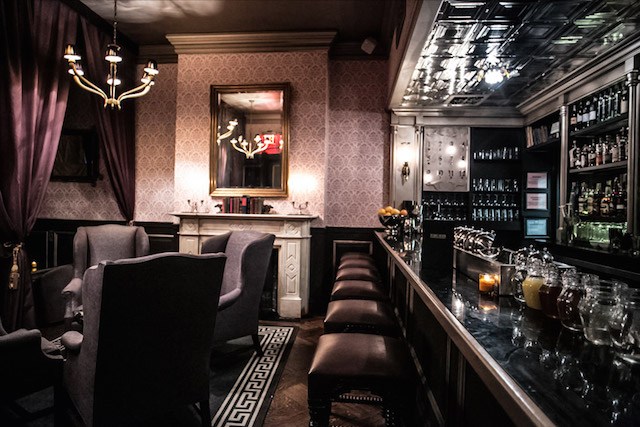 1. Raines Law Room at The William – 24 East 39th Street
As soon as you step foot into Raines Law Room at The William hotel in midtown, you know you're in a premium establishment. From the list of cocktails that you've never heard of to the atmosphere of the bar, Raines Law Room is certainly very upscale. The large chairs, chandeliers, and the fireplace really make this place feel like an exclusive, members-only lounge. It's worth making a stop in,
Photo from dmdesign-architecture.com