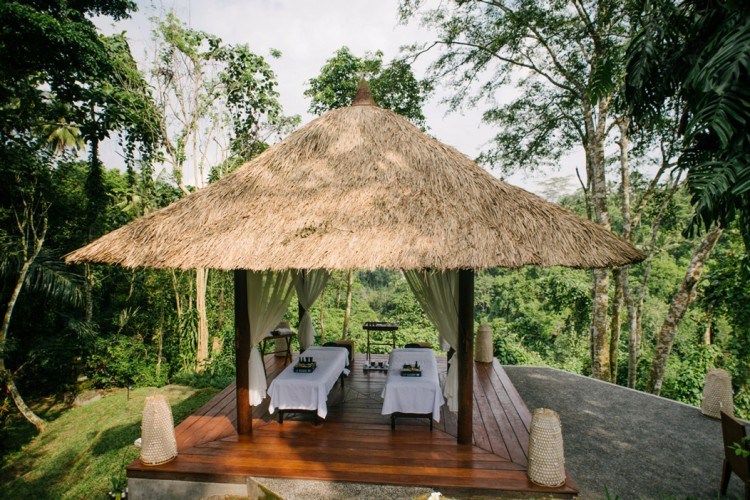 Spa Alila's Rainforest Retreat at the Edge of the Valley is a hillside resort that is located in the central foothills of Bali high above the lush green Ayung River Valley. It offers visitors the highest level of tranquility and luxury just 15 short minutes from the cultural heart of the island of Ubud.
This Balinese designed resort is compliments of an architectural firm that is truly world-renowned. Kerry Hill Architects utilized traditional Balinese design that they have expertly transformed into an example of modern geometry in one major exotic creation. With thatched roofs blended with smooth plaster walls, terrazzo tile floors, expansive walls of glass, and warm polished wood, this is definitely one boutique hotel with a unique design.
The resort blends architecture that can only be called traditional Balinese with the best in contemporary design. From the private gardens to the secluded courtyards and spacious terraces, everything about this boutique hotel is utterly charming with an intimate feeling that is unlike any other hotel in the world. It was designed to resemble a typical Balinese hillside village and even has pedestrian lanes and a community center. All of the villas and rooms at this resort are treehouses on stilts above the ravine on the river valley banks.
Accolades & Awards
It's no wonder that the Spa Alila's Rainforest Retreat at the Edge of the Valley was listed as one of the best hotels worldwide by Travel Weekly UK in 2015. Other accolades include:
2014- Certificate of Excellence from Trip Advisor
2013- Best Hotel Pool by Asiarooms Hotel Awards
2012- 20 Best Hotels- Asia & the Indian Subcontinent- Conde Nast Traveller UK Readers' Travel Awards
2011- 15 Unique, Bizarre, Amazing Hotels- CNN Go
2011- World's 20 Coolest Hotel Pools- Forbes USA
2011- 20 Best Hotels – Asia & the Indian Subcontinent- Conde Nast Traveller UK Readers' Travel Awards
2010- Asean Green Hotel Awards- Asean
2008- Top 25 Resorts in Asia- Conde Nast Traveler Reader's Choice Awards
Both Casual & Fine Dining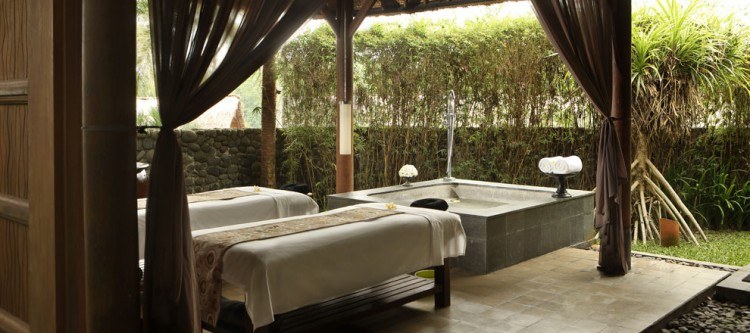 Cabana Lounge
This picturesque two-story lounge offers daytime relaxation and evening enjoyment in a social space that can only be characterized as intimate yet sophisticated. With its amazing feature walls of terracotta brick paired with mood lighting, it's the perfect place for enjoying a cocktail or two with friends or your significant other. And, the Cabana Lounge's inviting new cocktail menu awaits. You can also enjoy a vast selection of cold pressed juices, as well as a wide range of scrumptious creations to quench your thirst. They feature creative infusions of local ingredients and spirited presentations. The Cabana Lounge also offers a very exclusive afternoon tea from 4.00 pm to 5.00 pm daily.
And, when you're ready for dining, Chef Erwan has created a menu designed to share, containing garden freshness that is organic as well as local. You'll just love the Southeast Asian cuisine, as well as other poolside fare that is more on the classic side of casual dining. The Cabana Lounge is conveniently open daily from 10:00 am to 11:00 pm.
Poolside Dining
Experiencing poolside dining at the award-winning pool at Alila Ubud is the height of relaxation. You can fully enjoy indulging in tasty snacks and truly refreshing cocktails from 10:00 am to 7:00 pm every day. And, the culinary team prepares an artful blend of healthy natural dishes and Balinese cuisine. In addition, you'll find some of the best international dishes available worldwide. Add to that the most amazing soaring views and a warm welcoming bar, and you've got a dining experience that simply can't be duplicated anywhere, especially when it overlooks the gorgeous swimming pool floating over the valley that plunges far below.
Plantation Restaurant
Enjoy immersing in a culinary journey that is unparalleled anywhere. The Plantation Restaurant at Spa Alila's Rainforest Retreat at the Edge of the Valley won the award in both 2014 and 2015 for the NOW! Bali Awards Best Balinese Restaurant. Begin your journey with your choice from the signature seasonal cocktail choices. Or, try some infused vodka, Bellinis, syrups, or Araks made in-house at the Plantation Restaurant. They're made from the very finest local produce of the season.
And, the culinary team at Alila Ubud Plantation Restaurant is very passionate about the preparation of both authentic Balinese cuisine and western farm-to-table menu items. They're all inspired and created from locally sourced seasonal ingredients and many ingredients are from the resort's organic garden. In addition, the wine list offers some expertly selected bottles of fine wine to complete your scrumptious meal.
The open dining at the Plantation Restaurant is truly Balinese-style and features coconut pillars that tower over the dining area and central bar, as well as a soaring alang-alang roof that is traditionally Balinese. The entire dining experience has an exotic feel and is enhanced by the marvelous view of the resort's natural surroundings. The Plantation Restaurant is open daily from 7:30 am to 10:30 pm.
Services & Facilities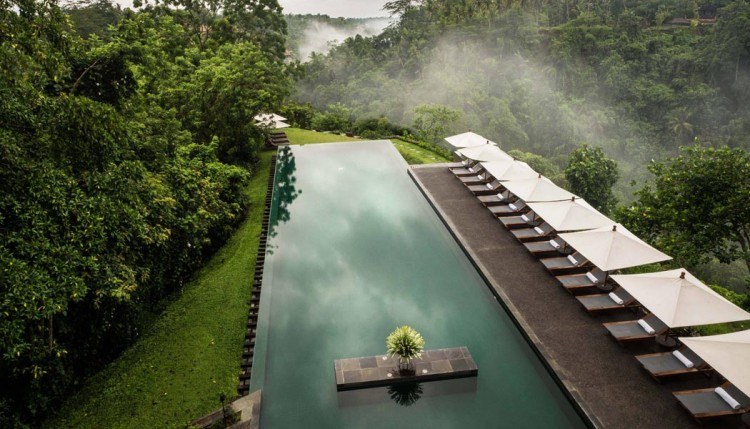 Spa Services
The therapists and staff at the Spa Alila Ubud spa are trained in massage, anatomical physiology, and meditation. They are experts at combining the latest health knowledge and organic nutrition with a very important element, which is a spirit of care that is warm and genuine, flowing directly from their hearts through their hands. They are trained to relax your body and mind, while stimulating, rejuvenating, and balancing your entire being with traditional therapies that are centuries old for a heartfelt and natural experience that is different from any other. Immerse yourself in an exhilarating journey of holistic health and wellbeing that is second-to-none.
Other Facilities
Ubud accommodations at Spa Alila's Rainforest Retreat at the Edge of the Valley come with a wide range of facilities for ensuring a memorable business trip or holiday experience in Bali. They include:
Wi-Fi Internet access
Tai Chi and Yoga classes
Children's Balinese dance classes
Shuttle service into Ubud
Bicycles
Infinity Pool
The Art Gallery at Alila Ubud
TV lounge and library
Alila Living Boutique
In-room dining
Dry cleaning and laundry service
Leisure Concierge