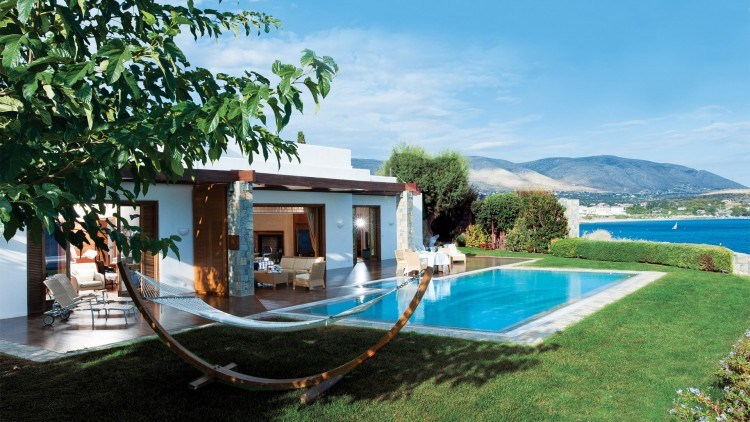 Most people who are looking to travel do everything possible to save on airfare, their hotel, and even the meals that they eat while they are on vacation. There are some people, however, who don't worry about money. To these people, money is no object and they have no problem making a reservation in the most expensive suites in the world. If you are planning a trip to Europe, and you don't care how much money you spend, you should consider making a reservation in one of Europe's most expensive hotels suites.
The Grand Resort Lagonissi, Athens Greece
One of the most expensive rooms in Europe is the Royal Villa at the Grand Resort Lagonissi. This suite would cost you $47,645 per night. If you want to stay a month, you can expect to pay over $1.4 million. This doesn't even count your food, drinks, tips, and recreation. The suite comes complete with two personal butlers who are there to take care of your every need. It also features two large pools, a barbecue area, and a private beach. If you want to hear some classical music while staying in your million dollar suite, you can request that a pianist come to your suite to play for you. For the money you are spending, they owe you at least that.
The President Wilson Hotel, Geneva Switzerland
If you want to stay in the Royal Penthouse Suite at this hotel, you can expect to spend $34,758 per night. The suite is 2,000 square feet, and it has an amazing view of the Lake of Geneva. The room comes complete with a bar, a sitting area, a dining area, a pool table, and a piano. If you want an espresso but don't want to leave your room, this suite has a Nespresso machine inside for you to enjoy. This suite is as luxurious as it is expensive.
Le Richemond, Geneva, Switzerland
This is another hotel located in Geneva, Switzerland, which goes to show you that this is a pretty expensive place to vacation. Switzerland is a country full of banks and bankers, therefore, these hotels can charge insane amounts of money for their rooms. Switzerland is a country The most expensive suite in the hotel is the Royal Armleder Suite, and it costs $28,894 per night. It has three very large bedrooms, a marble bathroom, and it even has bulletproof windows for your protection. This suite has every luxury you could ever ask for from a suite that costs this much. If there is something missing, you can be sure that the hotel staff will move Heaven and Earth to get you exactly what you want.
Ciragan Palace Kempinski, Istanbul Turkey
This luxury hotel has a suite called the Sultan Suite, and it costs $27,704 per night. The suite is 3,000 square feet and there is an amazing, 180 degree view over the Bosporus. Other than the bedrooms, the suite also has two sitting areas and a dining area, all with extraordinarily high ceilings. Guests in this suite have access to a 24-hour butler service and one of the rooms has 4 LCD televisions. For the outrageous price that the hotel is asking for this suite, you should have access to nothing but the best during your stay.
Westin Excelsior, Rome, Italy
This hotel is often praised for its wonderful location. If you are planning to visit Rome and you want to stay in the most expensive and exclusive room in the area, you should reserve the Suite Cupola. While it will cost you $23,153 per night, the view makes it worth the cost. The suite has a wrap around balcony so that you have a few from every area of the room. The ceilings in the marble bathroom is hand painted, and there is a huge sunken tub surrounded by sliding glass doors. The suite also has a dining room that can seat up to 10 people if you decide to host a dinner party during your stay. The price of this room may be outrageous, however, it is not as outrageous as the suite itself.
The Hotel Cala di Volpe, Costa, Smeralda, Italy
This hotel is located on the Italian island of Sardinia, and it is a popular summer vacation spot for people who have money and have no problem spending it. If you are looking for a cheap hotel, this isn't the place to find it. The most luxurious and expensive suite in the hotel is the Presidential Suite, and it costs $22,286 per night. This suite is considered to be a 14 star suite, which is incredible. While the décor in the room is relatively plain, the amenities are amazing from the hop shelf liquor in the bar to the complimentary cigars.
Hotel Martinez, Cannes, France
Cannes, France isn't the most exciting city and you won't find many exciting hotels in this seaside village except for the hotel's Presidential Suite. In order to stay in this suite, it will cost you $18,812 per night. The suite is huge, yet the furniture is not as fancy as you would expect an $18,000 suite to have. There are plenty of amenities included with this room, including a 24 hour butler to tend to your every need. It is the nicest and most expensive in the area.
Mardan Plance, Antalya, Turkey
This hotel opened its door close to two years ago, and its most expensive suite is the Royal Suite. The room will cost you $18,345 per night, and ther is over 6,400 square feet of living space. The view from the master bedroom is more than worth the cost of the room. There is a sitting room in the main area of the suite and also in the master bedroom. The furnishings, the artwork, and the large marble pillars add to the luxury and the elegance of the room. If you have the money to spend, staying in this suite will be the most luxurious time of your life.
The Ritz-Carlton Hotel, Moscow, Russia
Most people don't look at Russia as a place to spend a luxurious vacation, however, if you stay in the Ritz-Carlton Suite of this hotel, you will get a taste of Russia's version of luxury. The room will cost you $16,400 per night. It has 2,800 square feet of living space, and there are amazing views of the Red Square, St. Basil's Cathedral, and the Kremlin. This hotel provides all of the luxuries that you would expect in such an exclusive hotel.
Four Seasons George V, Paris, France
This hotel is located in the heart of Paris. The Champs-Elysees is right in walking distance. The most expensive suite in the hotel is the Royal Suite, which costs $15,447 per night. The room is 2,600 square feet, and offers an amazing view of the hotel's private garden with beautiful fountains. The suite has high ceilings, complete with gorgeous chandeliers in every room. If you are going to Paris and you have the money to spend, this is the best suite in the French capital.
If you are one of those people who doesn't need to pinch pennies and look for the best deals when you take a vacation, you should look into spending a night at one of the hotels listed above. A stay in any of these suites is an experience that you will never forget.