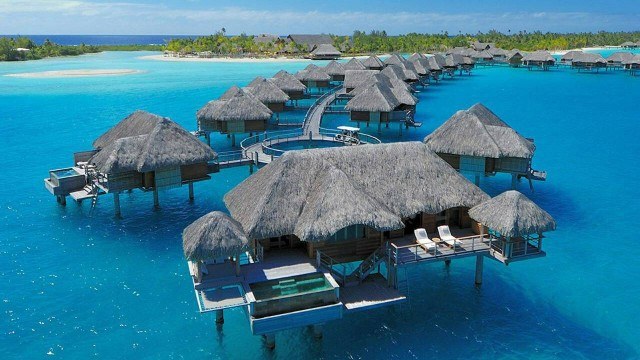 Bora Bora is a pretty incredible island located in the Society Islands of French Polynesia. The island only 11.3 square miles and is a volcanic island that was formed by two volcanos. This island is extremely beautiful and exotic and is a highly desirable vacation destination. On the island is a Four Seasons resort and it is arguably one of the nicest in the world.
The first thing that you will notice about this Four Seasons is how pretty much all of the rooms are located out on the water. Bora Bora formed in such a way that it is surrounded by a barrier reef and a lagoon. This allows for extremely calm waters on the lagoon allowing this amazing resort to have its rooms on the water.  The resort has been rated as the best in French Polynesia, the #1 honeymoon location, and it has the best spa in French Polynesia as well. It pretty much has everything: scenic views, beach access, a spa, fitness center, multiple restaurants, and much more. Out of all of the, the Herenui Two-Person Bungalow Suite is easily their nicest.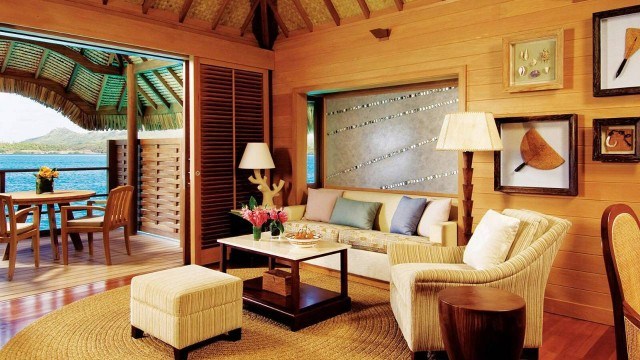 First I just want to say that the Herenui Two-Person suite not this Four Seasons largest or most expensive option to rent. The resort also has a few villas to rent that are absolutely massive and luxurious. These villas are located on the mainland however. While they are exceptionally beautiful, the most attractive thing about this resort is the rooms that are on the water. You can't get that really anywhere else, so while those villas are exceptional, we don't think its their nicest.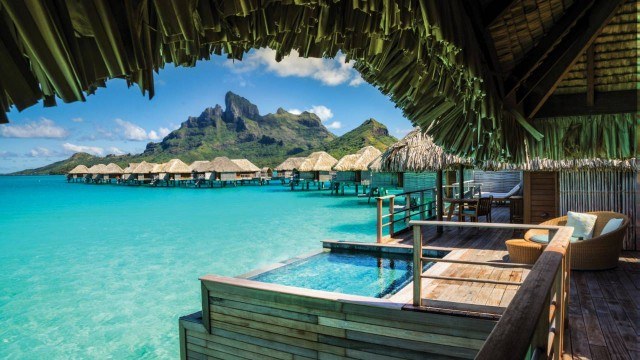 The Herenui Two-Person suite is the largest suite that you can get on the water at 1,720 square feet. The suite has two bedrooms: one with a king sized bed, and one with two queen sized beds. The suite has two bathrooms and a large living room that opens out onto the deck where you will find lounge chairs, a private plunge pool, a table, a trampoline to jump into the water, and a ladder leading into the water. The suite can comfortably accommodate up two six people as well even though it is advertised as a two-person. The suite offers arguably some of the best views ever with its out of the world location.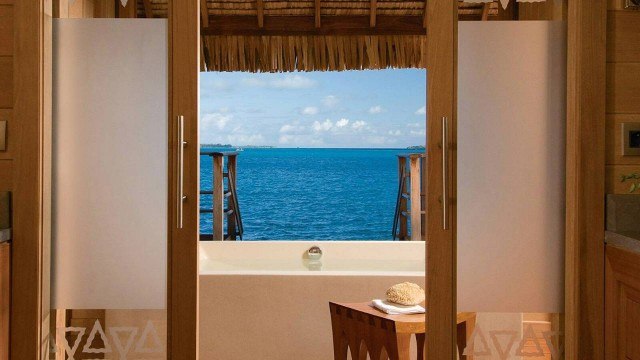 This Four Seasons resort is pretty much the island getaway. The on the water bungalows are easily some of the most luxurious and most interesting hotel suites ever. I forget to mention that the weather in Bora Bora ranges on average between 75 degrees and 85 degrees year round, so it's always just perfect here. The rooms start at $1,200 per night dollars however the The Herenui Two-Person costs around $5,100 per night depending on the rates.
Photo from Four Seasons