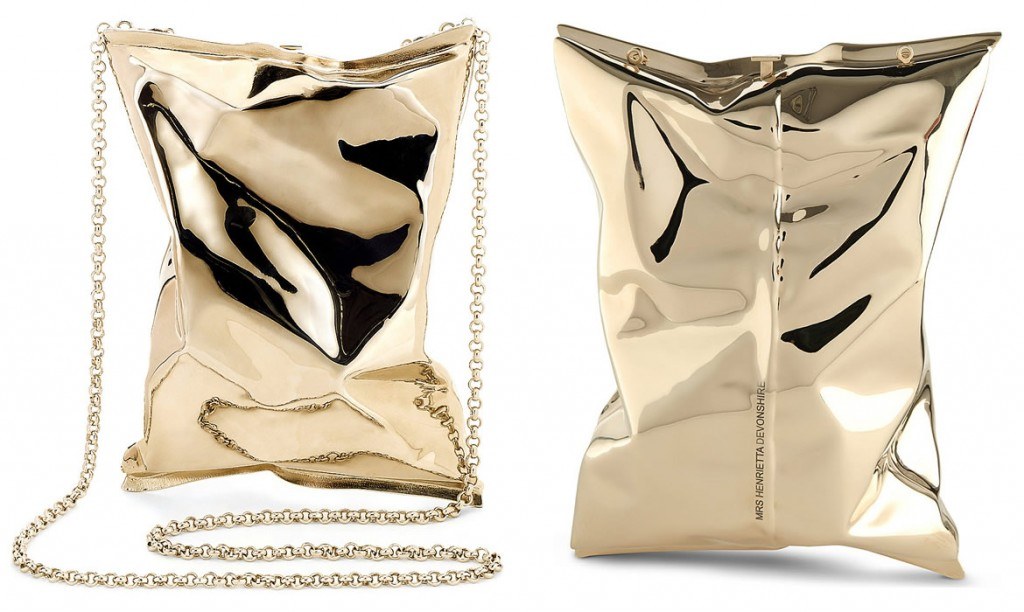 Anya Hindmarch is a British fashion designer that puts out some very nice jewelry pieces every year. She mainly focuses on the production of handbags and her products are very nice and sell very quickly. Hindmarch's most recent design is a packet clutch bag that is worth $95,000. The handbag is made out of golden crisp, which is very unusual, but coats the entire bag in a solid 18 karat yellow gold.
The bag is a large size that offers plenty of space inside with a height of 18.5cm, a width of 13.5cm and a depth of 7cm. There is a long gold chain to hang from one's shoulder that is also coated in gold. The bags are also being made available in a white gold or rose gold depending on customer preference, and to create variety. The bag has clasp mechanism to open and close it and the inside is lined in nice high quality suede. The golden bag also offers any customers willing to drop nearly six figures the option to have their name or a message engraved (20 characters max) on it for no additional charge.
Hindmarch's 18 karat clutch bags will be sold through Selfridges who are beginning to already take orders. The clutches will be made individually when the order is placed and they take four months to complete and ship out. Although they won't arrive in time for this holiday season, it is still a great gift to get someone if it is within budget and can be planned well ahead. The solid gold clutch collection is modeled after Hindmarch's other products that feature the gold crisp covering, but none of them have ever been this large in size or this expensive. The bags cost $95,000 but are a highly sought after fashion product and a great gift to surprise someone special with.
Photo via Pursuitist.