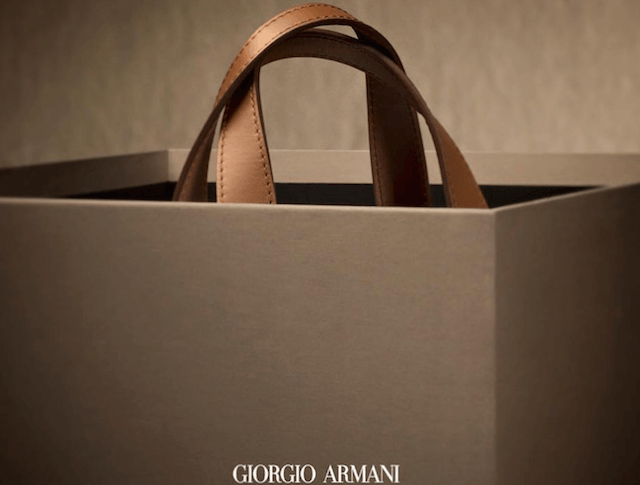 "What's in the box?" is the phrase that countless fans of the well-known Italian fashion house Giorgio Armani are asking themselves around the world. Yesterday on the companies Facebook page, they posted the above picture with the caption "Get Ready for the official unveiling of the new Giorgio Armani Bag". While we don't know a whole lot about this mysterious bag, we do know that it is being released to celebrate the 40th year anniversary of the popular Italian label.
According to the Facebook post, the bag will officially be dubbed the "Le Sac 11" and it is expected to make its official debut within the next month at the Milan Fashion Week and the Paris Fashion Week. Armani has produced a variety of quality bags over its years of operation, and this new handbag should please fans around the world.
While the initial advertisement is totally teasing us and no one knows what it will look like, we do know about a few facts and rumors surrounding this special bag. Since its an anniversary celebration, we can expect that it will be extremely special and unique bag. The bag will be available in a variety of colors and will also be made from high-quality materials such as calfskin and crocodile leather. Future buyers will also have the choice between three different sizes: small, medium, and large. The fact that this bag will be produced in a range of colors, sizes, and materials should ensure that it is very popular around the world with many people, regardless of style.
After the bag is unveiled during the next month, it will be available for sale. Those looking to get their hands on the bag earlier than others can pick one up at the Antonia boutique in Milan or at the L'Eclaireur store in Paris, in March. For everyone else, you'll have to wait until around April for the various Armani boutiques around the world to get a hold of the bag.
Photo from Giorgio Armani's Facebook