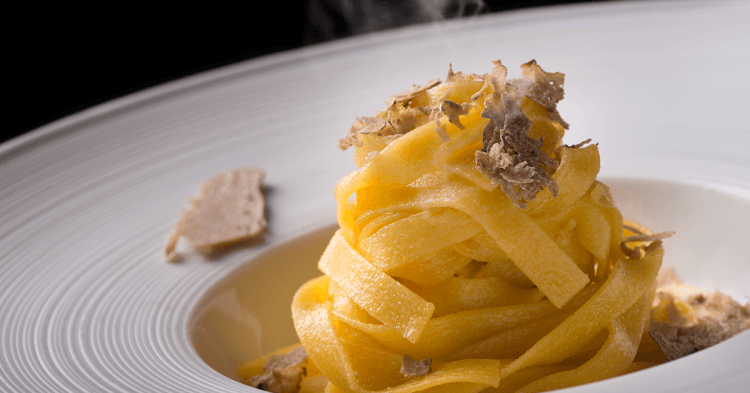 New York City hosts a wide variety of food festivals each year, and one of the newest is the White Truffle Festival. What started as the Alba White Truffle Festival, an annual celebration of the Piedmont region's Alba truffle, is now coming to the States for the first time ever. From November 5-12, 2016 those in NYC will have the chance to taste exclusive dishes featuring the prized ingredient as well as taste fine Italian wines. It's basically going to be a foodie's upscale dining dream for a week. Here are ten things that visitors at the NYC White Truffle Festival can expect.
1. Sold out tables
White truffles are in short supply, and this is quite an exclusive event. People travel from all over the world to Italy's truffle festival, and it's expected that the one in New York will sell out quickly. If you want to take part in it, you'll definitely need to make reservations in advance.
2. Prunotto Barolo wine
The Prunotto winery is teaming up with truffle purveyor Urbani to put on the festival, so it's a sure bet that their wines will be front and center. This is one of the standout wines from Piedmont, Italy, and it's a natural match with white truffles. If you've been wanting to try it, but don't want to splurge on an entire bottle, you'll have a chance to taste it at the White Truffle Festival. In addition to winning top prizes in wine competitions around the world, Prunotto Barolo showcases just how great wine made from the nebbiolo grape can be.
3. Fantastic Italian cheeses
Italy is definitely known for its truffles and wines, but Italian cheeses are also right near the top of the list of the country's best delicacies. What goes better with wine and truffles than cheese? Specifically, Italian imported cheese of impeccable quality. Two of the dishes that will be featured on menus during the White Truffle Festival are tarjarin all'albese pasta with Parmigiano Reggiano, buro fuso, and white truffle and poached egg topped with white truffle, pancetta, and whipped ricotta on toasted brioche. Apparently, cheese lovers have plenty to look forward to.
4. Innovative ways to eat truffles
There's three main ways that people in the U.S. are used to seeing truffles: infused in oil, shaved ever so thinly on top of dishes, and sprinkled in barely there quantities on things like gourmet French fries. At the White Truffle Festival, guests will be able to eat in truffle preparations they've probably never tried before, such as truffle puree.
5. An amazing smell
Eating truffles is a sensory experience that doesn't solely encompass taste. One of the most distinctive parts of eating truffles, or even being around them in large quantities, is their smell. If you're a lover of gourmand foods and unique experiences, being at the festival will introduce you to the wonderful aroma that has made truffles famous. Those who have visited the Urbani Truffle Lab in NYC will have an idea of what to expect.
6. Chances to participate outside of NYC
Let's say you find out about the White Truffle Festival a bit late in the game and find that the NYC restaurants you want to visit are all booked up. Fortunately, you'll be able to try a variety of spots in Westchester and New Jersey as well, because both locations will also host restaurants that are participating in the event. Newark's Abruzzo, Saison, DAILY, and Wanderlust along with Alba's and Monteverde at Oldstone in Westchester will be serving up dishes in honor of the event.
7. Pricey plates
White truffles routinely cost about $150 an ounce, so it's no surprise that dishes made with the ingredient fetch top dollar. The White Truffle Festival won't be the event to attend if you're looking for a budget experience, but the food served should be worth the prices being commanded. At Davio's Manhattan, for instance, the a la carte festival menu will include steak tartare with tarragon, white truffle, fried red onion, and casaba chips for $21 as well as veal rossini, foie gras mousse over polenta, and shaved white truffles for $57. Guests who want extra shavings of white truffle can get it for $15 per gram.
8. Wine prices that are about on par with the norm
Though the truffles will be just as expensive as they always are, Prunotto is offering wine specials. This means that buying a glass or bottle of wine at restaurants participating in the White Truffle Festival will be in alignment with what you'd usually pay in NYC. For example, bottles of 2010 vintage Barolo will be $120, while a glass of 2013 Roero Arneis will be $12.
9. Decadence and richness
Just as the New York Truffle Festival isn't the place to go if you want cheap deals, it's not going to cater to those who are looking to keep rich foods and indulgences out of their diets. Truffles themselves don't pack a ton of calories, but the foods that they're paired with often do. Some of the dishes on the menus include veal agnolotti with shaved Burgundy truffle and white and black truffle butter sauce, as well as porcini mushroom risotto with white truffle. No one is skimping on the butter, cream, or foie gras for this event, and we should truly be grateful for that. If you've been waiting for an opportunity to put your cheat days to good use, this event would be a prime opportunity.
10. A wide variety of restaurants
If you love fine food, but don't care for a stuffy atmosphere, don't worry: the White Truffle Festival will take place at a large assortment of NYC eateries. Tutto il Giorno, The Lambs Club, Rosemary's, and Porter House Bar and Grill will offer exclusive menus, but so will San Matteo Pizza Espresso Bar, The Little Owl, and Somm Time Wine Bar. Whatever type of restaurant vibe you prefer, you'll be able to find a place were you'll feel great and be able to relax during the event.
References
http://www.thedailymeal.com/eat/inaugural-new-york-city-white-truffle-festival-kicks-nov-5-12
http://promotions.winemag.com/trufflefest/
https://nycmonthly.com/event/white-truffle-festival/